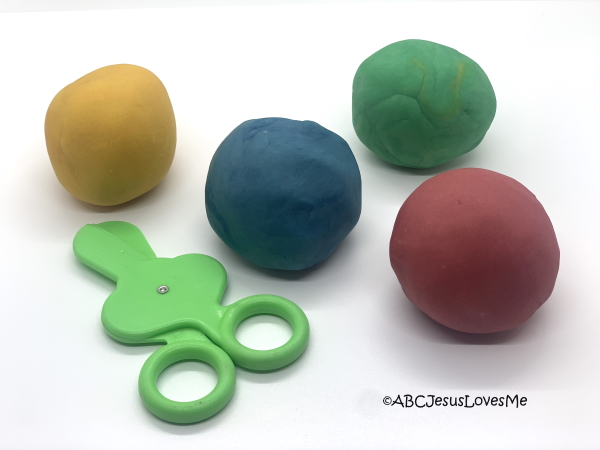 There is just something about play dough that begs most children and adults to roll and mush it over and over in their hands.
Beyond the educational value and the imaginative play, play dough is excellent for fine motor skills. Plus, it is super easy and inexpensive to make at home! And it is a suggested supply in both the Thanksgiving and Christmas Activity Workbooks.
I am so excited to share with your today a tried-and-true recipe that produces play dough with a much better texture than the purchased options. Even after trying other recipes, I continually come back to this easy recipe my mom used when I was young.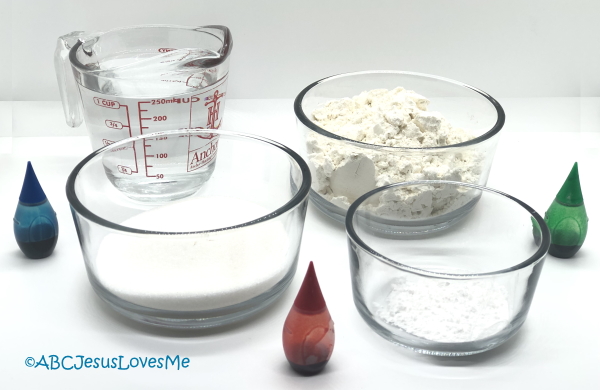 Play Dough Ingredients
1 cup flour
1/2 cup salt
1 tablespoon cream of tartar
1 cup water
1 tablespoon oil
Food coloring – For the most vibrant colors use gel food coloring.
While it may be tempting to skip the cream of tartar, this secret ingredient creates the beautiful texture. Cream of tartar can be found with the spices in your local grocery store or can be ordered online.
Suggested Supplies
Sauce Pan
Spoon
Wax Paper
Plastic Gloves (optional)
Printable Version of the Best Play Dough Recipe…
Directions for Play Dough
Stir the flour, salt, and cream of tartar in a sauce pan.

Stir in the water and oil over low heat.
If you want the entire ball to be one color, food coloring may be added at this point.
3. Continue to stir. Soon the play dough will form a ball around the spoon and move away from the sides of the pan. It will no longer be gooey and sticky. This process doesn't take long so don't step away!
4. Scoop out the dough onto wax paper to cool.
5. When cool, kneed in any remaining flour or crumbs.
6. If desired, divide and add food coloring. Kneed in coloring. (May want to use plastic gloves to protect hands from coloring.)
7. Place in air-tight container or ziptop bag.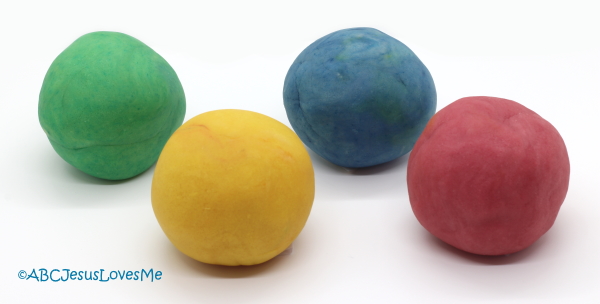 Hints and Tips
Storage? I store the play dough in the refrigerator, but it is not required.
Longevity: Due to the high salt content, the play dough can last for several months when tightly sealed.
Too Dry? Kneed in a couple drops of water or oil.
Too Wet? Kneed in a little flour.
Safety? All of the ingredients are safe for most children, but with the high salt content children don't typically eat past the first bite.
Fragrance? Though I have never experiments with it, I've read that essential oils and soap fragrances may be added to the dough.
No-Cook Method? There are recipes that suggest 1/2 cup boiling water instead of heating on the stove 1 cup of water with the dry ingredients. I discourage this as the no-cook-method produces a dough that dries out your hands as you play with it. The extra water and heat break down the salt creating a better texture.
Mold or Little Crystals? The batch has run its course. Throw it away and whip up a new one!
Play Dough Play
Head over to the ABCJesusLovesMe website for a printable version of the Best Play Dough Recipe.
And if you are wondering what to do with all of the play dough you can easily now make, stay tuned as I will be sharing a plethora of fun, play-dough learning ideas next month on this blog!
---

The January – December 2022 Be Intentional Planners are now available to order. You will love the beautiful covers, updated layout, and weekly verses. And for a limited time, receive the added month of December 2021 in your planner!