Psychologists have found a correlation between gratitude and attitude.
Children who practice grateful thinking have more positive attitudes toward school and their families, are more optimistic, feel more satisfied with life, and report fewer negative feelings (Froh, Sefick, & Emmons, 2008).
A huge discovery? No.
The Old and New Testaments are filled with verses telling us to "give thanks," "praise God," and "serve the Lord with gladness." David, Paul, and Jesus, for examples, reminded us that when our thoughts are focused on gratitude, worry and anxiety tend to melt away.
But because gratitude is not innate, we must provide opportunities to make thanksgiving a way of life for our children and students. To help your family and mine begin this life-changing process, I created the Thanksgiving Activity Workbook. And I am excited to share that the 2nd Edition of this popular workbook is now available!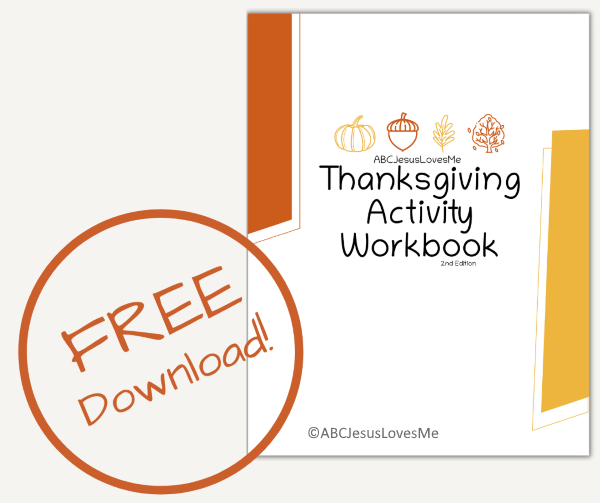 Thanksgiving Activity Workbook Key Points
1. Psalm 100 is one of the most popular chapters for praising God. For this reason, this Workbook centers around memorizing this psalm using a storyboard and actions.
2. Weekly crafts, songs, and activities are included to support the learning.
3. Create a Thanksgiving Tree to develop an ongoing list of praise.
Psalm 100 Storyboard
Containing only 5 verses, Psalm 100 is simple enough for children and adults to learn in the month of November. Use the simple actions, memorable storyboard cards, and fun song option to aid the learning. A shortened version is provided for younger children.
Thanksgiving Weekly Activities
The 37-page Workbook contains four weekly activity sets each with a song, memory verse, and learning opportunities. The activities are designed for ages 3-12, yet provide the flexibility to be modified for all ages. 
Because you may not be familiar with the traditional songs used in the Workbook, videos have been created to allow you to hear each song and see the actions. Your child will enjoy singing with me! QR codes and links to these videos are provided with each lesson.
A supply list is provided for each week's suggested activities. Feel free to supplement or substitute with items already available in your home or classroom.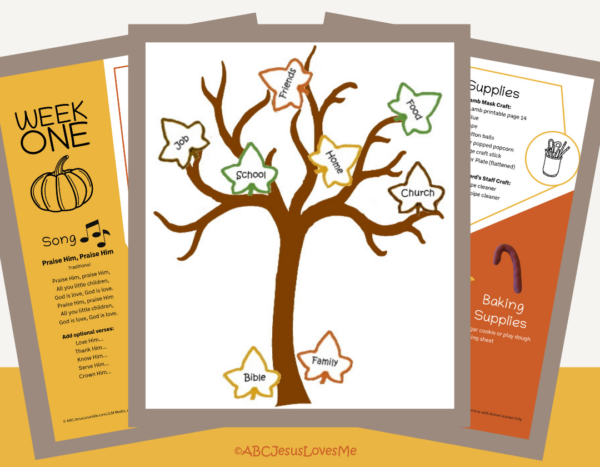 Thanksgiving Tree
One of my favorite parts of the Workbook is the Thanksgiving Tree which is created during Weeks 3 and 4. Hang the provided tree for all to see. Then each day write on a leaf something that you are thankful. Fill free to use this activity all month long and even carry it into the rest of the year.
"Be joyful always; pray continually; give thanks in all circumstances, for this is God's will for you in Christ Jesus."
What a beautiful reminder from I Thessalonians 5:16-18. It is God's will for us to notice His work around us and thank Him for it. I pray this simple workbook will help you do just that.
Where Do I Find the Thanksgiving Activity Workbook?
For family use, the Thanksgiving Workbook is available for FREE in the ABCJesusLovesMe Resource Library.  If you are unsure where the library is click to learn more or subscribe to receive the link!
Not interested in subscribing or desire to use in a non-family situation (church, preschool, etc)? The Thanksgiving Activity Workbook is available to order on the ABCJesusLovesMe website.
Excited to hear how you build gratitude with this Workbook in your home and classroom!