The last few blog posts and podcast episode have focused on being intentional with your summer. With the kids out of school, summer is a great time to focus on the child's heart. I often begin summer thinking about the areas of maturity that are lacking. Without a doubt, having a servant-heart is frequently high on the list.
Will chores develop this character? Are chores even biblical? Or is there another way to develop a selfless work ethic in our children?
▼ Jump to Listen to Podcast Episode #14: Is Work a Dirty Word? ▼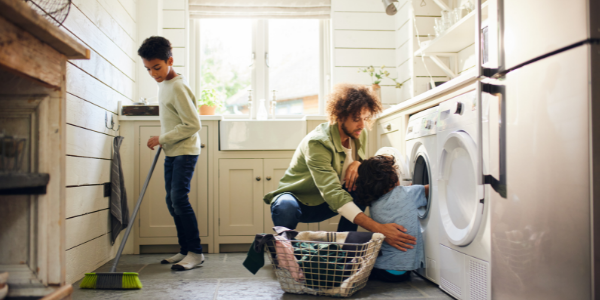 Is Work Biblical?
Somewhere along the line, "work" became a dirty word. Is it because parents fear they will steal childhood away from their children? Or, is it because it is takes a lot of time to train a child to work and do chores? I'm not sure, but work is actually a biblical concept.
Genesis 2 says that we were created to work. The Bible also calls us to labor with purpose. The problem occurs when our own selfishness dominates what we should do. We want to spend our time in the manner that pleases us! But this isn't a surprise to God. Jesus specifically addressed this in Mark 10: 43-36.
…Whoever wants to become great among you must be your servant, and whoever wants to be first must be slave of all. For even the Son of Man did not come to be served, but to serve, and to give his life as a ransom for many.
We are told to be a servant – to serve. Service comes through work.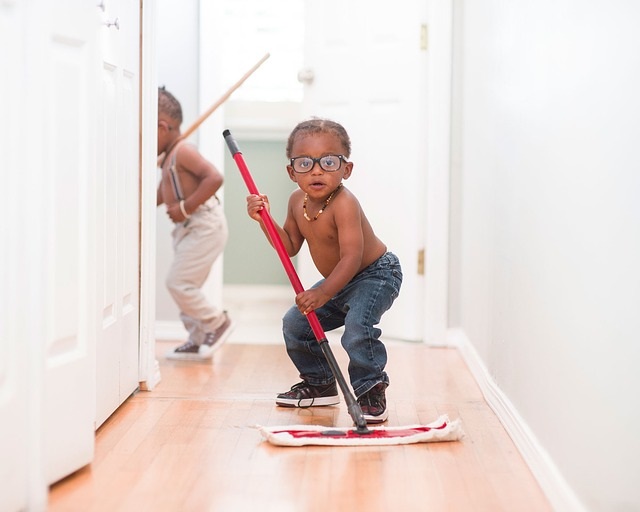 Why Are Chores Important?
But even secular sources see the importance of children having chores. Here are a few reasons.
Chores teach responsibility and self-discipline
Chores provide the child with a role in the family
Working lowers the "entitlement" concept
Chores allow the child to contribute to the family
Work helps remove the lazy spirit
Chores may be used to teach financial management
Working is a way to bless mom and dad by helping with jobs that need to be done
Chores teach a child to "pull-his-own-weight," that everyone has to help for the family to run smoothly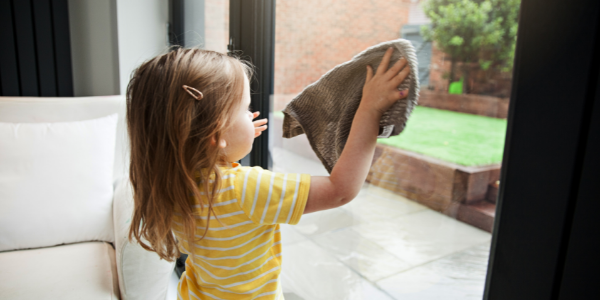 Training Children to Work Through Chores
So, how do we give our children the gift of work? Heidi and I believe that it begins in the home.
First it starts by serving our children. As we model selflessness – but not martyrdom, don't confuse the two – our children discover ways to incorporate serving in their own lives.
Second, involve your children in your work and give them age-appropriate responsibility. From a young age, we can pull our children into the work we are doing, from folding laundry to making beds to putting away toys. When we include our kids in the necessary tasks required to run a household, we show them that they have value in the home. They are an important part of the family! And, as they learn to participate in work, they begin to see how it helps others service. Unsure what chores are appropriate? Check out the free Chore Chart below.
Third, make work and chores fun and rewarding. Chores don't have to be drudgery.
Set the timer and try to beat the clock.
See who can pick up and put away five items first.
Have one child pick up all of the blue toys and another child pick up the red toys.
Have the child pick up five items and then report to you to see how many items to pick up next.
Play "Mother May I?" Tell the child to pick up a toy. He or she must then say "Mother may I?" and you say "Yes, you may."
Play "Simon Says." The child must do what "Simon" (the parent) tells them to do when asked with a phrase beginning with "Simon says." If the parent says "Simon says put away 5 blocks," the child must do the task. However, if the parent doesn't say "Simon says" first, the child freezes (and giggles). Switch roles so the child is "Simon."
Enjoy the fruit of your labor. This could be making cookies or gardening. Or take a trip to the park to celebrate completing a big task.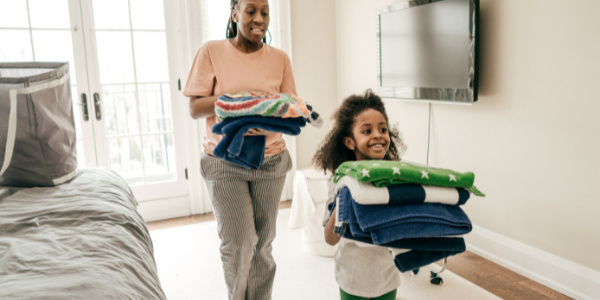 Don't Forget the Grace
If you haven't begun to teach your children the value of work, it's not too late! Yes, you may get some pushback. But with time and grace, all children can learn the purpose of work. Start small, maybe one task per week. Then increase incrementally as the child's capability grows.
As with almost every aspect of parenting, there should be space for grace. We don't want to be dictators, looming over our children just to make sure they're correctly completing a task. Serving with joy is the goal and this happens when the child sees reward in the effort he or she makes.
This series isn't over. Come back next week for more practical tips you can immediately implement into our home! 3 Ways to Build a Work Ethic in Your Kids
Episode #14: Is Work a Dirty Word?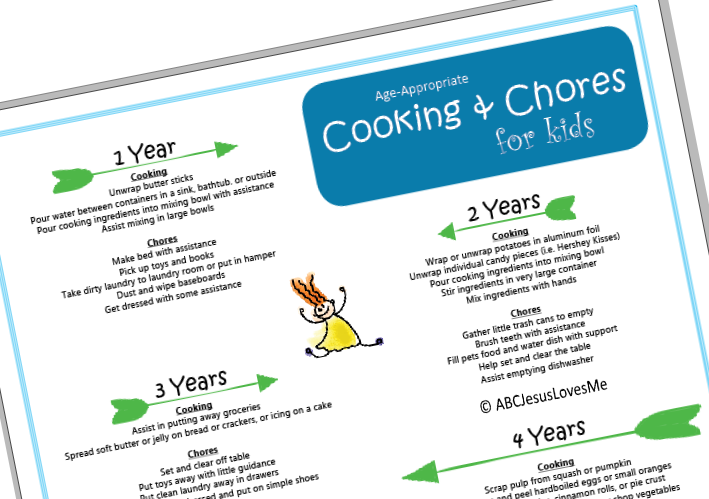 To help you begin passing the baton of responsibility and servanthood to your children, Heidi created a free, printable list of age-appropriate cooking and chore ideas. Each list builds so, for example, a 4-year-old should be able to do all ideas in the 1-4 year lists. Click to Download the FREE Age-Appropriate Cooking and Chore Chart.