As I shared last week, ever May I gain a bounce in my step because summer is just around the corner. For almost three months I will have all my chickadees back under my wings! But I learned several years ago in order to thrive during summer, we must have purpose. I needed to set goals and lightly structure our day, so we didn't greet September with regret.
So, I invite you to discover what God led me to a few years ago and how it has provided purpose to these sun-filled months.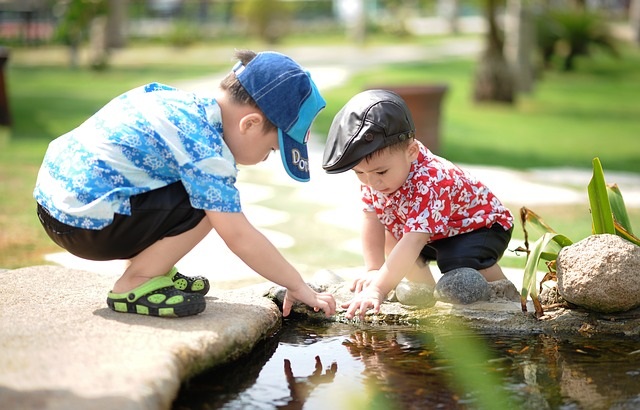 SUMMER Purpose
▼ Jump to Listen to Podcast Episode #13: How to Create Purpose This Summer▼
Thinking about what God has called me to do as a mom and bringing to light the struggles we are having, the Holy Spirit led me to Mark 12:30.
I love how this verse brings out four areas of purpose.
Heart – Character or heart issues, focusing on Ephesians 4:31-32
Get rid of all bitterness, rage and anger, brawling and slander, along with every form of malice. Be kind and compassionate to one another, forgiving each other, just as in Christ God forgave you.
Soul – Relationships with God
Mind – Academics
Strength – Taking care of our bodies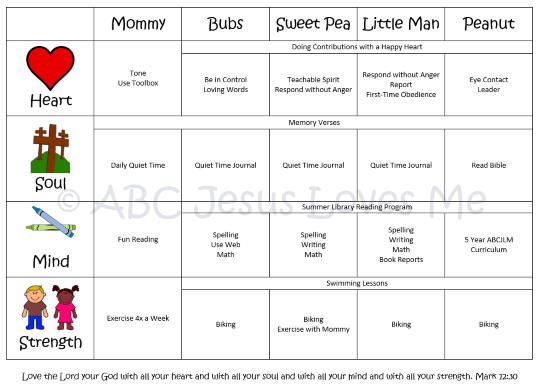 Summer Goals
Using heart, soul, mind, and strength as my guide, I created a chart (Can I get a cheer from all the Type A mommas in the audience?) to determine specific goals for each person.
With older kiddos, I believe it very important to gather their input in creating goals for their summer. Using this verse as a guide, we discussed as a family what we want to focus on this summer and in using the verse the kids saw that these are four areas we all need to work on – even Mommy and Daddy. Above is the first draft that we created six years ago.
Then using these goals, I created a very loose summer schedule for our days.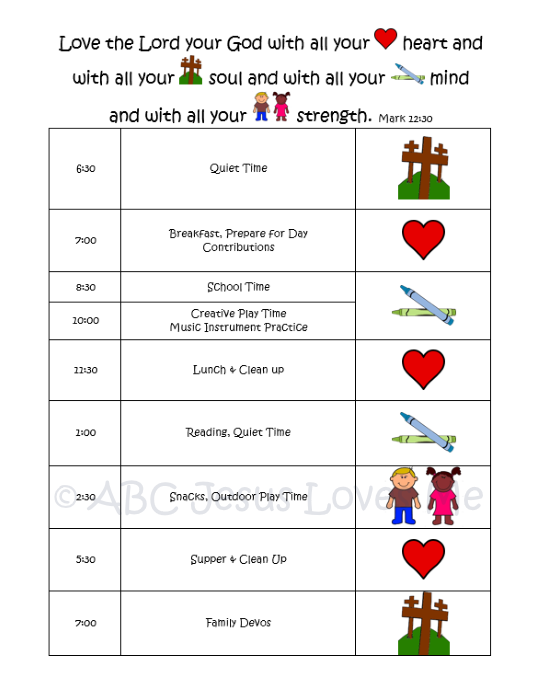 This post may contain affiliate links. Without any cost to you, when clicking on these links you are helping to support the further development of this blog and the ABCJesusLovesMe website.
SUMMER SCHEDULE
While times are listed in this schedule, these are simply a guide to help us cover what the four areas of the verse. It is not regiment and can be changed within a moment's notice. Also our kiddos (ages 5-11) arise very early so adjust the times as needed to fit your family.

???? – Awake and Devotionals

My goal for this summer is to help the older kids begin journaling during their personal devotions. This will consist of writing or drawing one thing they learned and copying or (drawing) a verse. The older kids will use the Our Daily Bread for Kids Devotional as their guide. Peanut will look at his favorite Children's Bibles.
7:00 – Breakfast and Contributions (Chores)
During breakfast the kids will share what they learned in their devo time. Then they will work on the specific jobs that they do each day. Contributions include making bed, cleaning room, cleaning bathroom, picking up toys, laundry, as well as kitchen and garden help. See more ideas here.
8:30 – Learning
Each child will have specific academic areas to focus on. The learning will occur through books, worksheets, activities, Earobics or other free educational computer games. Peanut will finish the ABCJesusLovesMe 5 Year Curriculum.
10:00 – Creative Time& Morning Snack
We will use this time to create 4-H crafts for the fair and other creative learning, and practice musical instruments. Because we are working on showing kindness and compassion to siblings, some activities will be done in teams.
Disclaimer: After nine months in school kids need a break. Thus, the learning we do during the summer is specific to topics each child enjoys and is much less than a typical school day.
11:30 – Lunch and Cleanup
The kiddos will take turns assisting in lunch prep and setting the table. All will participate in clean up.
1:00 – Reading and Quiet Time (This is also my work time.)
Each child will spend quiet time in a separate room. While Peanut sometimes naps, the older three will use this time to read for the Summer Library challenge. Afterwards they may listen to Adventures in Odyssey or books on tape while they do crafts, play with Legos, or draw.
2:30 – Snacks and Outside Play Time
5:30 – Supper
7:00 – Family Devotions followed by bed time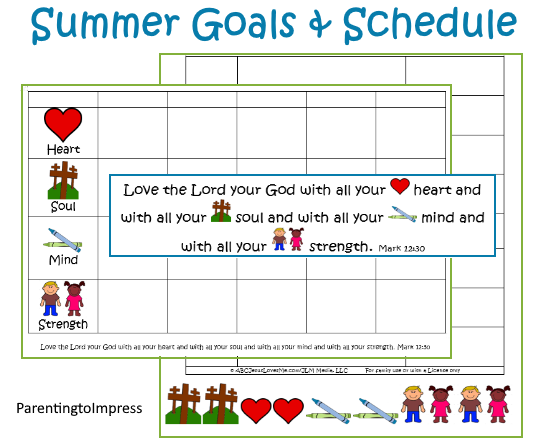 What Will Your Summer's Purpose Be?
Whether you have little, middles, or bigs, I invite you to develop your own goals and schedule to give purpose to the next few months.
To guide you, head to the ABCJesusLovesMe Resource Library in your subscription email and print your free copies of the blank Summer Goal and Schedule Printables. If you are unsure where the library is click to learn more or subscribe to receive the link! After filling out the Summer Schedule, cut out the images at the bottom and glue into the appropriate squares in the right-hand column to match the activities with Mark 12:30.
Episode #13: How to Create Purpose This Summer
I also invite you to listen to Episode #13 of the Parenting to Impress Podcast where Melanie and I dive even further into how give purpose during your summer. Be sure to subscribe so you don't miss any of the encouraging and empowering episodes. Plus, you'll have fun sitting down with us for a real-life convo!
Video: Making Summer Fun without Losing Your Mind
Lastly, I invite you to view a video a few years ago to provide even more practical ideas!
Happy Summer!