This week we close the door on summer. At the crack of dawn Monday morning, my children will enter their appropriate middle and high schools to learn, grow, and be a light in this dark world.
I would like to pretend that this is easy to do, but honestly, like a mother hen, I would much rather keep my kiddos in the safety of my nest. But as my oldest begins his senior year, I know this isn't possible. It is only by God's peace and strength that I can release my grasp on them and intentionally walk with them along their journey.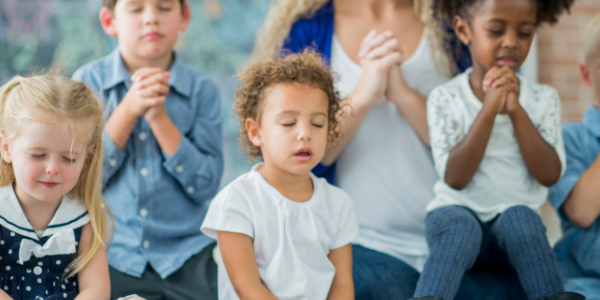 Starting a New School Year
How about you? Are you anxious about this new school year?
Maybe you are determined to be intentional using the ABCJesusLovesMe Curriculum with your toddler and preschooler but there is fear about teaching your own child. Maybe your kiddos are going to a new school and you are fearful of the change. Maybe this year is forcing you to face some hard things.
Or maybe you are a teacher or grandparent apprehensive about what the school year will bring for your students or grandchildren.
I don't know about you, but I need to begin this new school year with prayer. Will you please join me?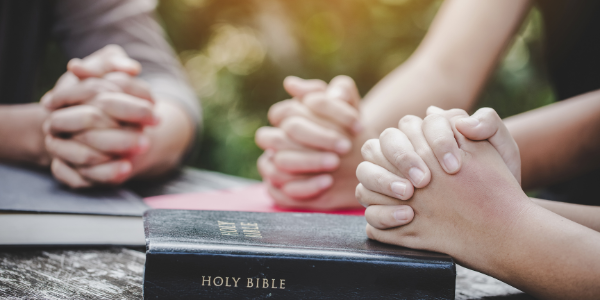 A School-Year Prayer
Dear Abba Father,

Thank You, God, for Your love. Your forgiveness. Your peace. The wisdom that You give abundantly.
We don't know what this school year holds but You are sovereign. You love each of our children/students more than we can imagine. More than we do! This year I ask that You expand their joy, love, and self-control. Grow their knowledge of You. Sand off the rough edges that keep them from fully accepting Your grace and direction.
Lord, help our children to see with Your eyes the kiddos who need friendship or a kind word. Give them the strength to stand up for truth. Create in them a deep love of learning which will carry over to diving deeper into Your Word.
For their teachers, flood the staff with strength and wisdom. Give them eyes to see through the words and actions of each student. Help them know what each child needs and to provide the exact encouragement.
For the mommas and teacher of littles, give them the patience to answer all the why questions. Pour strength into their tired bodies as they discipline for the 85th time. Holy Spirit provide teachable moments and give words to explain in a way the kiddos can understand.
For parents and grandparents, give us the priority and strength to be intentional. Whether that be during the day with our littles or in the evenings with our big kids. Help us remember what is important and to grasp teachable moments that come in our path. God, may we "impress" Your truths on our children and not waste the precious, fleeting time that we have with them.
I ask for safety and protection for all of us as travel to and from school, play, and work.
We give You this school year to further Your Kingdom.

In Your holy, powerful, and loving name….
Amen.
---
Learn How to Teach at Our Upcoming Conferences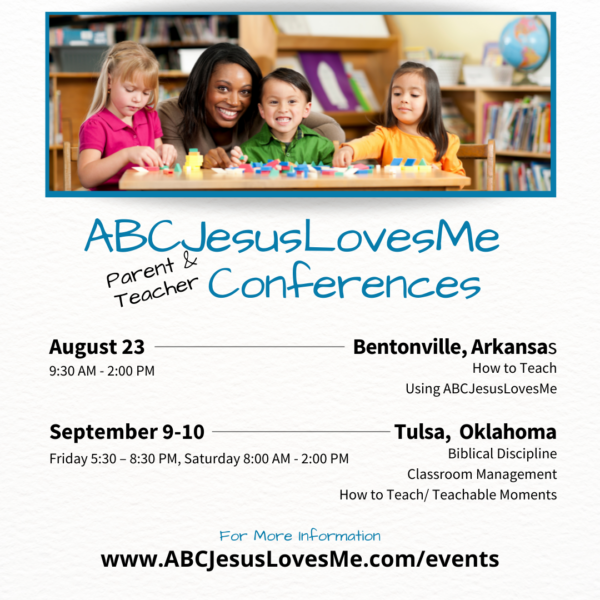 Do you need help parenting and teaching intentionally?
Want to dive into the Bible to determine God's plan for teaching children?
Need guidance on what to teach and how to teach?
Want to learn about teachable moments and creating a positive learning environment?
Join us at one of our upcoming conferences where I'll teach you these things and so much more. The best part, you will walk away with practical tips and tricks that will immediately make a difference!
This is perfect for Sunday school teachers, preschool teachers, mom and dads, MOPS leaders, grandparents, daycare leaders, and anyone who has a heart to impact children for the Lord.
Hope you can join us at the upcoming conferences. Sign up now or click for more details.