Tis the season for the topic of gratitude! You'll hear it from the pulpit, the radio and even your favorite podcasters. As Christians we know being grateful is more than just a certain month set aside to be thankful. But do we really know how to live that way? Let's consider what it means to live gratefully and pick up some tips for how build a heart of thankfulness in our children.
▼ Jump to Listen to Episode #22: How to Build a Heart of Thanksgiving in Your Child ▼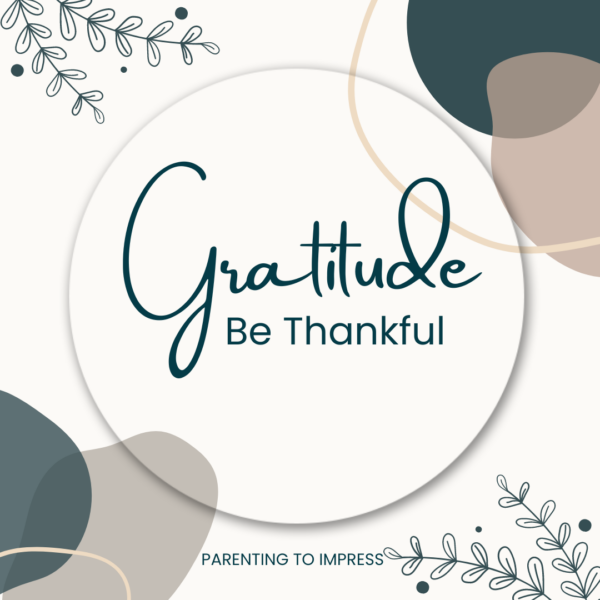 As Christians, we are particularly grateful for what Jesus did for us on the cross and through His resurrection. The new life God gives us produces a response of gratitude! We show our gratitude through the act of thanksgiving in prayer and worship. That can take on many forms, but the bottom line is Christians always have something to be grateful for.
As parents and teachers, gratitude falls pretty close to the top of the list of things we need to model and teach our children. Let's consider then how we can do this with our children.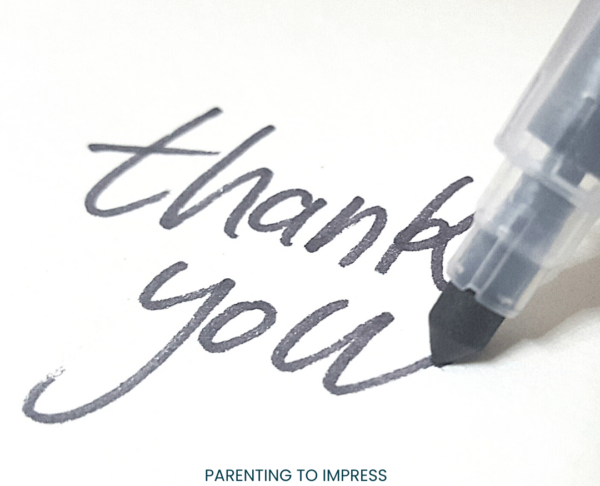 Make Thanksgiving Tangible
Young children learn abstract concepts, like thankfulness, through concrete actions. We teach our kids to say thank you and explain to them that the words "thank you" show what we're feeling in our hearts. Someone has taken time to give us something, so we can in turn show them that we appreciate them. You can even teach very young children to sign "thank you" and make cards stating their thanks. However they say it, it's a great first step to teaching them to respond with thankfulness.
We also model thanking God through prayer and hymns. We can incorporate books about thankfulness, as well as songs and poems that reinforce a thankful heart. Kids catch on when we live out an attitude of gratitude. Simply saying, "Wow I'm so thankful God made these flowers," "I sure am grateful to God for our church," or "I am so thankful for how much Jesus loves us!" gives them examples for how to do this. Then ask your child to name something he's thankful for. It will most likely be a "thing," like a blanket or toy. But that's ok! You are developing a heart of thankfulness for that child to see the tangible and more abstract things we can be thankful for.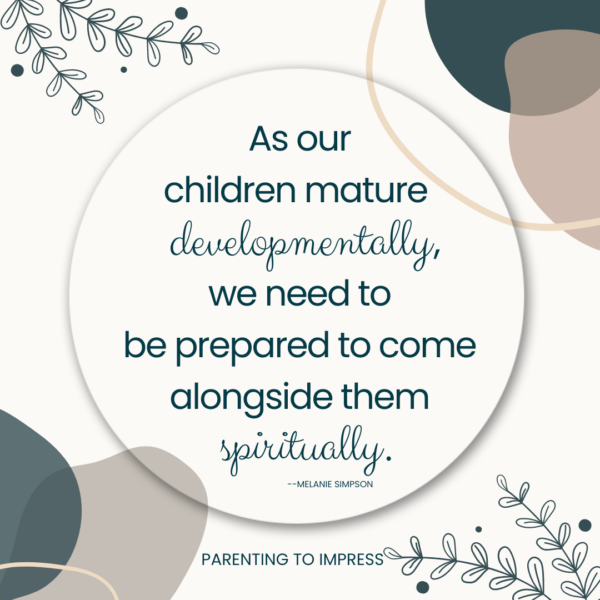 Make Thankfulness Age Appropriate
So if modeling thankfulness and incorporating engaging activities is helpful for the preschool and early elementary aged kids, what about for the tweens and and teens? This is where we need to spend a more concentrated amount of time with our kids. There's that word again…time. We've talked about it in our episodes with Scott Jones and in other ones as well. Parenting and teaching take time. We have to be willing to set aside our agendas to tend to the hearts of our kids. Maturing kids require that we use our time with them differently. We won't need to prompt them to say thank you anymore but we will need to study God's Word together so they understand why our hearts should be shaped by gratitude. As they mature developmentally, we need to be prepared to come alongside them spiritually.
When a child has accepted Christ as her Savior, the Holy Spirit helps as well. Together, we co-labor. We talk about God, read Scripture together and pray with and for one another. As you do this, God will mature our child's understanding of what He has done for her and will increase her gratitude for God. It's a beautiful thing to see!
Pointing out God's attributes is another great way to grow gratitude in a teen's heart. Meditating on His nature compels us to gratitude as we understand just how amazing He is.
Lastly, I encourage you to share stories about how God has been at work in your own life. Kids need to know that they're not alone in the issues they encounter. And they need us to point them to God as they figure out how to deal with the troubles of this world. You don't need to get into unnecessary details, but simply letting your teens know that God showed up in our life during a hard time can encourage them not to give up hope and to go the Lord for help, strength and love.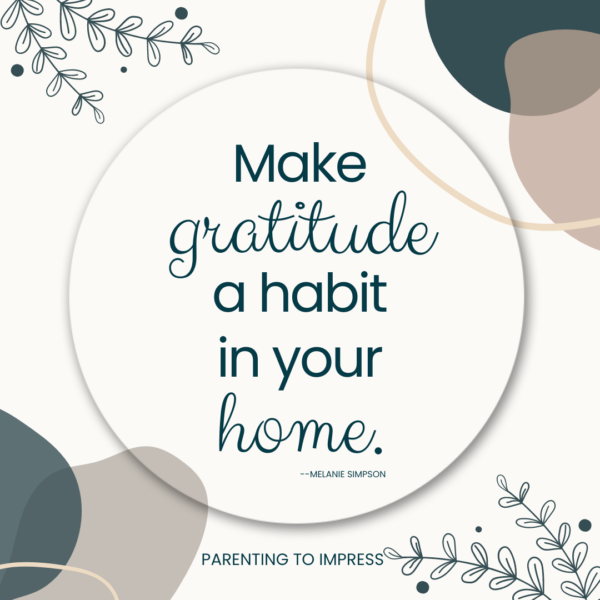 Make Thankfulness Continual
Regardless of how you go about it, when adults make thankfulness and gratitude a priority, children will pick up on it. Remember ABCJesusLovesMe's foundational bible verse from Deuteronomy 6, which tells us to talk about God all the time!
Believers' hearts are overflowing with gratitude for the grace, mercy and love that God shows us. And it's the overflow of that awareness that makes us grateful. Teaching our kids how to demonstrate gratitude through thanksgiving is definitely one of the ways we talk about God throughout our day. Pick one thing to share with your kids today as a way to make gratitude a habit in your home.
Episode #22: How to Build a Heart of Thanksgiving in Your Child
Build a Heart of Thankfulness Giveaway
The newly expanded Thanksgiving Workbook is a fantastic way to build a heart of thankfulness in your child or students. Now with options for preschool and elementary-aged children, feel confident in using the age-appropriate scripts to lead the activities. Based on Psalm 100, teach the importance of praise through a storyboard, crafts, songs, and activities. Beginning in Week 3, create a Thanksgiving Tree to develop an ongoing list of praises. Newly added are Group Activities to do as a family or classroom.
Because we are thankful for you, we are giving away a revised Thanksgiving Workbook ($10). Click the rectangular image or link below to enter to win. This giveaway ends on Sunday, October 23th @ 11:59 p.m (CST). The winner will be announced on this blog, so be sure to come back and see if you have won.

Or click – www.ABCJesusLovesMe.com/enter/
One entry per household, US residents only. Click to read our Giveaway Rules.