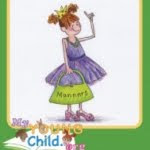 When I began ABCJLM, I knew I wanted the focus for the 4 Year Curriculum to be character education and the Fruits of the Spirit. I searched the web high and low looking for supplemental materials. Quirky Momma (a wonderful blog that I just found) introduced me to a free website called My Young Child. I got really excited!!
My Young Child is a free website with a wonderful mission statement:
We are proud to present to parents, educators and caregivers online stories to read with young children that will help BUILD VALUES. Designed for children 3-7, these stories help teach children how to lead a meaningful and fulfilling life by being an honest, responsible and caring person.
With so much in the news about dishonesty, corruption and fraud at all levels and in all professions, a child may grow up believing that this behavior is the norm. Teachers, grandparents and others working with children have also noted of late an absence of civility in many children's behavior. MYYOUNGCHILD.org was designed to give parents, teachers and caregivers the tools to instill in the minds of children at an early age that a more satisfying life style is possible.
The stories are great but beyond that each story contains discussions and activities. Great questions to help your child apply the character to their life. These are also great example questions that will help you create your own when reading the Bible or another book with your child.
Look for the My Young Child stories added to the curriculum!! Thank you Quirky Momma for introducing these to me!