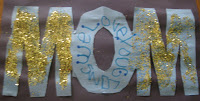 I was looking for an idea for the kids to do for Mother's Day.  Didn't really find anything that I liked but somehow came up with this idea.  The kids were able to do the majority of the craft by themselves and it allowed for scissor practice too!
Because the word "MOM" is a palindromic word – words that are spelled the same backwards or forwards – the word can be folded in half, laid on a folded edge of paper, and the kids can easily cut out the word "MOM" and create a fun card or poster.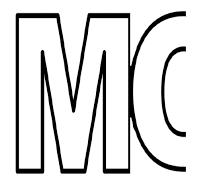 Supplies:
Template
– printed and cut out – heavier paper makes it easier to trace
Construction Paper
Safety Scissors
Pencil
Markers, glitters, stickers, stamps, etc to decorate
Glue
Decorations:
Print and cut out the
template
.  Fold the construction paper in half.  Lay the half of the "O" on the fold.  Trace around the template.  Cut it out.  When you open up the construction paper there will be a surprise!
We glued our "MOM" onto another piece of construction paper but you can leave it as is.