Back in February when Bubs was having such a terrible week, I called his OT hoping to come up with something to do.  I truly was at my wit's end with his behavior. 
Ms. W told me that she wanted us to immediately start the "brushing technique".  She was going to send two brushes home, detailed instructions, as well as teach us what to do.  I was amazed at the result.  It truly had a calming effect on Bubs.  The great thing about it – under a therapist's guidance, you can do this too!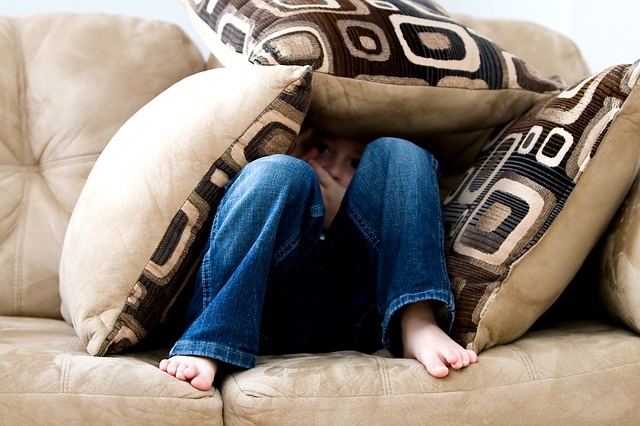 The Wilbarger Deep Pressure (Brushing) Protocol is the technical name for it. Basically the brushing and joint compressions allow the child to take in sensory input in a "normal" way; helping the child's brain to regulate its responses to sensory information.
Time:
*Each brushing and joint compression "program" will take 3-5 minutes.
*Do the entire program every 2 hours while the child is awake.
*Continue the program for at least 4-5 weeks or until results are noticed. (It may take some children as long as a year.)
Brushing:
*Once you have made contact on the child's body, do not let go until finished
*Avoid sensitive areas (bottoms of feet, stomach, inner thigh, over spine)
*Brush in the following order:
-right arm
-back
-left arm
-left leg
-right leg
*Child can be in any position (sitting, standing, lying down, etc.)
*Hold brush horizontal over bar skin, vertical over clothing
*Do not go over skin and clothes in one sweep. Do bare arm/leg first, then brush over clothing
*Use firm, consistent pressure (not quick or hard)
Joint Compressions:
*Always follow brushing with firm pressure to the joints.
*Using this order:
-right ankle to knee
-right knee to hip
-left ankle to knee
-right knee to hip
-left wrist to elbow
-left elbow to shoulder
-right wrist to elbow
-right elbow to shoulder
-shoulder to hip
*Compress 8-10 times each
The great thing about this is that it really does work and it will cost you approx $3-5 for the brush and then your time. We have a brush for Mommy and a brush for Bubs – for when he feels that he needs it and wants to "brush" himself.
Disclaimer – I am not an Occupational Therapist.  If this is something that you think would help your child, talk to a therapist.  Use this info strictly as info, but talk to a professional first!  I viewed several YouTube videos of this program.  Each one was a little different and varied from how we have been taught.  One more reason to check with a trusted professional!
How has this worked with your child?