Five Little Speckled Frogs is one of the stories on the 2 Year Curriculum's Book of the Week list.
My kiddos love to sing the song.
There are several versions available but my kids and I enjoyed Nikki Smith's illustrations. The song is divided up to match the pictures. Even though they know the story and the illustrations were predictable, the kids wants to turn the page and see what came next. They loved the picture of the frog flying through the air each time.
This book is featured in Week 5 of the 2 Year Curriculum. I created a printable and activity to do with the story.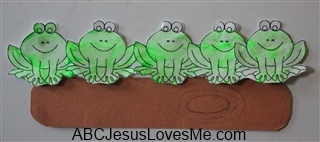 Print the Five Frog Template on white paper and color the frogs or print on green paper. Cut out. Place a brown "log" made of construction paper on a piece of paper, board or mat. Using sticky tack, place the five frogs on the log. As you read the book, pull the frogs off the log.
We had a lot of fun with this. Make sure you read and sing the book while doing the activity.


Thank you to Nikki Smith for allowing me to review her book!