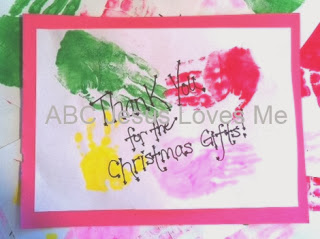 Hopefully the Christmas season is coming to a nice conclusion for your family. The Christmas decorations are getting put away, gifts have found a home, and life is returning to a normalcy.
One of the activities that should conclude your Christmas season is sending out "Thank You" cards.
I can hear the moaning already! I know.
Sending out "Thank You" cards is a lot of work for the mom especially when the kiddos are young. But, the gift receiver needs to get in the habit of showing thankfulness to the gift giver.
This starts at birth. Don't wait until the child is "older." Even if the child can't write, start by having the child draw – scribbles are fine! Then advance to the child writing his/her name and then writing "Thank You." Eventually the child will have the ability to write an entire note.
The above picture shows our Thank You cards this year. Since we had so many Thank You cards to do, I wanted to find something that would be fun, teach the children gratitude, and make the project not take seven months to do and create many gray hairs!
I gathered the number of pieces of white paper needed. Then I grabbed one of the kids and painted one hand. They stamped their hand on each paper. In between each print, I repainted the hand. After the paint dried on the paper, each child wrote his/her name on their handprint (not pictured.) I added a "Thank You for the Christmas Gifts" title.
This follows the same idea as the Handprint and Footprint Calendar that is highlighted on the ABCJLM website.
Let the children help stamp the envelopes or deliver the cards. Precious training at work!
A few years back we did a "Thank You" video. I taped each of the kids saying "Thank you" or "Thank you for the gift." Then I spliced the segments together to form a full video. I emailed the video to all who blessed us with gifts. It was a hit!


How do your children express gratitude?