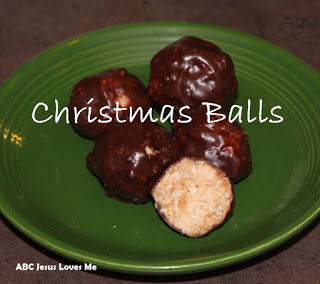 There are a few recipes that make my holiday time complete. Pecan pie is my Thanksgiving have-to-eat. Christmas Balls are one of my Christmas musts. I will share another recipe tomorrow!
I always make a batch of these to include in our gift baskets for neighbors, teachers, and friends as well as some extras for us to eat.
Ingredients:
1/2 cup margarine
2 cups peanut butter (creamy or crunchy)
3 cups powdered sugar
3 cups rice krispies cereal
1/2 bar paraffin wax or 2 oz shortening
1 giant Hershey bar and 1 cup chocolate chips -or- 24 oz chocolate chips
Directions:
Melt margarine with the peanut butter. Add powdered sugar and rice krispies. Create balls (you will have to mash the ingredients together in your hand in order to make them stick together). Melt the wax or shortening with the chocolate. Using a fork, dip the balls into the chocolate mixture. Let stand on wax paper.
Store in tight container. Can also freeze.
If this recipe seems like too much work, Human Puppy Chow contains the same ingredients but is much easier to make. And the kids can help with the assembly too!


What is your favorite Christmas food?