Every other week I mix up a huge batch (4x the recipe below) of homemade granola. We eat it as cereal, on yogurt and anything else that it will enhance for the moment. Daddy and I eat it every morning. It sticks with you and is an excellent source of good stuff! I have played with the recipe for several years to get a good balance between good-for-you and taste. This recipe is our favorite. The great thing about granola is that you can make changes to match your taste buds. Add more sugar. Reduce the sugar. Only use honey. Add nuts and dried fruit. The choice is yours!
Granola Ingredients:
7 cup oats
1/4 cup wheat germ
1/4 cup flax
1/2 cup water
1/4 cup honey
1/3 cup brown sugar
2 T oil
1 T vanilla
1/4 cup nuts (optional)
1/4 cup coconut (optional)
1/4 cup raisins (optional) – Add after baking
(Click to print the Granola recipe.)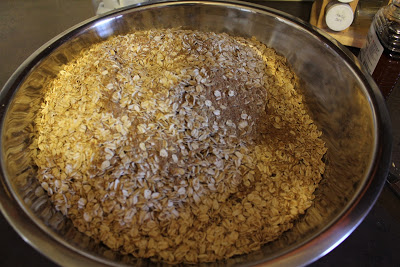 Add oats, flax, and wheat germ together and stir. In a separate microwavable bowl, combine water, oil, honey, and brown sugar and heat two minutes on high to dissolve the brown sugar. Add vanilla.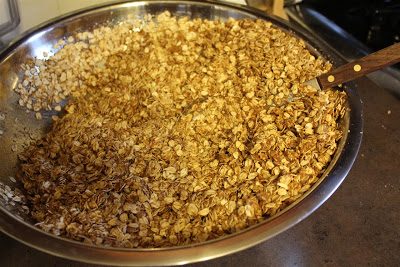 Thoroughly stir in wet ingredients. Pour onto a jelly roll pan. (Honestly, I bake mine in a big metal mixing bowl – pictured above. Save dishes! You do have to bake longer and stir more often though.)
Bake 1 hour at 250, stirring every 15 minutes. Add raisins after baking. Bake additional time if granola still feels "wet."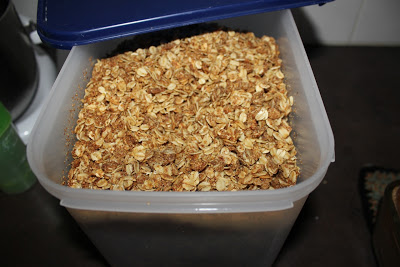 Enjoy!!
Be sure to check out my delicious recipe of Granola Bars too!