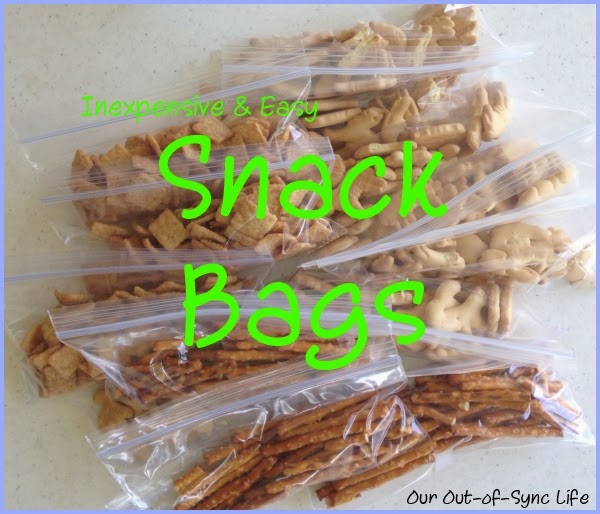 With the kids back in school, the need for easy and quick snacks grows exponentially. And it is really tempting to head to the snack sections at the grocery store to grab a box of prepackaged snacks. But with four kids needing snacks twice a day, the individual packages leave quickly and add to our grocery budget.
In an attempt to stop the urge to impulse buy the simplest option, I grabbed some snack bags and large containers of snacks and set to work. Here are a few options that will keep in the cabinet or refrigerator for when time is limited.
Pretzils
Animal Crackers
Fruit Snacks
Cinnamon Toasters Cereal
Honey Nut Cheerios
Homemade Granola or Granola Bars
Cube a block of cheese
It took less than 30 minutes to create about a month's worth of snack bags. It would be easy to include the kids on this process. Simply put a handful of each snack into a snack-sized ziptop bag.
But, here's the best news. The savings is huge. I did some non-scientific calculating of basic snacks to help you see the difference. On average the prepackaged snacks cost $0.48 per package. Dividing large packages of snacks on my own came to an average of $0.33 per package. That's $0.15 savings per snacks package or $1.20 savings per day or $36 per month in our home. What would you do with an extra $432 a year?
Enough with numbers. Head to the grocery store. Instead of being tempted to purchase the individual packs, check the price of the large containers, grab some snack bags, and enjoy the savings. And because this is a great teachable moment, be sure to show the older kids the savings so they learning money management as well!