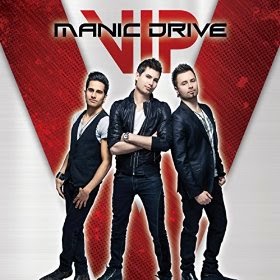 Find a teenage girl who doesn't like the boys-band sound and you will have found a rare breed. There is just something about the tight harmony that draws in the females. Unfortunately, there aren't many options with lyrics that don't focus on the opposite sex and desire there of.

That's why I was pretty excited when I was asked to review a CD of the Canadian band Manic Drive. A Christian option for those who like the pop sound.
Manic Drive has "toured extensively throughout Canada and the US with multiple Billboard Top 10 and 20 singles on the CHR and Christian Rock Radio." You can find out more about this newer group on their website ManicDrive.com.
Their newest CD, Vip
, contains songs with a lively beat and hiphop sound. The lyrics repeat and contain a lot of hidden meaning. As I read through the words, I would like to hear the background on the lyrics to understand exactly what the composers are implying because I know there is a story lurking behind the lyrics.
While this isn't my favorite CD, I could see that it could be a draw to the younger crowd. Also, if you have Amazon Prime
, you can download Manic Drive's last CD Epic
for FREE! And if you don't have Amazon Prime, you can give it a try for 30-days for FREE!
Giveaway
So if you have a young lady in your life or if you are young at heart, today is your day! As a precursor to our month of Thanks-Giveaway beginning next week, I am giving away this CD. All you have to do is leave a comment on this post along with the name of your favorite CD right now and you will be entered to win.
Giveaway details: I will choose and announce one random winner on this blog on Friday, October 31st. (So, be sure to check back to see if you have won!)
You will have until Thursday (10-30-14) at 7:00 p.m. (CST) to
enter in this giveaway. I will also be announcing a brand new giveaway on November 3rd!
Only one entrant per US or Canada mailing address, per giveaway. If you have won the same prize on another blog, you are not eligible to win it again. Winner is subject to eligibility verification.


Thank you to Propeller Consulting, LLC for providing this prize for the giveaway. Choice of winner and opinions are 100% my own and NOT influenced by monetary compensation. I did receive a sample of the product in exchange for this review and post.