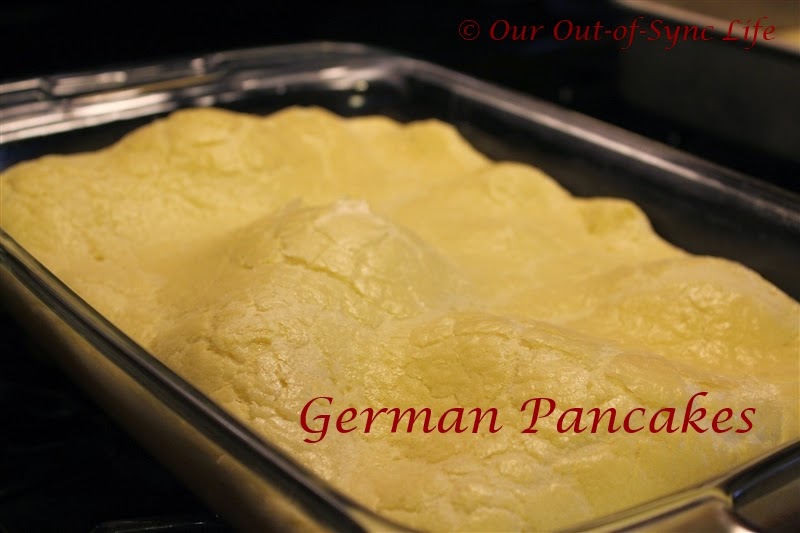 Curious what you are looking at?  Breakfast gone wrong, you ask?
Nope.  That, my friend, is pure deliciousness that produces smiles around our breakfast table.
I had German Pancakes for the first time when in college and on choir tour. I still remember the goodness.  After we had kiddos, I went in search for the recipe so that I could serve it to our family. Now our kiddos think that they are divine and beg for them most weekends.
I now make three – yes 3! – batches in 9×13 pans for our growing family of six. We usually have two squares leftover.
The fun thing about this recipe is that while baking, the pancakes bubble up making hills and valleys.  Once the heat escapes, they return to flat pancakes.
Ingredients:
6 eggs
1 cup milk
1 cup all-purpose flour
1/2 teaspoon salt
2 tablespoons butter or margarine, melted
Directions: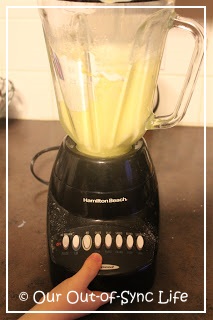 1. Place the eggs, milk, flour and salt in a blender; cover and process until smooth.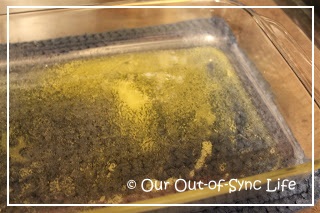 2. Pour the melted butter into a 9×13″ baking dish; add the batter.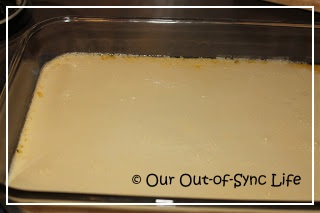 3. Bake, uncovered, at 400 degrees F for 20 minutes.
4. Dust pancake with confectioners' sugar; serve immediately with syrup.   We don't add the powered sugar because we all seem to inhale the cloud of powered sugar while eating and it makes a mess.  We do like to spread on peanut butter though.  

German Pancakes would be wonderful for Christmas morning or as a regular breakfast treat.  Since we eat these almost weekly, I'm required to choose something a little different for Christmas.  Check out our favorite Christmas morning tradition – Bubble Rolls.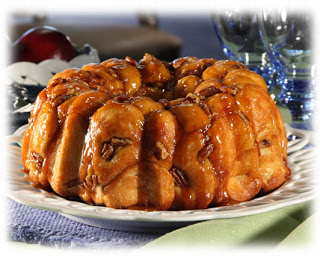 Image Source
---