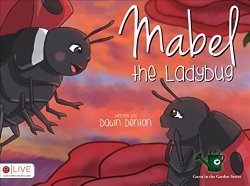 You can find children's books on trains, boats, princesses, and animals. Superheros, space, and shapes. Literally about any subject you can think of. But there is one subject which I haven't seen a lot of books cover. Gardens and the animals that live there.
Think about it. When was the last time that you picked up a book at the library that taught your child about plants and the bugs who help them? In the 1000's of books that we have read, I can only think of three and each of these were written by author and Master Gardner Dawn Denton. If you have followed this blog for some time, I hope that you have read some of these books too!
Dawn has just released the fourth book in her Guest of the Garden series. Mabel the Ladybug is a precious book about the important job that ladybugs play in a garden. Intertwined is an example story of Jesus looking for His lost sheep.
As a gardener myself, I appreciate how realistic the illustrations
are in the Guest in the Garden series and how Dawn explains the different plants and functions the bugs have to help the plants. I have learned several things! The herbs, vegetables, and bugs look like what I have seen in my
own garden. The characters are adorable and filled with color.
Gardening is one of those "Ultimate Gifts" which we are giving our children. Teaching them to understand where food comes from and the work it takes to bring it to the dinner table. Working in a garden or working with potted plants helps a child develop a work ethic and they think twice about throwing away food when they understand the amount of sweat it takes to get it to the kitchen! I encourage you to check out Dawn's books and start growing a few plants with your child!
Ruby and Rocket (read my review)
Oliver the Toad (read my review)
Betzy the Bumblebee (read my review)
As a huge bonus, each of these books are available in a downloadable audio form for
free. Each book contains a coupon code. Simply visit the website
listed in the back of the book to enter the code to listen to the
author read the book. You can listen through the website or download to
your computer, a CD, or a portable music device. A special musical
chime is rung to let the child know it is time to turn the page. Books
on tape (which is what they used to be called) or audio books are great for quiet time
or traveling in the car.
Speaking of family-friendly media, did you receive your free 2-week trial of gMovies? I hope you are enjoying the almost 300 features. As promised, I have a six month subscription to give away. And the winner is….
Entry #76: Cindy H. at RiverTree
Cindy H., please contact me
within 48 hours using the winning email address and be sure to include your mailing address. Thank you to everyone who entered.
This post contains affiliate links.


Thank you to Dawn for allowing me to share this book!
Giveaway provided by FlyBy Promotions