In my mind, it was just last week that we brought her home from the hospital. All 8+ pounds of joy. She was an easy baby. Just needed some alone time when life got crazy and then she would be ready to go again. For a long time, Sweet Pea was the image of ABCJLM. Now she gets super excited knowing that her image is displayed on the front of three ABCJesusLovesMe Lesson Plans and Workbooks. But her tall height, maturing heart, and the calendar all prove that time is quickly passing – whether I like it or not.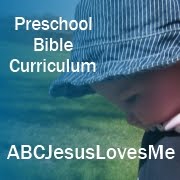 For a while now I have known that "the talk" was just around the corner for us. I just didn't know how to go about it. Where do I begin? What do I cover? With all these questions, I knew for sure that I wanted the information to come from me and that I wanted all of it to have a Biblical foundation.
But where to start?
I headed to the internet.  I found a lot of books for pre-teens but we aren't ready for those yet.  I began by looking at the God's Design for Sex Series.  I loved the concept of having a book to read per age that gradually went deeper into the subject.  Unfortunately I was not comfortable with the depth that was covered in the younger books.  Too much, too soon in my opinion.
Next I headed to a wise source.  I asked a momma with more experience than me what she used with her daughter.  I trusted her wisdom and knew that Sweet Pea adored her daughter and would go for anything that she did.  I found her advice in an unlikely source – American Girl.  Yes, really.  She told me about The Care and Keeping of You: The Body Book for Younger Girls book.  While it isn't Biblically based, it was super easy to pull the Scriptures into the book.  That was all I needed to know.  I headed to Amazon and purchased the book…just in time for our first weekend camping trip. 
I let Sweet Pea know that I had ordered a book that Miss L had read with her daughter. This alone got her excited. I then explained that we were going to have some girl time during our weekend camping trip. She was bubbling over.
With the boys riding bikes and playing catch with Daddy, Sweet Pea and I pulled our lawn chairs close and began reading. The book began by explaining the importance of taking care of your body and hygiene – hair, face, teeth, etc. I was amazed to see how receptive she was to the book's information. We had talked many times about the topics but I had received resistance. Now that the book explained the how and why, she was eager to make changes. As we read, we created a list of supplies to purchase which she would need to put into place these important changes.
Working from head to toe, the book focuses on bras, nutrition, exercise, and then the "big changes." It was a lot of information to take in but Sweet Pea handled it like a champ. Throughout she stopped me as she had questions and I let her take the lead on what we covered.
My favorite part of this American Girl book was how it continually emphasizes inner beauty and handling the emotional swing of puberty in a healthy way. Nutrition, comparison with others, and weight is handled so well. I love how the book provided me with the words and took the pressure off both of us having to come up with what to say.
The underlining positive theme made it easy to add in Bible verses like these:
Genesis 1:27
Jeremiah 1:5
Psalm 13
Luke 12:7
Isaiah 43:4
Jeremiah 29:11
At age 8 1/2, this book was a perfect introduction for the huge changes that are going to take place. And it is a perfect avenue for other books which I want to read with her.
You may be in the same boat as me looking for resources. Or you may be years away. From experience, I can say that it goes so quickly. I encourage you to pin this post for future reference. And if you are a momma who has been through this with your princesses, I hope that you will share your wisdom in the comments below!
Read Next: How to Talk to Your Child About Sex
This post contains affiliate links.