A few years ago the kiddos wanted to play a game of
Candy Land
. With strong nostalgia towards the game, I was happy to oblige.  Little Man got it set up and drew the first card. The game teetered back and forth but towards the end, we were neck and neck to the finish line.  That is… until Sweet Pea drew the dreaded gingerbread man.
Now for those of you who aren't Candy Land savvy, the gingerbread man is at the very beginning of the board and can be a positive death sentence when the game is close to being over. 
Debating on how to handle the unsettling news, Sweet Pea looked at me for support
(hoping I would tell her to draw again)
.  You could see her literally fighting between the two choices – move and have a good attitude or let the bad attitude win out. Sadly, she chose the worst and became ugly very quickly.  She ended up going to her room screaming and stinking up the atmosphere with poor sportsmanship and attitude.
as Little Man and I calmly finished the game – that I won, by the way! –
I realized the vast amount of life skills provided for us through the game of Candy Land.
Sharing
– Sometimes several players want the "blue" gingerbread playing piece.  Someone has to give in and share the favorite marker.
Luke 6:38  Give, and it will be given to you. A good measure, pressed down, shaken together and running over, will be poured into your lap. For with the measure you use, it will be measured to you.
Support
– We need to celebrate with those who get double-colored cards or move ahead with a picture card.  We are to encourage each other as we travel this road of life.
I Thessalonians 5:11  Therefore encourage one another and build each other up.
Taking Turns
– The game is only fun when everyone takes a turn and respects each other.
Philippians 2:3  Let nothing be done through strife or vain conceit; but in lowliness of mind let each esteem others better than themselves.
How to handle the good and the bad
– Life gives us ups and downs which we have to face with a joyful attitude.
James 1:2  Consider it pure joy, my brothers, whenever you face trials of many kinds.
Sometimes life is smooth sailing and sometimes life is really hard.  
– Just when you think you will win the game, the gingerbread card can be drawn.
Romans 8:28  And we know that for those who love God all things work together for good, for those who are called according to his purpose.
Perseverance
– Keep moving forward even when the cards don't work in our favor.
1 Corinthians 9:24  Do you not know that in a race all the runners run, but only one gets the prize?  Run in such a way as to get the prize.
The end will be so sweet
– for those who have a personal relationship with Jesus Christ.
Revelations 21:4  He will wipe every tear from their eyes. There will be no more death or mourning or crying or pain, for the old order of things has passed away.
Favorite Games for All Ages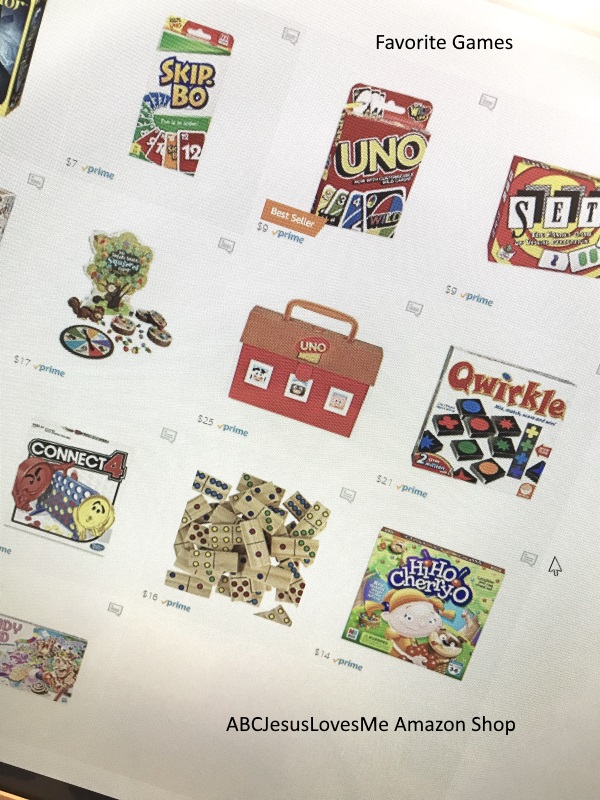 See our
favorite games
for preschoolers to adults in the ABCJLM Amazon Shop. What has God taught you through a childhood activity? Read more: –
What is Your Reaction to the Roaring River 
–
Have You Joined SISTERS?
–
Being Like Jesus when Your Day Falls Apart