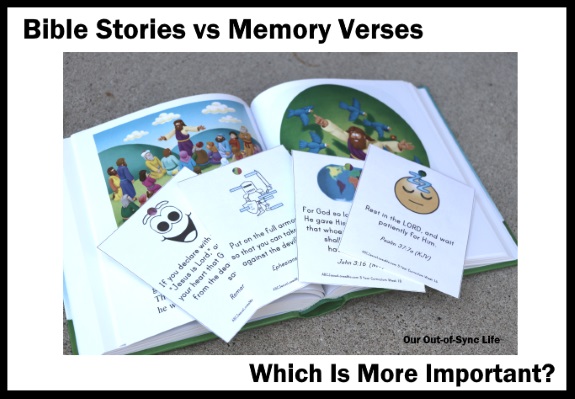 Which is more important…the Bible story or Memory Verse?
This was a question asked in our ABCJLM Facebook Group.  And, I completely understand the question because it can become very overwhelming covering all our children need to know by the time they are 18.  Bible stories, memory verses, work ethic, character…and the list goes on.
But in my mind this is similar to choosing between bread and water. I don't think you can choose one because both are essential in different ways.
According to the Bible, we are to teach our children the Scriptures (Deuteronomy 6:5-9) but we are also to "hide" God's word in our hearts so we can stand against sin and guard our hearts (Psalm 119:11, Joshua 1:8).
Bible stories allow us to see how people in the Bible handled situations.  We learn about God and His character.
Memory verses are a snapshot of truth.  They are for immediate memory and provide specific promises from God.
Here's one more analogy.  One would never walk through life only looking through
binoculars or a microscope.  But in the reverse, the view of life is limited when only depending on one's eyesight. There is a purpose for both – a wide-view and a focused view.
Because of this, I believe Bible stories and memorizing Scripture should be in a marriage that one can not split.

How to Get Started
If you have not been teaching your child Bible stories or memory verses, here are a few ideas to get you started.
There are 100's of children's Bibles available to read with your children.  I have created a list of our favorites and ideas to help you choose the best Bible for your child.  The ABC Jesus Loves Me Curriculum includes ideas to help teach the story and crafts to support the learning.  Also read ideas on How to Teach Bible Stories to children.
Looking back, I believe that I let memory verses slide too often during the preschool years of our children.  I especially missed the opportunity while my kids were sponges for learning. But that is the great thing about memorizing Scripture – you can learn verses whether age 1 or 101.  Check out these ideas to get started:  Memorizing Tools, Ideas to Memorize Scripture, Memory Verse Cards, How to Teach Child Bible Verses Video
Giveaway 


The Beginner's Bible is my favorite children's Bible for preschoolers. Unlike many children's Bibles, this one tells the Bible stories without adding the storybook element.  Today a brand new edition is available included three-dimensional art.  And I am so excited to be able to give away one of these Bibles!
Click 

on the rectangular image below to enter.  This giveaway will end on Monday October 10th @ 12:59 p.m (CST).  Winner will be announced October 11th on this blog so be sure to come back and see if you have won!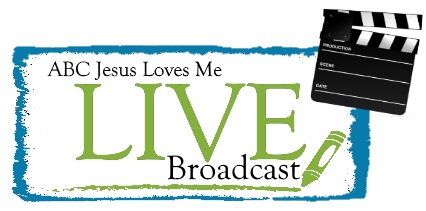 Join me for a Live Broadcast on Wednesday, October 12th at 10:00 am (CST) where I will share ideas of how to teach Bible stories to children.  Learn more…  
Update:  View the video of this Live Broadcast here.