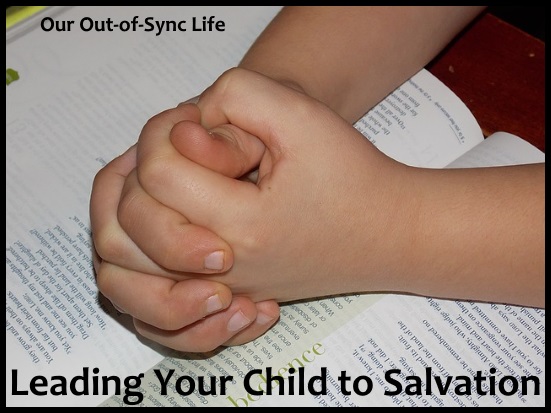 Two weeks ago the most amazing, humbling, beautiful thing happened in our home.  Our baby (Peanut – age 5) realized he needs God's help, forgiveness, and grace.  He prayed and told God that he didn't want to live his way anymore; he wants to live God's way.  Praise the Lord, my son is now my brother in Christ!
As a parent, this is the most important decision a child can make and the books below have been instrumental in explaining salvation to our children.  I encourage you to add them to your home library, not to force your child to repeat words, but to lay a foundation that will lead to a heart change.
A Warrior Prince from God – For boys
Princess with a Purpose – For girls
Pray that God would pierce their heart to understand how much He loves them.  Also, pray that the Holy Spirit would lead you in encouraging your child to see his or her need of a Savior.
Then what?
From the time your child is born you pray for his/her salvation, but the salvation pray doesn't stop the journey.  It is just the beginning.
For starters, we celebrate!   The Bible says in Luke 15:10, "In the same way, I tell you, there is rejoicing in the presence of the angels of God over one sinner who repents."  The date is highlighted on our calendar and we print a Certificate of Adoption for the child's scrapbook.
Then each year on the child's spiritual birthday, we celebrate with brownies and a time of praise for the child's growth during that year.  My mom and dad support each grandchild with a spiritual gift or object lesson and a key verse for that year.
Then on a daily basis, it is my responsibility to help each child learn to hear the Holy Spirit and obey.  As their momma, it is my responsibility to foster a love of the Bible and guide them in a time each day of reading the Bible and praying.  It is my responsibility to provide an atmosphere for them to grow in their personal relationship with God and to lead by example.
From there, each child's relationship with God becomes their own.  
Walking your child through the pray of salvation is an amazing opportunity that God allows us to partner on.  Salvation is one more example of laying a foundation of truth and then releasing them to obey God.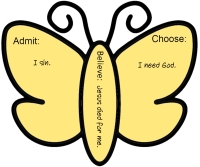 Click here to read more about becoming a Christian