Hang around me for a bit and you will hear me share how important my daily Quiet Time is. How God brought me to my knees to the point that I didn't have a choice but to admit my daily need of Him. I share my redemptive story in my free eBook A Quiet Time, Worth the Time.
Also included in the eBook is a plan that I use during my devo time; a break down of how I study the Bible, my prayer time, and how I use a Prayer Journal.
Several of you have messaged me sharing how much you have appreciated the ideas and how you have implemented them into your own life.
Today, I want to share another idea to help you break down, understand, and apply what you read in the Scriptures during your Quiet Time.
1. Journaling Bible
Journaling Bibles have become very popular in the last couple years as more people are discovering the joy of journaling and drawing through the Scriptures. Lines are drawn on the sides of the Journaling Bible to provide space as you write notes, meaning of words, and prayers. Also the paper is thicker making is perfect for colored pens.
One example is the new NIV Journaling Bible for Girls by Zondervan (available in turquoise or pink).  Because of the space given for journaling lines, this Bible does not include commentary. Only footnotes are provided.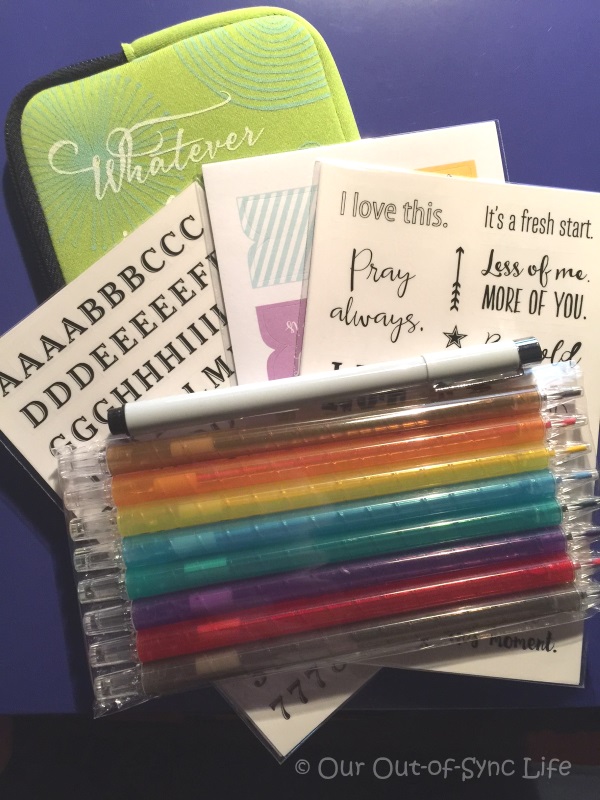 2. Journaling Kit

What better to add to your journaling time than coloring pencils and stickers? If you have ever done a Kay Arthur Bible study, you know how helpful adding colors can be.
Check out this fun Bible Journaling Kit set from Ellie Claire.
4 sheets of word stickers
4 sheets of alphabet stickers
24 tab stickers
8 twist colored pencils
1 journaling pen
a pouch to hold the supplies
a ruled page protector mat with tracing lines
It is my pray that our children will fall in love with the Word. As soon as I saw this Bible and journaling kit, I immediately thought of our Sweet Pea (age 10). She loves to write, draw, and decorate and I believe this set will make a wonderful Christmas gift for our growing girl as she learns to dig into the Word for wisdom, truth, and encouragement!
Giveaway:
Could you use this set for your Quiet Time or do you have a young lady in your life who would enjoy these items?  I am so thankful to Zondervan for providing a giveaway of a NIV Journaling Bible for Girls ($29.99) and to FlyBy Promotions for contributing a Ellie Claire Bible Journaling Kit ($35).  Two winners will be chosen, each winning one product.
To enter, click on the rectangular image below. This giveaway will end on Monday, November 21st @ 12:00 p.m (CST). Winner will be announced November 22th on this blog so be sure to come back and see if you have won!

Or click – https://goo.gl/forms/YXSLrDH2aGMNFK3w1
One entry per household, US residence only. Items will be mailed by respected company.  Click to read our Giveaway Rules.

---
Speaking of giveaways…
Thank you to all who entered to win the 1 year subscription to JellyTelly and a Roku stick shared in last week's post.  Out of 448 entries, the randomly chosen winner is:
Entry #325 – Katie (email katiedid…@…..com)
Please contact me within 48 hours using the winning email address.  Thank you to JellyTelly for providing this giveaway.
Even if you didn't win, remember that all JellyTelly subscribers receive one week FREE.  But, exclusive to the ABCJesusLovesMe family is an additional month free.  When you use code ABCJT1, you can get 5 weeks free!  JellyTelly is a wonderful tool for teaching your children the Bible, character education, and moral values!  Click now to get started.