Making a Gingerbread House is a fun activity to do during the holidays. It is a great way to strengthen fine motor skills and review shapes, sorting, and spatial relationships…and use up Halloween candy.
But if you have ever attempted this activity, it can be daunting to get the house to stand for the entire process. Here are a few simple alternatives.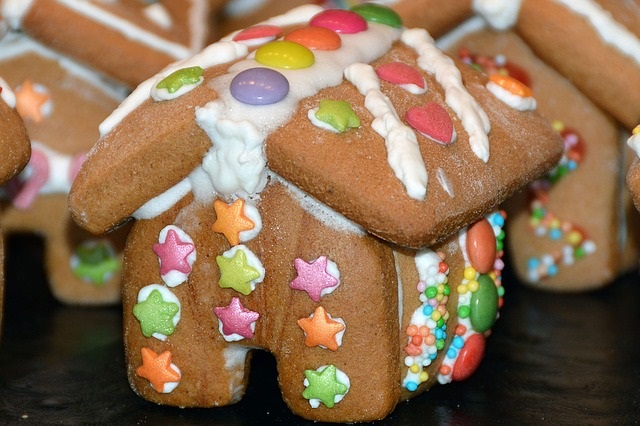 Gingerbread Houses
Making your own gingerbread or purchasing a kit can be great fun for older kids, but for preschoolers I love the idea from Little Giraffes to use graham crackers and a small milk carton as the framing structure of the house.
Wash and dry the mini milk carton and tape the container shut. Either frost the carton or hot glue graham crackers to the sides and top of the milk carton. Use 4 halves for the sides of the carton and 2 halves for the roof, angled to make a pointed roof. Using icing to hold the pieces, decorate the house with candy. Coconut can be used to create snow around the house.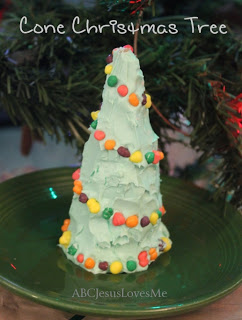 Ice Cream Cone Christmas Tree
One family Christmas I pulled out some leftover ice cream cones, candy, and frosting to make Christmas trees. With just a little supervision, all children were able to participate.

Sweet Pea frosted her cone by sticking her two fingers inside the cone.  Bubs held the cone on the top against the plate while frosting.  The whipped frosting worked best because it is easily spread.  And, light weight candy best sticks to the icing.
Graham Cracker Nativity Scene
I love this Jesus-focused option from GlueSticksBlog.com. Use graham crackers, peanut butter or royal icing, animal crackers, fruit roll ups, coconut, candy canes, and gum drops to make this precious nativity.
See more family-friendly Christmas ideas on the ABCJesusLovesMe website.
---
Overcomer Available to Order
And after you make memories with graham crackers and candy, don't miss out on the #1 Inspirational Family Film of 2019! Overcomer is available now on digital download and DVD on December 17th.