A few years ago I asked the ABCJesusLovesMe users how I could best serve their families. Several who have been with ABCJLM for a while asked for curriculum for their older children. They have loved using ABCJLM with their preschoolers but they want more for their elementary-age children.
As I prayed about it, the Armor of God was one of the first topics that came to mind. So, I began brainstorming and created a new Unit Study!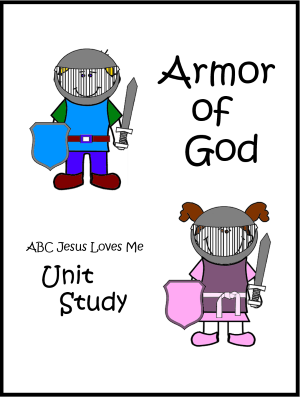 What is a Unit Study?
If you have enjoyed the Christmas, Easter, and Thanksgiving curriculum, which are free to all our blog subscribers, you are familiar with the ABCJesusLovesMe Unit Studies.
Unit studies are smaller curriculum that typically focus on one topic at a time. They use many subject areas to teach the same concept (science, reading, math, etc.).
In the case of the Armor of God Unit Study, there are nine lessons focusing on the Armor of God.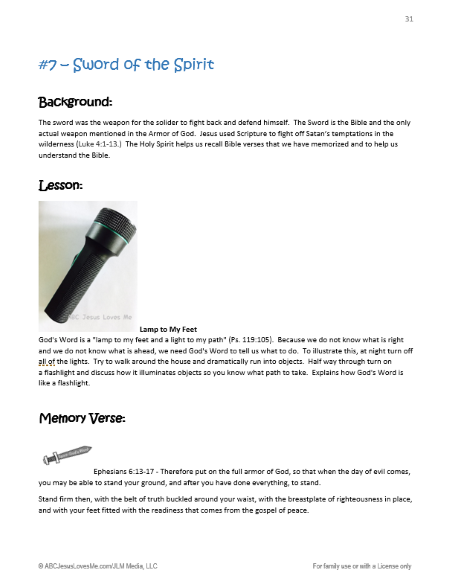 What is Included in the Armor of God Unit Study?
Included in the 47-page digital download is the Scope and Sequence, which provides a layout of what and how to teach and the activities that reinforce the lesson.
Nine Lesson Plans include background information for the adult, a lesson, a memory verse, a song, and activities to do with child. Snack ideas are also included for further learning.
The craft ideas are simple to do and require basic household items and kitchen ingredients. The download includes all printables.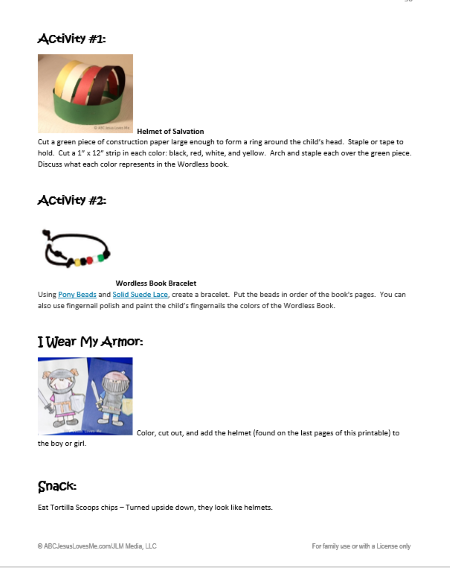 Who Can Use the Armor of God Unit Study?
Written for children ages 5-10, both boys and girls can learn about the God-given armor and how to use it when confronted with the lies and temptation of the enemy. Throughout the study, the child will create a boy or girl soldier.
Use the $5 unit for family devos or as a Bible curriculum. Churches may use the curricula for a Sunday School or Wednesday night curriculum for their elementary-aged kiddos. License prices begin at $10.
How Does This Unit Study Compare to Other ABCJLM Curricula?
You will find the format very similar to what you have seen in the 1st Edition 1-5 Year Curricula. A difference is that this Unit Study is nine weeks of lessons and the digital download includes all the worksheets.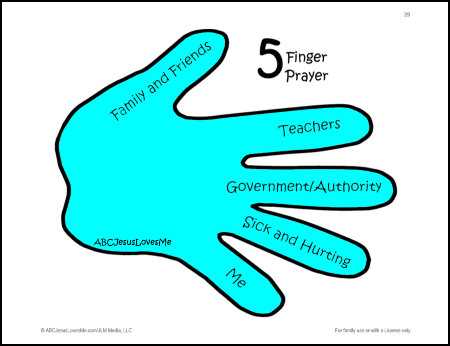 Thoughts From Others
I just finished ordering and downloading my copy of the ABCJesusLovesMe Armor of God Unit Study.
As is true to her form, Heidi created yet another fantastic unit designed to plant the truth of God's Word deep in the minds and hearts of our precious children. It's fun, engaging, creative, practical, and easy to implement into your daily or weekly routine.
I encourage you to purchase this unit study as well. I believe it has been created "for such a time as this" while evil is on the rise in the world we live in. Teaching our children how to put on the full armor of God will equip our children to stand strong daily. Let's raise some little warriors! –Holly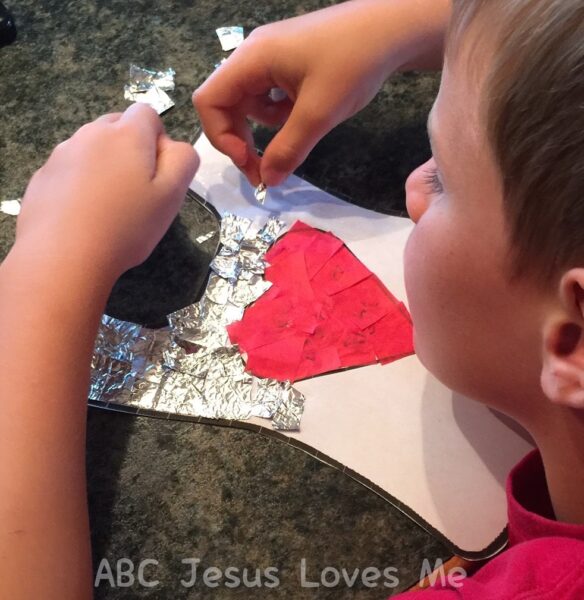 The Battle…
The Bible is clear that an invisible battle is taking place around us. Instead of being afraid, we need to teach children to stand guard. Instead of coming up with fleshly solutions, we can put on the full armor of God.
The ABCJesusLovesMe Armor of God Unit Study empowers you to teach preschool and elementary-aged children the weapons God has provided His children and how to use them.
Be sure to share this with your Sunday School leaders and friends with elementary-aged children! Together, let's teach our children to stand.
See more in a Live Broadcast I created on Facebook a few years ago!
To Order
Head over to the ABCJesusLovesMe website to order the Armor of God Unit Study today!