UPDATE: This workbook has been complete remodeled and updated! See the updated Christmas Activity Workbook here.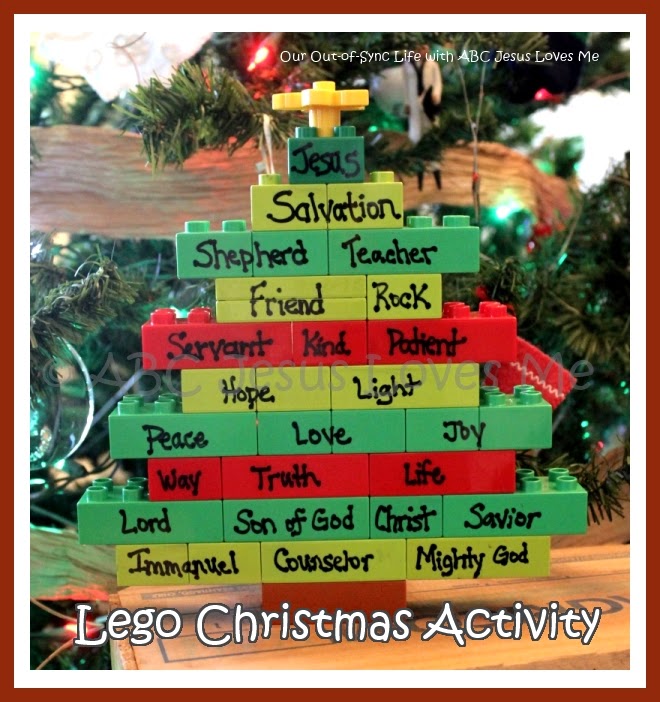 Our kiddos know the Christmas story backward and forward. They hear it at home, church, and in books. In the past few years, we've done the basic Christmas activities and advent calendars. They can tell about Mary and Joseph. They can explain that Jesus was born in a manger. They can even announce who visited the new family.
As I am growing in my understanding of who Jesus is, I realize that it isn't enough to be able to regurgitate the Christmas story. Or any story from the Bible. I don't want our children to simply know the facts.
I want them to know the Savior.
So in pondering what to do the month of December to help them understand a little more about the King who came as a baby, I came up with an unconventional idea. I took what my kids love – Legos – and combined it with who I desire them to fall in love with – Jesus. And in a way only the Holy Spirit could bring it together, I present the Lego Christmas Activity.
Objective:
To daily focus on a characteristic of Jesus so that our children better understand who Jesus is and how He desires to be a personal Savior to each one of us. Second, for our children to understand how remarkable it is that Jesus chose to come as a baby to save us. Last, to create traditions that draw our family together. And most importantly, the goal of every activity is to "impress" Christ on our children (Deuteronomy 6:7).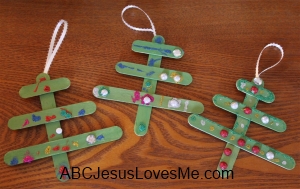 Supplies:
1. I used the Duplo Legos
to create our tree. You could easily use blocks or different sized Legos. The Christmas tree gives a visual picture of the characteristics of Jesus and also serves as a countdown to Christmas day. (Scroll down to see more ideas)
2. The ABC Jesus Loves Me Lego Christmas Activity Workbook will explain exactly what to do each day beginning on December 1st. The activity will include adding a Lego to create a Christmas tree. You will also discuss the character of Jesus, read the scripture, and do an activity together. These activities range from coloring a worksheet to singing a Christmas song, baking goodies to playing a game. All worksheets and ideas are explained in this printable. The activity pack is available for free to all who subscribe to this blog. You can find the link to the workbook at the bottom of the blog's emails or RSS feed.
3. Dry Erase Marker to write on the Legos. Or use permanent markers to build the tree for many years to come.
4. Supplies to do the daily activities. The workbook will explain what is needed for each activity. Fill free to supplement with items already available in your home.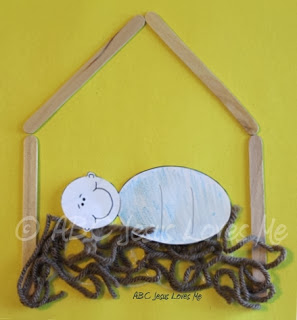 Daily Activities:
As stated, each day includes a characteristic of Jesus, Scripture reading, and activity.
Here are a few examples.
Day 1 – Jesus is Immanuel
Scripture: Isaiah 7:14, Matthew 1:23
The Old Testament foretold 600 years prior to Jesus' birth that He would be born. Showing the fulfillment of Scripture, the verse is repeated in Matthew 1. Immanuel means "God with us."
Activity: Begin the ""Happy Birthday, Jesus" Book by coloring the cover. Explain to the child that he or she will be creating a book about Jesus this month. (Found on page 19 of the workbook) Choose the first Lego for the Christmas tree. Write the name "Immanuel" on it with a dry erase marker.
Day 15 – Jesus is Light
Scripture: John 8:12, John 12:46
We don't have to walk through this life blindly for Jesus will light our way.
Activity: Put on pajamas, warm up some hot cocoa, and drive around looking at Christmas lights. Discuss how light can be seen from a long distance away and how it illuminates all around it.
Day 18 – Jesus is Patient
Scripture: 2 Peter 3:9
Jesus is patient with us, even when we make the same mistake over and over.
Activity: Play a game as a family and discuss patience on waiting your turn. One possible game is the Nativity Memory Game. Purchase or use a nativity set with individual pieces. Place the pieces on a table and have the children close her eyes. Remove one of the pieces and have the child figure out which piece is missing. After the missing piece is discovered, talk about its significance in the Nativity. For instance, if you take away a shepherd, explain to the child how an angel appeared to the shepherds in the field to tell of Jesus' birth. (Reprinted by Permission)
And the list goes on. Twenty-five characteristics of Jesus, scripture readings, and activities along with all of the worksheets are included in the free printable workbook. Each idea can easily be exchanged for another one that better suits your family and traditions. As the age of your children increases, so can the depth of activities and discussion.
The key verse for our blog is Deuteronomy 6:7, "Impress them on your children. Talk about them when you sit at home and when you walk along the road, when you lie down and when you get up." I can only pray that you can use the Lego Christmas Activity to further impress that Christmas is about a gift. The personal gift of Jesus and the eternal life He offers.

How can I get a copy of the ABCJLM Christmas Unit Study?
Subscribe to this blog to receive the link for the free Christmas Unit Study.
Already a Subscriber – Scroll down in your email or RSS feed for the link to the free printables.
Non-subscribers – Purchase under the Unit Study category.
Church or Preschool Users – Licenses can be purchased on the ABCJLM website.
Ideas from Others: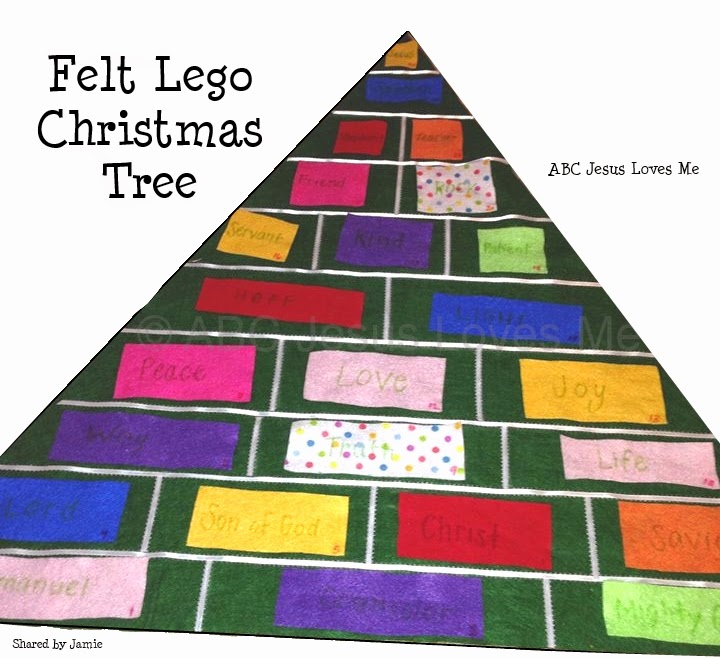 1. Jamie shared the idea of using felt instead of Legos to create the Christmas tree. Ribbon created boxes and individual felt pieces made the blocks. Thanks for sharing, Jamie!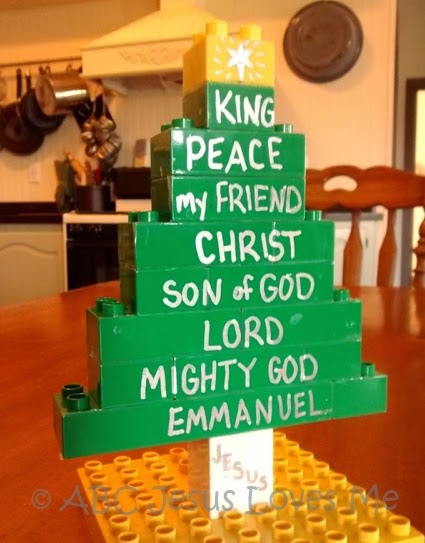 2. Are you overwhelmed with 25 daily Advent activities? Gennah simplified the Lego Christmas Activity to be done twice a week instead of daily. She shares, "This is how I am doing the Lego activity. 8 "layers", covering a new one every Sunday and Wednesday night, with a few days of activities and discussion in between. I used clear tape around each layer and wrote with a paint marker. [Simplifying allows for] more review." …and less stress!
This would also be perfect for those who meant to begin but time has gotten away or from a church group. Simple choose any 8 characteristics of Christ to cover.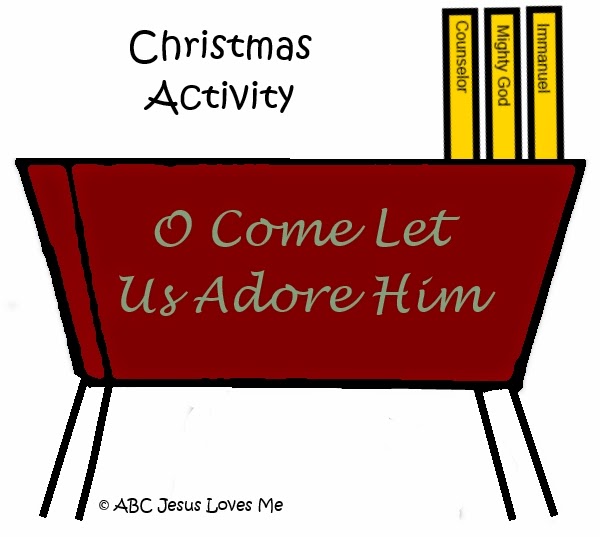 3. Beth shared the idea of creating a manger and adding paper "hay" each day with the characteristic of Jesus written on each piece. On the last day add the baby. This is similar to the
Baby Bed for Jesus
activity.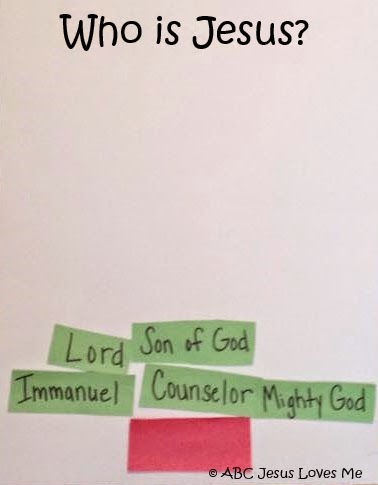 4. Love the simplicity of a poster board and rectangles with the characteristics of Jesus written on them. Each day add the next block. Thank you to Erin for sharing this.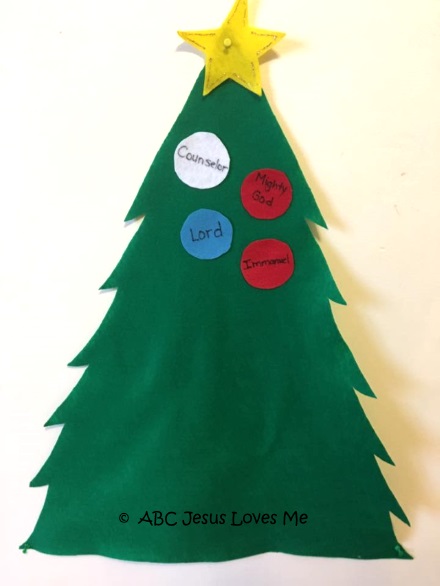 5. Combine the Christmas tree with the characteristics of Jesus. Make out of felt or paper. Click to print a Christmas tree. Thank you to Lindsey for sharing this.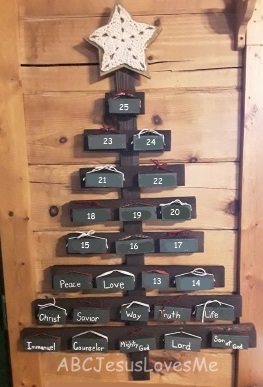 6. Melissa made this beautiful wooden tree with reversible blocks.
---