When asked to review an interactive reading system, I wondered if it was something that the ABCJesusLovesMe family would be interested in. So, I headed to the Facebook Group to take a poll. After a resounding "yes," I dug into the Vooks website to take a look.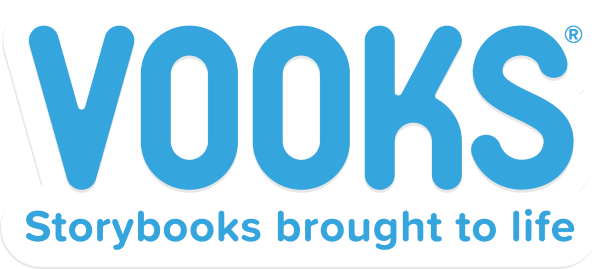 What is Vooks?
"Vooks is an interactive reading system that helps kids learn from stories, get along with others, and develop kindness and values." The streaming library contains ad-free, kid-safe animated storybooks. Movement and sound are added to the original storybook art to create a video.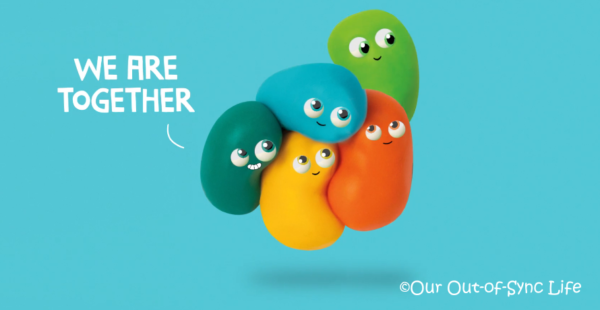 What I Love About Vooks
Peanut (age 10) took a moment to browse the Vooks website for me and said, "I really like how it takes stories and animates them." He enjoyed seeing the stories come to life.
This streaming library is ad-free and child-friendly. This is huge!
100+ books in the online library contain lesson plans. Included in the plans are: a story summary, discussion questions, art activities, and other academic worksheets. I found most of the Lesson Plans to be geared towards late preschool to early-mid elementary level.
"Vooks Pause and Ponder" is my favorite portion as the Lesson Plan provides specific times in the book to pause the video and answer questions. For example, in the Slumberkins book, at 0:29 how is the fox feeling and how can you tell? These questions are exactly what I suggest in the How to Grow a Reader Videos for child involvement, comprehension, and pre-reading skills.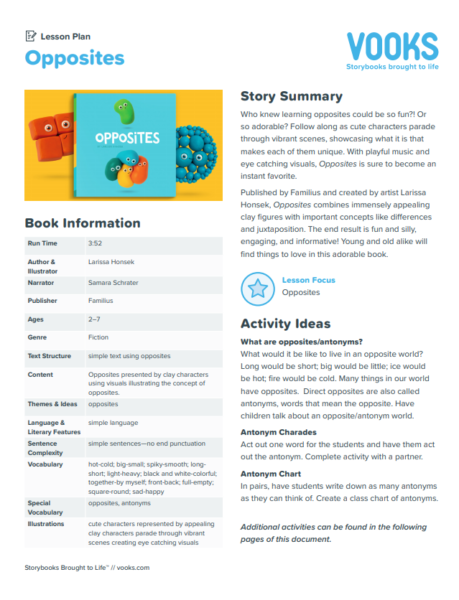 My Hesitations about Vooks
The storybook words are written on every page and highlighted when spoken, almost like a sing-along video. This helps children begin to understand the relationship with letters, words, and the words spoken. Unfortunately, due to the movement in the illustrations, I feel most child will be drawn to the illustrations and not the words.
Of the multiple books that I viewed in this review, I found several very cute options. While there are a few Curious George books included in the library, the books available are not considered "classics." Disappointedly, only about three books from the ABCJesusLovesMe Books of the Week are available on Vooks.
Being a streaming library, use of the website requires an electronic – computer, phone, tablet. There are numerous studies that show the negative affects of extended electronic use in young children. In their "Our Story" section on the website, Vooks reminds parents that according to the American Academy of Pediatrics (AAP) one hour is the suggested daily screen time limit for children under the age of six. So if you choose to use Vooks (or any other electronic app or video), choose wisely and – based upon the AAP recommendation – watch the media with your child to help them understand what they are seeing.
Self-proclaimed, Vooks creates videos of books using the book's illustrations and words. While this is neat, an animated storybook is not a substitute for reading books.
Read more...How Much Media is the Right Amount?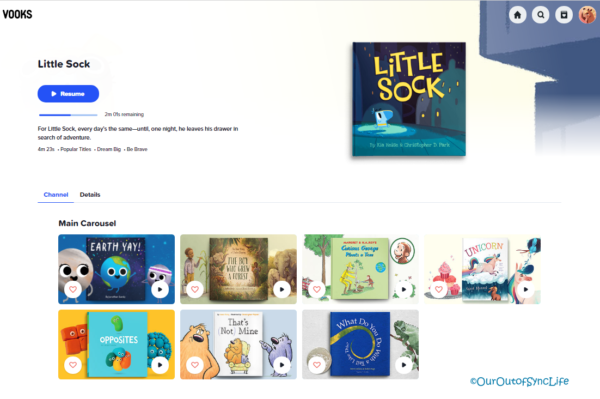 When to Use Vooks
If you are looking for a video streaming app that is ad-free and child-friendly, Vooks is a fantastic option. Snuggle your child in your lap and watch a couple of videos together. Use the free Lesson Plans to further the learning and build comprehension and pragmatic skills. It's a win for everyone!
Try Vooks FREE for 30 days or purchase a subscription.
Giveaway: Enter to Win Vooks for a Year
Click the rectangular image or link below to enter to win the Vooks Subscription ($59.88 value). This giveaway ends on Friday, April 23rd @ 12:00 p.m (CST). Don't wait to enter! The winner will be announced on this blog, so be sure to come back and see if you have won!

Or click – www.ABCJesusLovesMe.com/enter/
One entry per household, US residents only. Click to read our Giveaway Rules.

Many thanks to Vooks for providing this product information for review. Opinions are 100% my own and NOT influenced by monetary compensation. I did receive a sample of the product in exchange for this review and post.