A month ago we released the completely remodeled Thanksgiving Activity Workbook. Oh how I have loved seeing your images and videos on Facebook as you walk through the workbook. God is using it to build a heart of gratitude in children around the world.
Today I am excited to announce the release of the new Christmas Activity Workbook! And you are going to love how it teaches your children and students about Jesus, their Savior.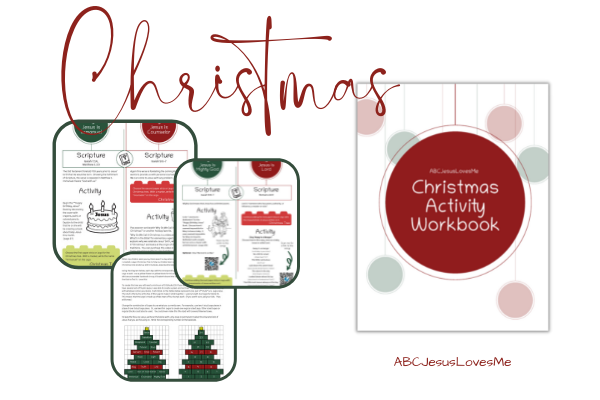 Christmas Activity Workbook Key Points
Daily Scripture reading and activities to discover the characteristics of Jesus.
Create a Christmas tree
Christmas Daily Activities
The 41-page Workbook contains 25 daily activity guides. The activities are designed for ages 3-12, yet provide flexibility to be modified for all ages. Activities include songs, crafts, activity sheets, and simple baking.
Videos have been created to allow you to hear each song and see the actions. Your child or students will enjoy singing with me! QR codes and links to these videos are provided in each lesson.
A supply list and recipe cards are provided for the suggested activities. But, don't get overwhelmed with the list! Feel free to supplement or substitute with items already available in your home or classroom.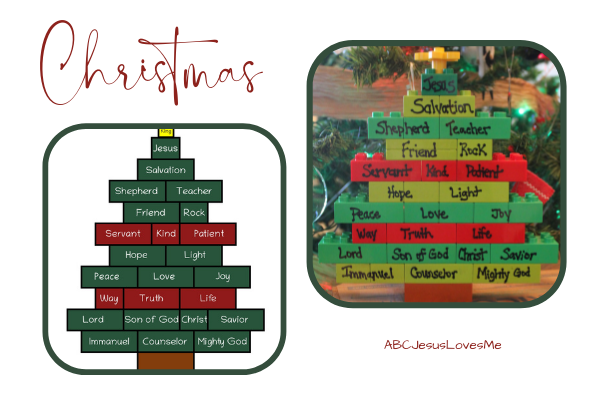 Christmas Tree
My favorite part of the Workbook is the building of a Christmas tree. Create the Christmas tree with Legos, paper, or other options suggested in the Workbook. Add a new block to the tree each day to provide a visual of who Jesus is and to countdown to Christmas day.
WHERE DO I FIND THE Christmas ACTIVITY WORKBOOK?
For family use, the Christmas Activity Workbook is available for FREE in the ABCJesusLovesMe Resource Library. If you are unsure where the library is click to learn more or subscribe to receive the link!
Not interested in subscribing or desire to use in a non-family situation (church, preschool, etc)? The Christmas Activity Workbook is available to order on the ABCJesusLovesMe website.
Excited to hear how you build gratitude with this Workbook in your home and classroom!
---

The January – December 2022 Be Intentional Planners are now available to order. You will love the beautiful covers, updated layout, and weekly verses. These planners make great Christmas gifts for friends and family.