Two weeks ago I shared the Best Play Dough recipe. Did you whip up a quick batch? I hope so as your children, grandchildren, and students will love to manipulate the dough between their fingers.
But how else can you use the play dough? I'm glad you asked!
Make Snakes and Balls
Roll the play dough into thin snakes and various-sized balls. The rolling works both the hands and the brain!
Seek for Hidden Treasure
Hide large pony beads, coins, or buttons in the play dough for the child to discover. Encourage the child not to use her thumb but to use the weaker fingers instead.
Kitchen Tools and Household Items
Use a rolling pin to manipulate the play dough. Poke toothpicks, googly eyes, and paper clips into the play dough to make birthday cakes, faces, and fun creators. Add tongs to mash the dough or transfer balls of play dough.
Beginning Scissor Practice
Cutting play-dough snakes is a wonderful way to begin scissor use. Learn more about teaching scissors use.
Threading
Using play dough to hold spaghetti pieces stuck vertically in the dough, thread Fruit Loops or other circular cereal onto the spaghetti pieces. Wonderful sorting activity as well.
Bible Learning
To provide visual learning, mold Bible characters and objects. For example, create David, Goliath, and roll 5 stones of play dough. Or, create a shepherd's staff (from the Thanksgiving Activity Workbook) or Mary, Joseph, and Baby Jesus (from the Christmas Activity Workbook).
Learning Mats
Using the Shape Posters (found in the 2 Year Workbook) and the Number and Letter Posters (found in the 3 Year Workbook) as a guide, form letters and numbers with play dough. When ready, remove the learning mats and have the child form the shape, letter, or number without the guide.
Cookie Cutters
Add cookie cutters to create shapes, letters, and numbers. Add seasonal cookie cutters to further holiday learning.
Utensil Practice
Use a child-safe knife or an old plastic gift card to cut the play dough. Use a fork to cut the play dough, stab, and lift. Place the play dough on a spoon and transport from one area of the table to another.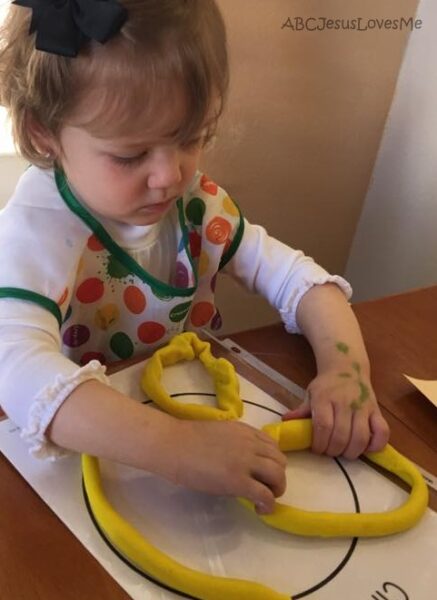 But, My Child Doesn't Like Play Dough
This is common for both children and adults. The texture, feel, and smell may cause a person to abhor the dough.
What should you do?
If I learned anything in the 11 years that my son was in therapy, I learned that we shouldn't enable children. We shouldn't bandaid or excuse their dislikes. Instead we are to provide safe opportunities for them to experience things they avoid to teach their bodies that the senses are safe.
Slow and Steady Wins the Race
Introduce play dough in small doses. Keep the activity calm and safe. Begin by touching with one finger. Slowly progress to more.

Acknowledge the Child's Fears
Name the emotion the child is feeling, but remind the child that "a feeling is just a feeling – it isn't in charge of you."
Play-Dough Party
A dear mom-friend of mine disliked play dough because of the mess. Because of this she never allowed her children to play with it. So, we had a play-dough party so the mess was at my house and her children could see that other children enjoyed the play. My friend also learned that the mess could be easily contained and cleaned up.
If the defensiveness continues or if have further concern, talk to a pediatrician or schedule an Occupational Therapy evaluation. Even if your child doesn't qualify for therapy, a quality therapist can give you activities to work on at home. Early intervention is crucial.
1. 2. 3. Play!
And this is just the start of academic, Bible, and developmental learning! I'd love to hear how your children and students use play dough.
---

The January – December 2022 Be Intentional Planners are now available to order. You will love the beautiful covers, updated layout, and weekly verses. And for a limited time, receive the added month of December 2021 in your planner!
Thank you to the following ABCJesusLovesMe Users for sharing the above pictures with me: Brandi, Marie, Rachel, Kari, Gisella, Susan, Amy, Mandy.