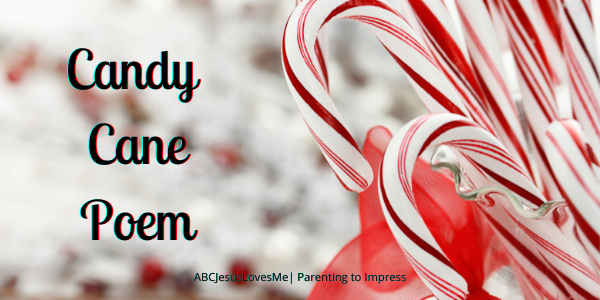 There is just something about candy canes and Christmas. Even if you don't love eating them, the spiral thick and three-thin stripes are the epidemy of the holidays. According to the National Confectioners Association, candy canes are the No. 1-selling non-chocolate candy during the month of December!
The Origin of the Candy Cane
According to History.com, legend dates candy canes back to 1670 when a choirmaster was desperate to keep him young singers quiet. He added the bend in the white sugar candy to match the shepherd's hook the boys were singing about. Then in the 17th century, a legend states that red stripes were added to represent the blood of Jesus. Some also believe that the "J" shape was in reference to Jesus. No matter which legend you adhere to, the candy cane serves as a wonderful teachable moment for young and old alike.
There are several picture books that share the legends of the candy cane. Use these to introduce the child to the activities below.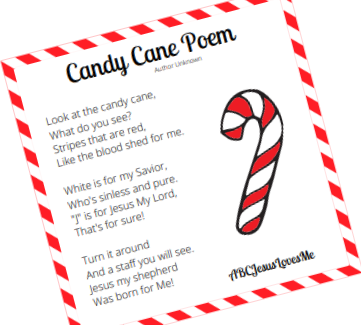 Candy Cane Poem
I fell in love with the Candy Cane Poem the first time I read it on a coloring sheet that Sweet Pea and Little Man did at church.  What a great way to share the birth of Jesus with little children!
Look at the Candy Cane, what do you see?
Stripes that are red like the blood shed for me
White is for my Savior Who's sinless and pure!
"J" is for Jesus My Lord, that's for sure!
Turn it around and a staff you will see
Jesus my shepherd was born for Me!
–Author Unknown
Free Candy Cane Printables
Printables are free for family use or with an active ABCJesusLovesMe License.
I have created free printables to correlate with this poem for hands-on learning and gift giving.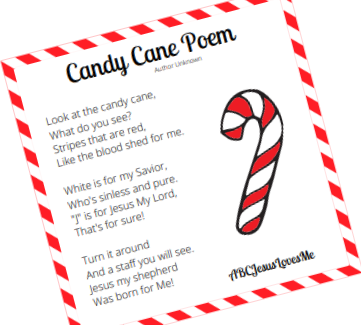 Print the printable. Cut apart. Punch a hole in the corner and attach the card with a ribbon to a real candy cane. Add to any gift or use as favors at parties or Christmas gatherings. Allow kiddos to share the meaning when the gift is given.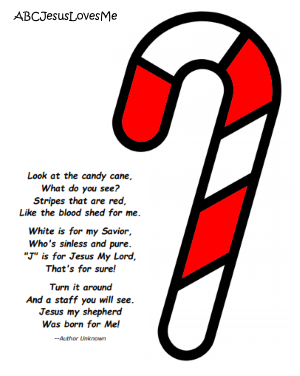 Print the worksheet. Decorate every other stripe red and white.
Here are some decorating ideas:
Fingerpaint or use a brush
Color
Make fingerprints with paint
Glue red and white pompoms
Glue red and white tissue paper or torn construction paper
Glue glitter on the red sections. Let dry.
And discover even more Candy Cane and Christmas ideas on the ABCJesusLovesMe website.