Last week we promised a big announcement – exclusively to you! And I couldn't be more excited to share. Before I do, let me give you a little background info.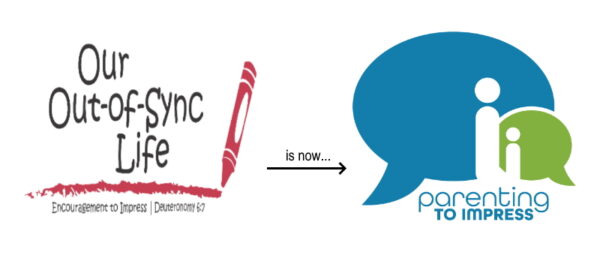 A few months ago the name of this blog – Our Out-of-Sync Life – was changed to Parenting to Impress. The changes to the logo, URL, and color palette paved the way for what was to come. But at the time we couldn't share the reason.
We spent almost a year researching, preparing, praying, and creating under this new "secret" name. And the time has finally come to share the news!
Parenting to Impress Podcast
Parenting to Impress is not only the sister blog for ABCJesusLovesMe, but it is a NEW PODCAST!
That's right! ABCJesusLovesMe now has a podcast called Parenting to Impress. We are so excited to send this podcast into the world.
Why? What will it be about? What does "Parenting to Impress" mean? That's what we invite you to discover in the Intro Episode #0 and this blog post.

What is Parenting to Impress?
The Parenting to Impress podcast and blog are a continuation of ABCJesusLovesMe's mission. Even the title comes with specific meaning based on our foundational verses.
Hear, O Israel: The Lord our God, the Lord is one. Love the Lord your God with all your heart and with all your soul and with all your strength. These commandments that I give you today are to be on your hearts. Impress them on your children. Talk about them when you sit at home and when you walk along the road, when you lie down and when you get up. Tie them as symbols on your hands and bind them on your foreheads. Write them on the doorframes of your houses and on your gates. Deuteronomy 6:4-9
In these verses one word stands out to me. Impress. Webster defines it as "to leave an imprint or mark" and "to transfer, transmit." I love the idea of impressing upon our children the commandments of God. My pastor shared the illustration of biting your hand and leaving teeth marks; leaving an impression.
Thus the name Parenting to Impress. We are to be impressing on our children to love God and love others. It is our hope and prayer that what we share in this blog and podcast will empower you in practical ways to do just this.

Who is on the Parenting to Impress Podcast?
If you're reading this blog then you already know me, Heidi, as the creator and writer behind the ABCJesusLovesMe Preschool Curriculum website and the Parenting to Impress blog. For 14 years, I've worked diligently to offer Bible-based materials to empower parents and teachers to be intentional with the children in their lives.
For this podcast I have brought in my friend Melanie. We have been friends for over 15 years and Melanie has worked behind the scenes with ABCJesusLovesMe since the beginning with proofreading, editing, and writing. Melanie recently came on board to assume additional roles with ABCJesusLovesMe, including participating in the podcast!
Both moms of four kiddos, we know the ups and downs of marriage and parenting, and the struggle to find that elusive work/home life balance – all while loving God in daily tasks and loving others even in weariness.

Why another podcast?
This podcast was born out of a desire to encourage and equip wives and moms. We know all too well how easy it is to feel like you're the only one going through something as a wife and parent. Our hope is that this podcast will feel like you've joined two friends chatting about topics that will not only help and spur you on in your own journey, but also assure you that you are NOT alone!
We are so excited to send this podcast out into the world. The feedback from the exclusive Launch Group has been so positive and encouraging, and we are thrilled to be able to continue work on future episodes.
But, What about the Blog?
Don't worry, this blog will continue sharing encouragement, tips, and tools as before. But now the blog and the podcast will work together as a beautiful team. When a podcast episode is released (every two weeks), Melanie will be releasing a blog post which will feature additional information on the topic and behind the scenes material.
Connect with Us
To allow us to connect with you, we have created a new group (Parenting to Impress) on Facebook exclusively to talk about topics covered on the podcast. We invite you to join and begin sharing questions and thoughts.
What do you want to hear us talk about? Are there specific areas of parenting or marriage that you'd like to have us dig into? Please take a minute and comment here or in the Facebook group.
How can I listen?
Parenting to Impress can be heard on this blog and on all major directories (Apple, Spotify, Google Play, Amazon Music) and on this blog. If you can't find it on your favorite app, please let us know.
So, what are you waiting for? Take 7 minutes to listen to our intro!