I turned to our Facebook community because I needed help getting out of a rut. A soup rut. The answers flowed in – 363 comments to be exact – suggesting soups to add to my repertoire. Knowing this list was too good to lose, I created a combined directory to reference. I know you will want to keep this collection as well (Pin it)!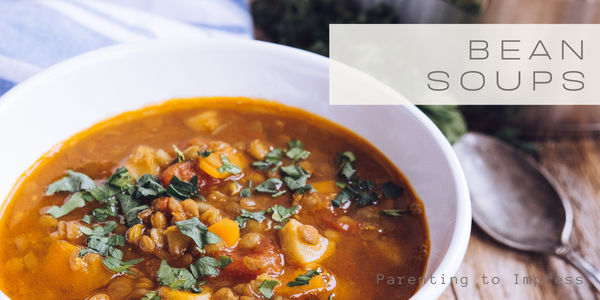 Bean/Lentil Soup
Black Bean Soup
2 (15 oz) cans black beans, drained and rinsed
2 (4.5 oz) can chopped green chilies
1 (14.5 oz) can Mexican style tomatoes, undrained
1 (14.5) can diced tomatoes, undrained
1 (11 oz) can corn, drained
4 green onions, sliced
1-4 TBSP chili powder
1/2 tsp cumin
1/2 tsp dried minced garlic
Combine all ingredients together and cook on low heat 30-45 minutes. Shared by Laurie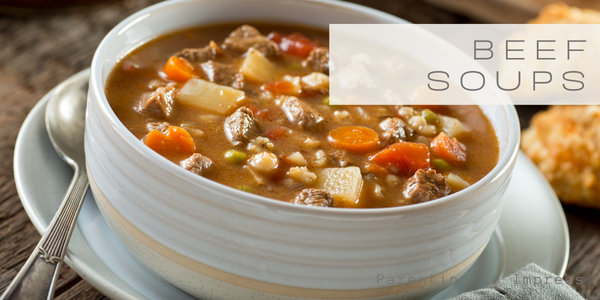 Beef Soup
Cheeseburger Soup
"Thick and hearty soup with lean, tender ground beef, shredded carrots, diced celery and potatoes in a warm and creamy cheese soup."
Poor Man's Soup (Hamburger Soup)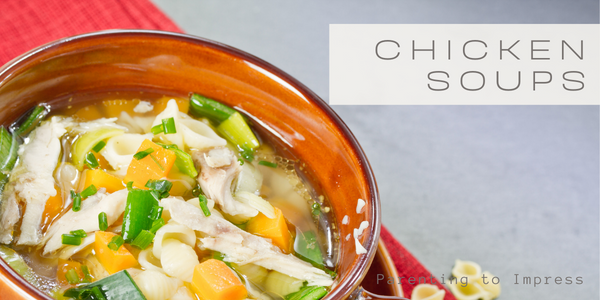 Chicken Soup
Buffalo Chicken Chili (Slow Cooker)
"Slow Cooker Buffalo Chicken Chili has the perfect amount of spice, a smooth creamy base, lots of tender chicken, and takes only 10 minutes to prepare."
Cajun Chicken and Sausage Gumbo
"This chicken and sausage gumbo is made with a seasoned roux, a classic from the bayous of south Louisiana."
Chicken Pot Pie Soup
Note from Kassy: Use a bag of frozen veggies instead of individual veggies.
Chicken Tortilla Soup
"Creamy crockpot chicken tortilla soup is a great 'set it and forget it' recipe. Toss in the base ingredients to cook, shred the chicken, and top with some creamy and gooey cheese!"
Copycat Olive Garden Chicken Gnocchi Soup
Crack Chicken
"Crack chicken is addictive! It's a dinner that consists of these basic parts in some form – chicken, bacon, cream cheese, and ranch. You know, all the good stuff!"
Creamy Chicken Soup with Pasta and Spinach
Creamy Tuscan Chicken Soup (Crock Pot)
Crock Pot Chicken and Wild Rice Soup
"Add all the ingredients in the crock pot then push on!"
Mexican Chicken Chili Shared by Kara
3 boneless chicken breasts, cooked
2 cups chicken broth
2 cups milk
1 lb Velvetta Cheese
2 cans Ro-Tel (undrained)
2 cans chili beans (undrained)
1 can kidney beans (undrained)
2 cans cream of mushroom or chicken soup
Mix all ingredients together in large pot. Cook on medium until cheese is completely melted and all ingredients are well combined. Could also cook on low in slow cooker.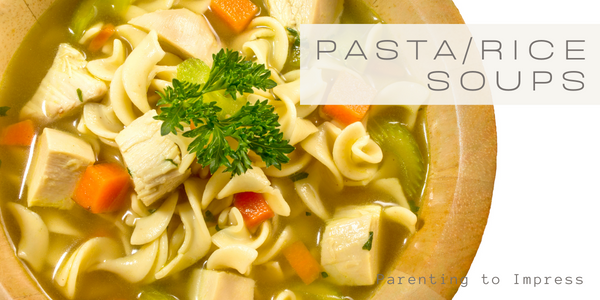 Pasta/Rice/Orzo
Italian Sausage and Orzo Soup
"The recipe is about as simple as it looks — zesty crumbled Italian sausage, hearty orzo pasta (or whatever shape of pasta you have on hand), your choice of veggies and greens, all simmered in a cozy tomato-herb broth."
Italian Sausage Tortellini Soup
Lasagna Soup
"This soup is so amazing that I will no longer go to the work of making lasagna."
Lemon Chicken Orzo Soup
"Lemon Chicken Soup with Orzo is hands down the most beloved by my readers. It's just so comforting without being heavy, and people adore the bright lemony broth. This orzo soup is simple to make, so it's ideal anytime you're craving a really cozy soup without a lot of effort."
Slow Cooker Creamy Tortellini, Spinach and Chicken Soup
Tortellini Soup (Slow Cooker)
"Slow cooker creamy tortellini soup is pure comfort food, loaded with vegetables, Italian sausage and cheese tortellini! No flour and no heavy cream!"
Tortellini Soup with Italian Sausage and Kale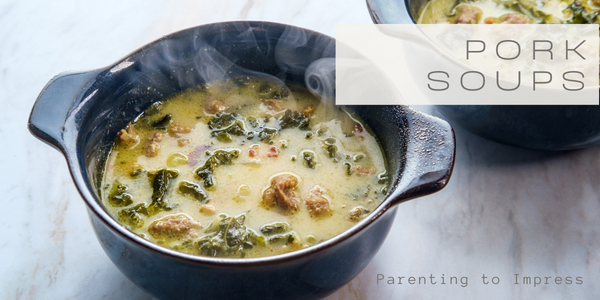 Pork Soups
Brunswick Stew
"Brunswick Stew is a classic southern dish full of delicious smoked pork, veggies, and a savory barbecue broth."
Instant Pot Stuffed Pepper Soup with Sausage
Uncle Bill's Green Split Pea with Hambone Soup
Zuppa Toscana – Olive Garden Copycat
Pazole
1.5 lbs of pork stew meat
1 yellow onion diced
1 28 oz. can of hominy drained
1 bunch of cilantro chopped
1 lime squeezed
5 tbsp of La Knor chicken powder or equivalent
Add a bag of tiny pasta stars or alphabet last 20 mins for more filler. Cook with salsa or peppers for heat or just serve on the side. Shared by David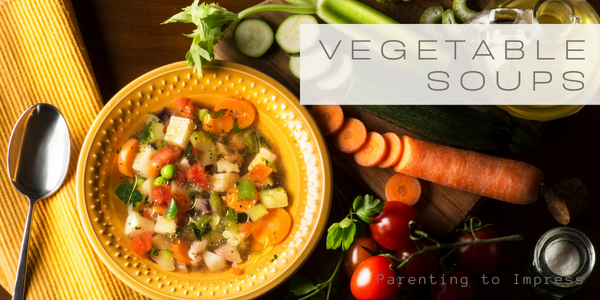 Vegetable Soups
Amish Kitchen's Potato Corn Chowder
6 medium potatoes, diced
2 stalks celery, diced
1/2 cup onions, diced
2 cups corn (whole kernel or creamed)
1 tsp salt
3 TBSP butter
6 TBSP flour
3 cups milk
Cover potatoes, celery, onion with water. Boil until almost tender. In another saucepan, melt butter. Stir in flour and salt. Add milk to smooth it out. Add rest of milk and flour mixture to the potato and corn mixture. Stir and let set for 5 minutes to thicken. Shared by Laurie
Cabbage Vegetable Soup
Cut up a head of cabbage. Add a can of Ro-Tel, 1 packet Lipton Onion Soup Mix, frozen mixed vegetables, and pre-cooked meat. Cook on medium until cabbage is soft and soup is heated through. Shared by Donna
Pioneer Woman's Perfect Potato Soup
Potato Soup
2.5 lbs potatoes, peeled and cut in 1 inch chunks
1 medium onion, diced or processed
3-4 celery stalks, diced or processed
2 carrots, peeled, diced (optional)
1/2 bag bacon bits; or crumbled cooked bacon (2-4 pieces cooked)
1 TBSP garlic powder
Salt to taste
Pepper to taste
5 chicken bouillon cubes
10 cups water
Put in crockpot. Add toppings to bowl of soup: sour cream, cream cheese, heavy cream, chives, raw diced onions, and/or cheddar cheese. May also be frozen until ready to cook-just add to crockpot and cook on low or until heated through. Shared by Laurie
Roasted Butternut Squash and Apple Soup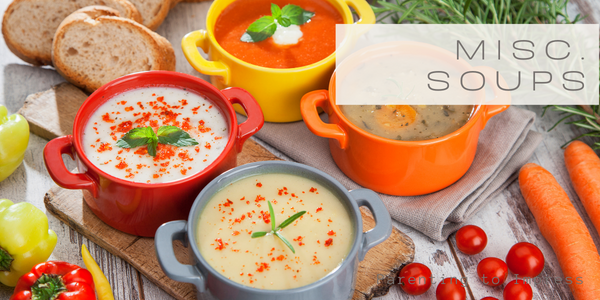 Misc Soups
Leman Orzo
Sear chicken strips seasoned with lemon pepper. Add to a pot chicken broth with orzo, carrots, celery, spinach and 3 lemons juiced to taste. Shared by Marsha
Pressure Cooker Manhattan Clam Chowder
Now the only thing you have to decide is which one to make first!
More Recipes and Kitchen Tips to Check Out:

While every effort has been made to eliminate errors, please know that typos can occur.