Last week I posted on Facebook the need for two dishwashers. Obviously I am thankful for the one I have but with the craziness of life, I wouldn't turn down a second one. Why? Because as our children have grown, my time with them is even more important. I don't want to be stuck in the kitchen when I could be sitting on the couch listening to them recall their day.
Turning to Facebook one more time, I went searching for the most delicious, easy meals available. And boy did you come to my aid. I dare you to read through this list and not get hungry!
Family-Friendly Beef Recipes
Lauri's Beef Roast with Vegetables
Season to taste (I use beef stew seasoning mix packets) put in crockpot in morning. Add raw vegetables.
Great for frugally feeding a crowd. – Erica
Amber's Quick Rice 'n Beans
Brown a pound of beef and add taco seasoning. Then I add 2 cans pinto beans with liquids and 1-2 cans diced tomatoes with liquids (or Rotel if the kids can handle the spice of the green chilies). Serve over rice. Easy! And I always have fresh cornbread, shredded cheddar cheese, and jalapenos for toppers!
I make one large enough to have for dinner and enough leftovers for pot roast philly "cheese steaks" later. – Amber
Wendy's Italian Meatball Subs
Italian meatballs with red sauce in slow cooker while I'm at work, return home and scoop onto hoagie buns, top with shredded mozzarella, broil 3 – 5 minutes. Open face meatball subs.
Lauri's Taco Salad or Taco Soup
Brown hamburger with taco seasoning, drain. Make soup with hamburger, ranch dip mix, tomatoes, corn. You can use tomato soup, or cream corn if you like it a little thicker.
Ashley's Taco Pasta
Brown ground turkey/beef/chicken, drain fat and add taco seasoning; boil pasta and drain; combine meat and pasta in bowl. Stir in 4 oz. cream cheese and 1 cup shredded cheddar cheese and 1 can of Rotel diced tomatoes/chilis to meat/pasta bowl, then eat it up!
Impossible Cheeseburger Pie

Jessica's Meatloaf Muffins
1 lb ground beef or turkey
1 medium zucchini, grated
1-2 medium carrots, grated
1 large egg
1/2 cup cooked (leftover) rice
1T onion powders
1T garlic powder
Coconut oil (or your fave oil)
Salt & Pepper to taste
Preheat oven to 375, grease cupcake/muffin pan with coconut oil. Mix all other ingredients in mixing bowl and divide among the 12 muffin cups. Bake for 25-35 minutes or until cooked through, reaching at least 165 internal temp. (Our favorite rice to use is Basmati, but everyone is different) Serve with any veggies or sides you like!
Natasha's Rice and Beans
Boil 2-3 bags rice (10 minutes). While rice is boiling or 10 minutes before rice is done brown meat (1 to 2 lbs ground beef or turkey) add spices (we like chili powder, garlic, onions, red pepper). Drain meat and add 3 cans kidney beans (we like dark or red), add corn (1 16 oz frozen package, 2-3 can corns, or 1/2 family size frozen corn). Mix in rice once beans and corn are heated through. Serve with cheese- our family loves feta or sharp cheddar.
Cassy suggests using the Instant Pot for the following recipe. Find our more about the Instant Pot…
Cassy's Penne and Meatballs
1 lb bag of small frozen meatballs (Italian flavor)
1 box of penne noodles
Jar of pasta sauce, then jar full of water. Layer in that order, don't stir in an Instant Pot. Lid, sealed, then manual pressure 6 min, quick release. It is so good, it's crazy!!
Lynda's Homemade Tacos
Hamburger meat browned. Add ranch style beans. Then serve with tortillas. Yummy!
Delicious Casserole Recipes
Lacie's Homemade Mac and Cheese
Boil mac, brown hamburger or ground turkey, mix in corn to the mac as it is boiling, strain, add turkey, add milk and Velvetta.
Katy's Hot Dog Casserole
I add a can of baked beans (fix it up with brown sugar, bbq sauce, whatever I have that sounds good) and add about 4 cut up hot dogs (I usually use turkey.) I add beans and hot dogs to a 8×11 pan. Mix a package of corn bread according to directions and pour on top on bean and hot dog mixture. Try to get it to evenly spread on top. Bake in oven according to corn bread instructions. Or just until corn bread is golden and cooked through. Easy and cheap!
Yummy Chicken Recipes
Lacie's Chicken & Rice
Chicken, cream of chicken soup, cheddar cheese soup in a crockpot. Serve over rice.
Charla's Crockpot Italian Chicken
Dump in a crockpot chicken breasts and a bottle of Italian dressing. Cover, cook on high 4 hours (or longer if chicken is frozen)
Easiest Mexican Chicken Nachos
Debra's Chicken and Rice (or Noodles)
Chicken in the crockpot add cream of chicken soup, cream of mushroom soup& cream of celery soup. Add rice or noodles.
Jessica's Chicken Tacos
Cook chicken in a skillet with taco seasoning and add a bag of frozen peppers. Serve as tacos or burritos.
Bethany's Chicken Sandwiches
Shredded chicken, mix with salsa, and verde salsa (however much you want, I do about equal parts), heat on the stove. Serve on sandwich buns, top with sour cream, avocados, and shredded Colby cheese.
Cafe Rio Shredded Chicken Copycat
This slow cooker chicken is super moist and a crowd-pleaser for yummy chicken tacos if you're tired of the same old beef! I usually skip the dressing, but it looks great! – Amber
Bree's One Casserole Dish Meal
3-4 boneless, skinless chicken breast, cubed potatoes, frozen green beans or broccoli. Line up each food longest length side by side. Take one stick of butter and slice thinly, place slices all over the top of food, sprinkle with 1 packet of Italian or ranch dry mix seasoning. Bake at 350 for 45 mins or until potatoes are tender.
I've used the sauce on bought chicken bites and done it with shredded chicken. Lots of options. – Rachel
Caryn's Crockpot Chicken
Chicken in the crockpot (you can use boneless or bone in) with half a bottle of Catalina French dressing and a packet of onion soup mix. Serve over rice or noodles. Very tasty
Crockpot Chicken and Noodles (may add peas or carrots)
Sandy's Chicken and Noodles
4 to 5 boneless chicken breasts in crock pot with one stick butter, four cans of Campbell's condensed chicken broth (you can use a more watered down version but it won't taste as yummy), and one large can cream of chicken soup. I put all that on low for 4 to 6 hours and then pull the breasts out and shred them and add them back with one bag of Reames frozen egg noodles and voila it is done in about 90 minutes. You can season to taste, but it doesn't really need any because of salt in the broth and soup. I serve it with sweet green beans and a pan of Sister Shuberts pull apart yeast rolls (freezer section) and it's a family fall/winter fave.
Carrie's Baked Chicken
Roll chicken into crushed chips and bake. We like Doritos or Cheetos
Wendy's Chicken Tacos
Chicken breasts in slow cooker with taco seasoning for soft or crunchy tacos.
Jessica's Crockpot Fajitas
2 chicken breast
2 fajita seasoning packets
One onion
2 bell peppers
2 cups chicken broth
Tortillas
Shredded cheese
Sour cream
Put chicken breasts, 1 1/2 packets seasoning 12 onion cut in strips, 1 bell pepper cut in strips and chicken broth in crockpot. Cook for desired time low or high.
Before serving if desired
Cut 1/2 onion in strips
Cut bell pepper into strips
Cook in skillet for desired crispness with additional packet seasoning to your tastes.
Serve in tortillas with cheese and sour cream. So so yummy!
Cheesy Chicken Tater Tot Casserole
Jenna's Chicken Enchiladas
Shred 1 can chicken
Mix with 3/4 can of mild enchilada sauce and 1 cup shredded cheddar cheese
Spoon some into tortilla shells
Roll them up and line in a 13×9 pan
Pour remaining sauce and sprinkle cheese over top
Bake at 350 for 25 min.
Marci's and Rebecca's Chicken Tacos
Put chicken breasts in crockpot, sprinkle with packet of taco seasoning, and then pour a jar of salsa over it. Simple and delicious!
---
Easy Pasta Recipes
Creamy Garlic Pasta – Could add shrimp, chicken, or vegetables
Make Ahead Ravioli Lasagna – May add hamburger
Italian Wonderpot (One Pot Pasta)
Pasta with 15-Minute Burst Cherry Tomato Sauce
Simple Pork Recipes
BBQ Sausage & Rice
One of our go to meals is bbq sausage and rice with a side vegetable…we love it and never have any left overs! – Jamie
Funeral Sandwiches (Ham Sliders)
Lauri's Pork Chops and Potatoes or Rice
Brown pork chops, with garlic powder seasonings. Mix cream of mushroom soup with a little onion soup mix. Soup mix on bottom of pan, add pork chops, put soup over chops, bake 1 hour. Boil potatoes slices, or make rice.
Basic Fried Rice with Bacon (or other meats or seafood)
Misty's Sandwiches
Bacon, egg, and cheese sandwiches for dinner!
Warming Soups
Lacie's Potato Soup
Southern style hash browns, small can of cream of chicken soup, 32 oz chicken broth, bacon bits all in the crockpot. An hour before you eat, add cream cheese.
Linda's Chicken Taco Soup
Add to slow cooker, 1 can each of black beans, chili beans, corn (drained), tomato sauce, diced tomatoes, chicken broth. Add 1 packet of taco seasoning (mild for my kiddos) and 2-3 boneless chicken breasts. Shred chicken when done. Eat with Tortilla chips, shredded cheese, avocado, and sour cream!
Denysse's Taco Soup
2 cans of corn
1 can diced tomatoes
1 can Rotel
1 can pinto beans
1 can kidney beans
1 can black beans
2 taco season packets
1 dry ranch packet
2 lbs of ground beef or ground turkey
Brown meat, then throw all ingredients in a crock pot! Low for about 6 to 8 hours. Serve with Fritos, cheese and sour cream!
Brittany's Quick Chili
Chicken in the crockpot add cream of chicken soup, cream of mushroom soup& cream of celery soup. Add rice or noodles.
Amber's Butternut Squash Soup
Roast your butternut squash in the oven while boiling about a cup of red lentils on the stove, each just until tender. Add both to the blender and puree until smooth. Add a touch of water as needed, until you reach your desired consistency. Pour some puree aside for baby, and then season to your liking for yummy butternut squash soup. I personally thin it a little more with water to make it soupy and add salt, pepper, garlic powder, and cayenne. Delicious!
Other Easy Recipes
Impossible Easy Tuna, Tomato, and Cheddar Pie
Add dill sour cream to top it. – Sarah
Makes a bunch, and my kids all love it! – Carrie
Sweet and Spicy Grilled Cheese Sandwiches
Cooking Tips
Laura –
My favorite time saver is to brown a few pounds of ground beef and the package in 2-3 cup portions. They can be easily thawed and used for spaghetti, chili, tacos etc. I also mix up meatloaf and portion into 1/3 to 1/2 cup mini servings (covered with a sauce); when ready to cook, place in baking dish and cook 30-40 min.
Sara –
Buy a Ninja cooker. Super fast meals.
Holly –
33 3-Ingredient Crock Pot Recipes – I've tried almost all of these and they have all been good, easy, and inexpensive!
Kayla –
Not a recipe but a meal planning service Emeals, has saved our dinners. You buy a membership, pay for it upfront ( ends up being $5 a month) and they plan your dinners for you as well as give you a shopping list for easy shopping. We love it and have been doing it for over a year now! It's recommended by Dave Ramsey and saves us tons of money at the grocery store.
Joan –
I like to cook up a pot full of chicken breasts to have last minute meals. Some can be frozen for later. I use it for quick stir fry, chicken Alfredo pasta, chicken salad, fajitas and other meals. So handy to have on hand!
Beth –
I totally live by the Pioneer Woman cookbooks.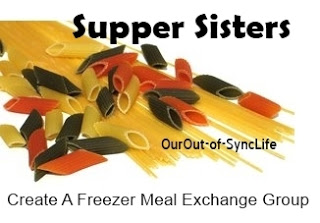 Heidi –
Almost all of these recipes would work beautifully with a freezer meal exchange group.
---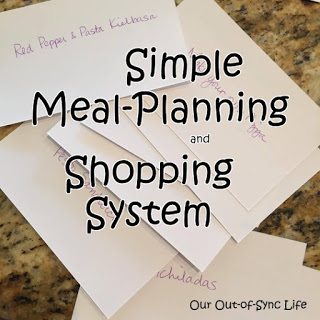 Check out this wonderful meal-planning and shopping system!