Did you know that the Parenting to Impress Podcast offers 37 episodes of encouragement and biblical parenting tips? If you haven't taken a moment to listen, I believe you are missing out. But don't just take my word for it.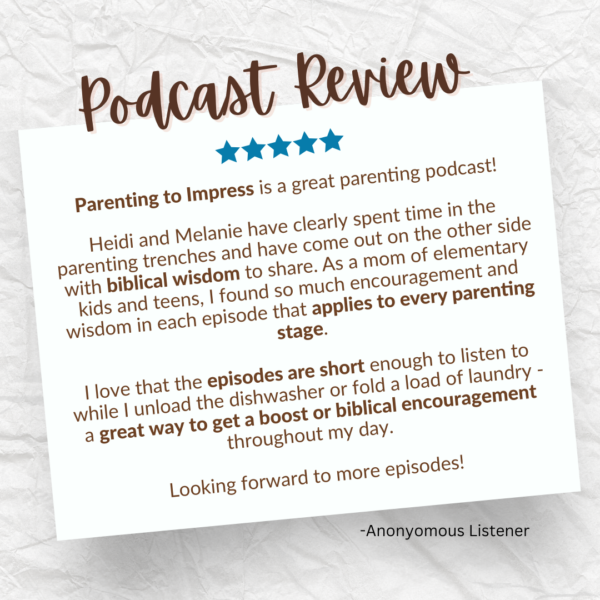 What Others Are Saying
An anonymous listener left this review:
Parenting to Impress is a great parenting podcast!
Heidi and Melanie have clearly spent time in the parenting trenches and have come out on the other side with biblical wisdom to share. As a mom of elementary kids and teens, I found so much encouragement and wisdom in each episode that applies to every parenting stage.
I love that the episodes are short enough to listen to while I unload the dishwasher or fold a load of laundry – a great way to get a boost or biblical encouragement throughout my day.
Looking forward to more episodes!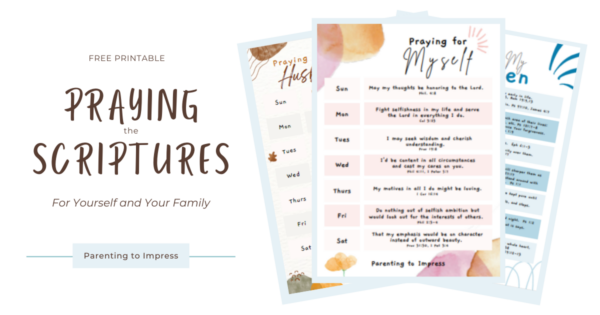 Drum Roll, Please….
And the most popular Parenting to Impress Podcast is Episode #3: How to Pray the Scriptures Over Yourself and Your Family. Take a listen for the first time or as a reminder of this faith-growing opportunity. Listen below. Then read more tips and download the FREE Praying Scriptures printables.