If this is your first visit to the Our Out-of-Sync Life blog, welcome! We hope that you will stay awhile and check out the rest of blog as well as the ideas on our Free Preschool Curriculum website – ABCJesusLovesMe.com. Thanks for stopping by!
A fun Christmas Traditions is to make Applesauce Cinnamon Christmas Ornaments. They smell so good and are a great activity to do with the kids. Add them to your own Christmas tree, give them away, or add one to decorate a gift.
There are several different recipes available on the internet. Below, I have shared my recipe. While is smells yummy and contains applesauce, remind your kiddos that this is not a "dough" to eat!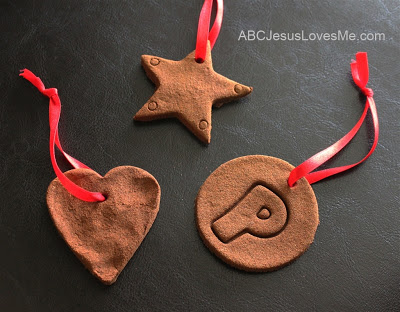 Applesauce Cinnamon Ornaments
Ingredients:
1 tablespoon ground cloves
3 tablespoons white glue
2/3 cup applesauce (cinnamon applesauce works too)
1 cup of cinnamon
Directions:

1. Combine ingredients in a bowl.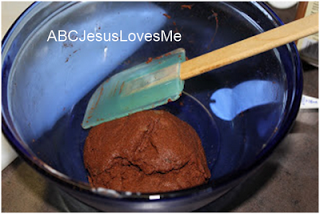 2. Stir ingredients until they form a soft ball. If the dough is too dry, add more applesauce. If the dough is too wet, add more cinnamon.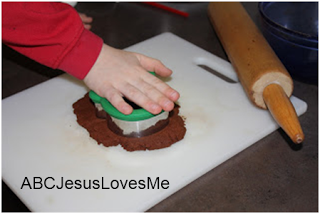 3. Dust a flat surface with cinnamon. Roll out the dough with a rolling pin or press with your fingers to approximately 1/4″ thick. Rolling the dough too thin makes the ornaments brittle. Thick ornaments take longer to dry.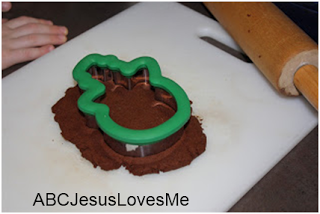 4. Use a cookie cutter to create your shapes. To make the letter shapes or imprints (as pictured above), push a straw or cookie cutter approximately half way into the dough.
5. Poke a straw through the dough to create a hole for a string. Let the ornaments dry on a baking rack. Depending on thickness, this will take at least 24 hours. For quicker results, place the ornaments in a dehydrator or a 150 degree oven (gently flipping every hour) until done.
When dry, string a ribbon through the hole for hanging. You can add other decorations with glitter glue, sequins, buttons, etc.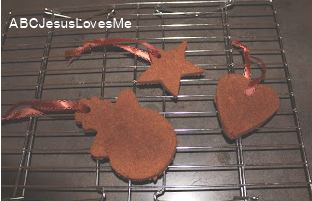 1/3 of the recipe made the three ornaments pictures above (one 4″, two 2″) .
Enjoy the memories!
Next Tradition:  Silver Dollar City
Discover More Christmas Traditions