This week we have created a Family Command Center and are working towards a Family Schedule all with the intention of making an impression on our children.  We have used the ideas from the previous blog series Scheduling Success to get us started.
We have created a schedule for each child consisting of contributions or chores.  We have created a Mommy schedule that balances God, husband, kiddos, and "me" time.  We have also developed a meal and cleaning schedule.  Today we are going to put all of this together to make a Family Schedule.  The Grand Central Station of them all.
Think of a schedule like the guide rails on a road.  The schedule helps you complete all that you desire to do.  It helps you make impressions on your children instead of floating through life.  There is wiggle room to extend or shorten an activity.  Sometimes you will need to switch events around.  But always stay within the parameters given.  And when you find yourself getting off the road, pick the car back up and start again!
What you will see below is a copy of our schedule. (I have already had to make changes since adding this to the blog but that's okay because I didn't chisels it out of stone!)  It is a combination of the kids' and mommy's responsibilities and the fixed meal schedule that we created together.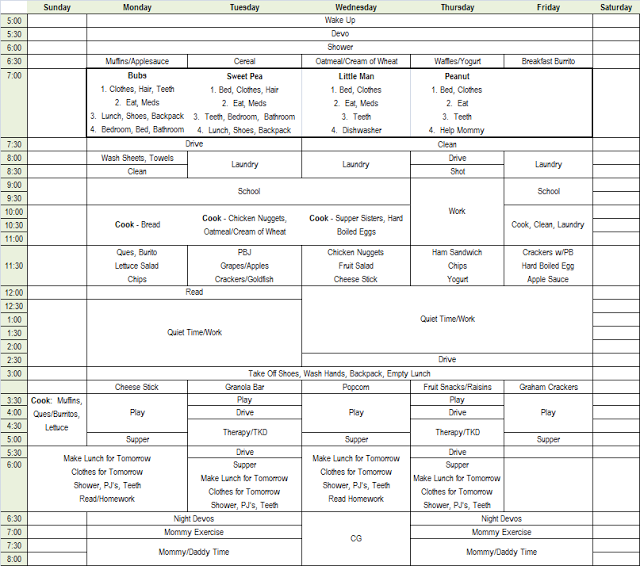 The Daily Schedule page on the ABCJLM website contains additional examples that we have used in the past.  Tauna shared another example schedule in her Guest Post:  Routines and Schedules for a Family.
The example that I shared is very detailed.  If you are looking for a simply one, you may like this schedule that Anna shared with me.
Monday:
•    Work
•    School Day
•    Clean Master Room
•    Grocery Shop
Tuesday:
•    Work
•    Leaders Meeting
•    Recycling
•    Go to Library
•    Clean Kitchen
•    Bills
Wednesday:
•    Work
•    School Day
•    Clean Girls Room
Thursday:
•    Work
•    Garbage Day
•    Playdate with friends
•    Clean Bathroom
•    Clean Church
Friday:
•    Work
•    School Day
•    Clean Living Room
•    Clean Floors
Saturday:
•    Clean Porch
•    Clean Car
•    Get Ready for Sunday
•    Plan Meals for following week
Sunday:
•    Church
•    Get Ready for the week
The only rule to making a schedule is that it is as detailed as you need and organized in a way that will help you. 
What a week of schedules!  I hope that my examples and tips have helped you come up with a plan that keeps balance in your family's life but also helps you be intentional.
Next week I will share a checklist and discuss organizing curriculum and supplemental supplies.


How are you going to organize your schedule?