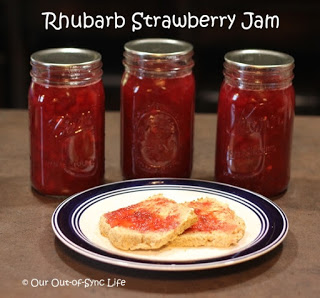 What are the first words that come to your mind when thinking about gift giving for Christmas?
Stress
Expensive
Frustration
Gift-giving is not my love language thus I don't particularly enjoy the process of planning and purchasing gifts for others.  But, I do love to give people things that I have made. Something about the energy and heart that goes into the process, I guess.
One of my favorite things to give away is a fresh loaf of bread coupled with a jar of Rhubarb Strawberry Jam.  And it's one gift that people with boldness ask for again.
Each year for our Neighborhood Open House (last week's blog post), I provide a jar along with our Christmas card and our picture.  I've also included these in Gift Baskets that we give to neighbors at Christmas.
To say that this jam is the best I have ever eaten, would be an understatement.  Yum!  It truly makes the best PBJ sandwiches.  Time and time again, people agree.  I've heard several gift recipients say they use it on pancakes and waffles.  Some enjoy it on vanilla ice cream.

The point is that gifting a jar of this jam is simple to do and an inexpensive gift to present to family, friends, and neighbors.
Let me show you just how simple it is.  No canning or prior jam-making experience required!
Ingredients:
4 cups rhubarb (washed and cut into small pieces) – I use a bag of frozen rhubarb.
4 cups sugar
1 large can crushed pineapple with juice
1 large box strawberry jello  (or two small boxes)
Canning Jars
Canning Lids
Canning Rings
One batch makes a little over 3 pints of jam.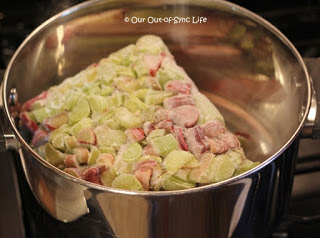 Combine the rhubarb and sugar in a pan and boil for 10 minutes.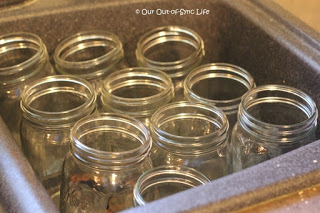 During this process, gather your jars.  Wash and sterilize them with boiling water.  Because I was making this batch for our family, I used quart sized jars.  For gift giving, the 4-oz or 8-oz sized jars are best.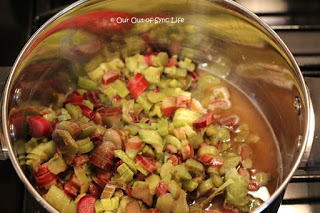 As it cooks, the sugar becomes liquid.
Then it will become a beautiful boil.  Set your time for 10 minutes once it begins to boil.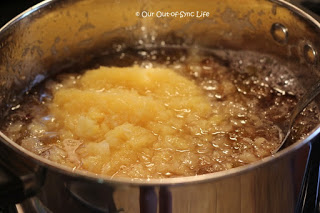 When the timer goes off, add the pineapple.  Be careful because the mixture is extremely hot.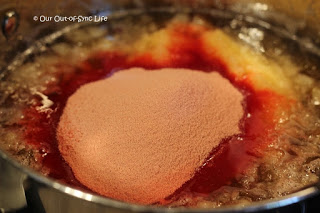 Add the jello.  (My Grandma used to experiment with other flavors of jellos like grape and cherry, but strawberry is my favorite.)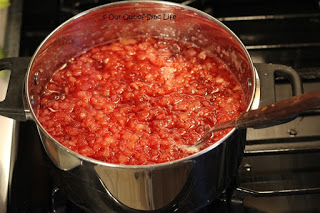 Boil for 3 more minutes.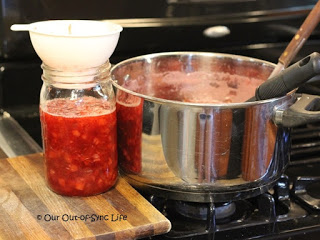 Very carefully, ladle the jam into sterilized jars filling to about 1/2″ to the top. 
(Again, very hot!) 
Wipe off the rim of the jar in case you have dripped any goodies and place a
canning lid and ring
(also called a band) on the jar.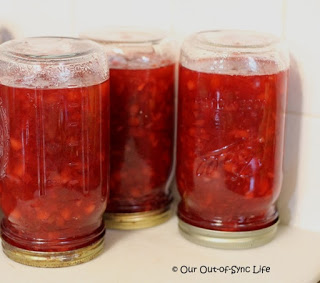 Turn upside down to seal.  (Did I mention this will make the jar very hot?)  Be sure to turn the jars back over after a few hours or the jam will permanently stay at the top of the jar.
Once the jar has completely cooled, remove the ring, gently wash the jar, and add a pretty ribbon and label.  To make the gift a little bit yummier, add a delicious homemade loaf of bread ~ created in the bread machine, of course.
And there you have it.  A simple yet heart-felt gift that will have your friends begging for more.
Download the recipe card.
This post contains affiliate links. When you click on these links, I may receive an itty-bitty commission at no additional cost to you.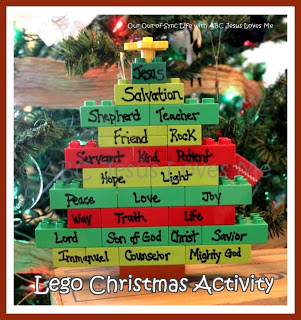 If you are a subscriber to this blog and reading this post in your email or RSS feed, below you will find a link to the much-loved Christmas Activity Workbook.  If not, subscribe today to get a link in the next blog post to this wonderful resource.