When our children were very young we started a tradition of creating food baskets for our neighbors for Christmas.  Instead of just dropping the goodies by, we set up a time for the recipients to come to our home or for us to visit them (many are retired).  With ten families on our list, we started late-November scheduling times to visit.

Four children later and a crazy life, this is no longer a feasible idea.  
We have since revamped the tradition and now host an Open House each December.  And we love it.  It has helped unite our community and teach our children how to welcome people into our home and serve them while here. 

Today's post will explain how we pull off ~ without stress ~ this activity during the busiest time of the year, what goodies we provide, and how we use it to build servants' hearts in our children.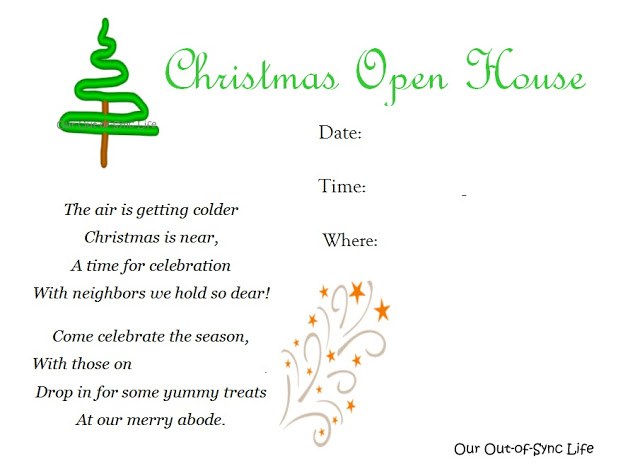 Invites
Sometimes picking the date can be the hardest task.  For us, Sunday afternoons have produced the best attendance as it allows neighbors to stop by after church.  And since we attend church on Saturday nights, this leaves Sunday mornings for us to prepare.  Think about the habits of those you will be inviting and keep in mind what you will be serving as well.
Once a date is set, it is time to begin to inviting those you desire to come.  Facebook and email are simple ways to invite although there is nothing like snail mail or a hand-delivered invite.
I wrote the following poem for our invites.
The air is getting colder
Christmas is near,
A time for celebration
With neighbors we hold so dear!Come celebrate the season,
With those on __________ Road,
Drop in for some yummy treats
At our merry abode.
There are hundreds of poems available on the internet so find one that suits you or purchase a set of invites through Amazon.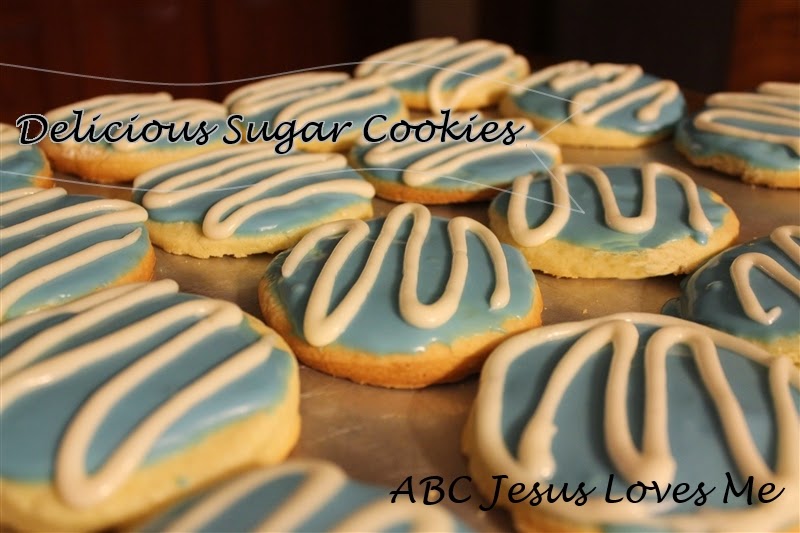 Goodies
Simple is good.  Do what you can without adding stress to your life.  If serving several appetizers will make your family want to run from the sight of you, then the purpose is lost in the preparation.
Here are some ideas…
If the thought of cooking makes you cringe or it tenses the muscles in your back, local bakeries offer delicious options.  Simply add some hot coffee or hot tea to the mix.
For the past few years, we have offered various cookies and hot apple cider.  Whenever I have a few hours to spar, I make up a batch of something and place it in the freezer for our big day.  I have been very tempted to switch to chili and rolls due to the simplicity but we have several requests for specific cookies and I hate to disappoint.
Christmas Gift
This is completely optional but we like to give our guests a parting gift as they leave along with our Christmas letter and family picture.  Most years we "gift" a small jar of Strawberry Rhubarb Jam – another request from the neighbors. 

Everyone Has a Job
This is the best part of the Open House.  Our children help in the baking of food and preparing our home.  Then before anyone arrives, each child is given an age-appropriate job to welcome the people in our home and make our guests feel important while here.  We discuss specifics about each job so that the child understands the proper way to preform it (what to say, do, how to handle different circumstances, etc.).  We also practice with Mommy or Daddy being pretend guests.  When we had little children who were too little to assist, we held the Open House during nap time so that we could devote our attention to our guests and train the older children how to serve.
Open the door and welcome the guest
Present jam and Christmas card as they leave
Ask about refills
Take coats
Pick up trash
Ask to take plates when finished
Assist older adults from their cars into our home (for older children)
And there you have it.  A simple, yet heart warming time to love on your neighbors and train your children to serve.
Yes, Christmas time is busy.  But this adds a good busy and I am thankful we have adopted it for our family.