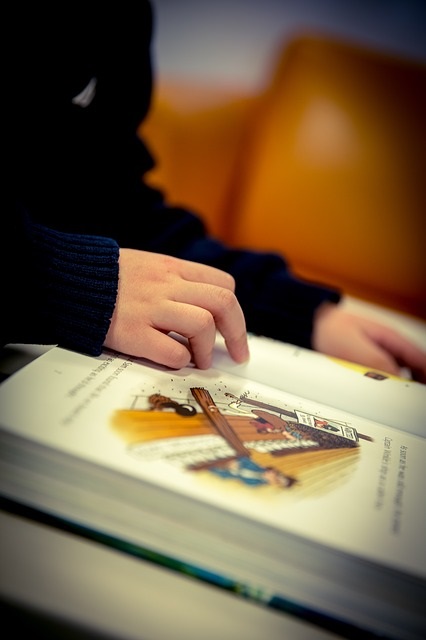 So far in this series of Teaching a Child to Read, I've shared eight ideas to grow a reader and I've explained the process necessary for a child to begin reading.
Once the child can put individual sounds together to create a word, it is time to begin reading books.  As I stated before, this happens in a wide range of ages so do not panic if your preschool child is not ready for this.
With our four children, I have used two different programs – Bob Books and Teach Your Child to Read in 100 Lessons.  With each child we began 6-12 months prior to beginning kindergarten.  Because our children are older than most of their classmates and we red-shirted two for Kindergarten, they were at least 5 years of age before I began using a reading program with each of them.
Then, because our public school teaches reading using phonics, I stopped the curricula once they started reading in kindergarten and reinforced what they did in class.
Bob Books by Bobby Lynn Maslen

For my first three children I used Bob Books to teach them to read.  Because of our positive experience, these phonetically- organized books are suggested in the ABCJLM 5 Year Curriculum if the child is ready.  These books are my favorite because of the simplicity and quick read.  The mostly black-and-white illustrations assist the child in context but aren't distracting.  While silly, my children enjoyed the stories and the plots made for great conversation.
Set 1:  In this set, 3- letter words (mostly CVC – consonant/vowel/consonant -words) introduce the child to all of the short vowels and consonants.  The teaching instructions are very short and simple.  Prior to the story is a list of new sounds the child will be introduced too.  On the back of each book are suggestions for discussion.
Set 2:  Beginning where Set 1 ends, this set continues working on CVC and short sight words.  A list of the words used in the book is included on the final page.
Set 3:  Teaching word families, this set expands the child's reading by adding consonant combinations and long vowel blends.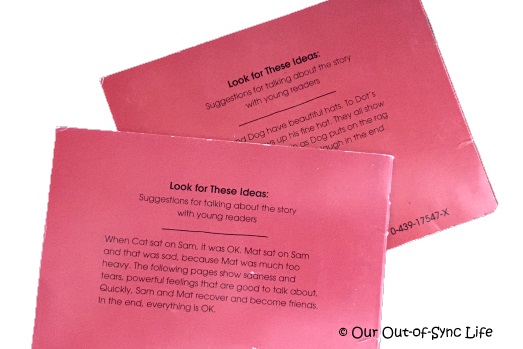 Additional Bob Books are available but I do not have personal experience with them.
Suggestions for reading Bob Books
• In Set 1, introduce the beginning sounds before reading.
•  Start by discussing the title and front cover to predict what will happen in the story.  Then picture-walk through the book.  By looking at the pictures, figure out what is going to happen.  Using the text words when discussing (hat vs cap) will help the child when he begins reading the story.  After reading, discuss the problem in the story and how it was solved.
• Instruct the child to point under the words as she reads.  Also, point to items in the picture as they are mentioned in the story.
• Make reading a positive experience and take the child's clue when a break is needed.
• Move on to the next book when the child can comfortably read the current book.
• When first reading the story, repeat the sentence after the child has read it to give continuity and for the child to hear the words read smoothly and with inflection.
• Be sure to read the back cover to understand the context of the story.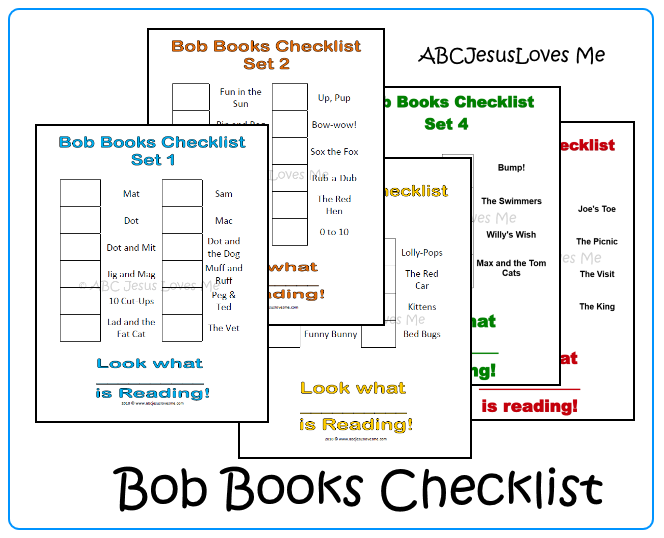 Look What I am Reading Charts
To encourage the child in this process, I created "Reading Charts" to hang in your home.  When your child finishes a book, place a stamp or sticker in the box beside the book's title.  Have the child write their name in the blank "Look what _____ is Reading!".  Click to print
Teach Your Child to Read in 100 Easy Lessons
Thinking I would be interested in this book, a friend gave me a copy of Teach Your Child to Read in 100 Easy Lessons.  Because I am often asked about this reading curriculum and it is a Best Seller on Amazon, I decided to give it a trial run with Peanut.
This book promises that in only "20 minutes a day and within 100 days your child will be reading on a solid 2nd-grade reading level" using an uniquely written alphabet to help in phonemic awareness.  Horizontal lines are placed over long vowels, slurs are used to combine blends, and dots and accents are used under letters to differentiate between sounds held out and explosive ones.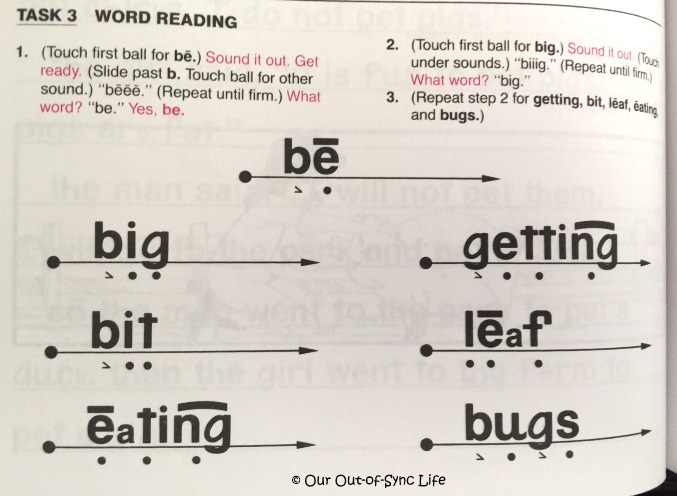 What I Like:
Call this curriculum "dummy proof."  There is no question how to teach reading according to this book.  In the image above, in red are the instructions telling exactly what to say and in black what to do.  This simplicity made it very easy to begin teaching Peanut.  I also loved the dots under letters and the arrows which were a great visual for the sounds to be blended together.
Each lesson includes a story which is  followed by comprehension questions and a picture.  Love, love this.
This program is amazing at repetition.  Whether it is sounds or words, the child begins each lesson with review of prior learning.
What I'm Not a Fan Of:
In this curriculum, the names of the letters aren't taught until Lesson 73, after the child has learned all of the letter sounds.  Because Peanut grew up with the ABC Jesus Loves Me Curriculum, he was already familiar with the names of letters and their phonetic sound before beginning this program.
Also, because I personally believe the ABC Jesus Loves Me Handwriting Program is much better, I did not use the writing portion of this book.
20 minutes is a very long time for an active young child to sit and read.  Oftentimes we found that the lessons took more than 20 minutes to finish.  And remember we didn't do the handwriting portion.  Oftentimes we broke the lessons into small portions.
In my opinion, this books relies heavily on sight (Whole Language) instead of phonics.  While the book begins phonetically based, it fails to effectively teach phonics pass the basic level.  Instead of teaching basic rules for reading, the programs relies on the unique written letters to teach the child the word.  For example, the child reads "magic e words" (e.g. lake, take, white) without learning the rule until much later in the program.  If this program had simply added basic phonics rules (phonic rule: magic e, bossy r, and "when two vowels go walking, the first one does the talking), I would have suggested this program.   The great thing is that these phonetic rules can be easily added as you go along if this is the reading curriculum of choose.
Whole-Language vs Phonics
I suggest that you talk to your child's Kindergarten – 2nd Grade teachers to see how they teach reading.   While Whole-Language (teaching words by sight) can have quick results, it can be detrimental to the child once reading becomes more difficult.   With that said…while phonics (learning to read by putting letter sounds together) should be the foundation of learning, many words in the English language don't follow the basic phonetic rules and must be learned by sight.  So, expect your child to work on sightwords in school.  If your school doesn't teach phonics  or the phonetic rules as the base of reading, I would encourage you to teach these concepts at home.
While these two are the most popular and the two that I have experience with, there are a plethora of other options available for teaching a child to read.  I encourage you to read reviews by Cathy Duffy before choosing the best one for your child.
Disclosure:  I am not an expert and am simply sharing my experience in hopes that it will helpful to you.   Thank you to my aunt for her 39 years of teaching expertise in helping me write this.
---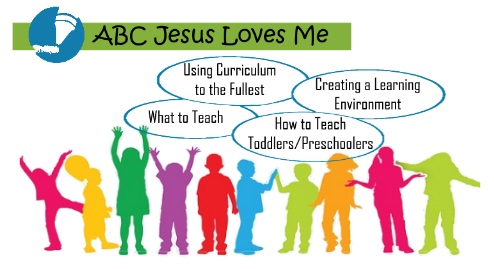 Do you want to know how to best teach the kiddos in your lives and get the most out of ABCJesusLovesMe?
Join us for the next ABCJLM Event.   For more information and to register – http://abcjesuslovesme.com/events/
---