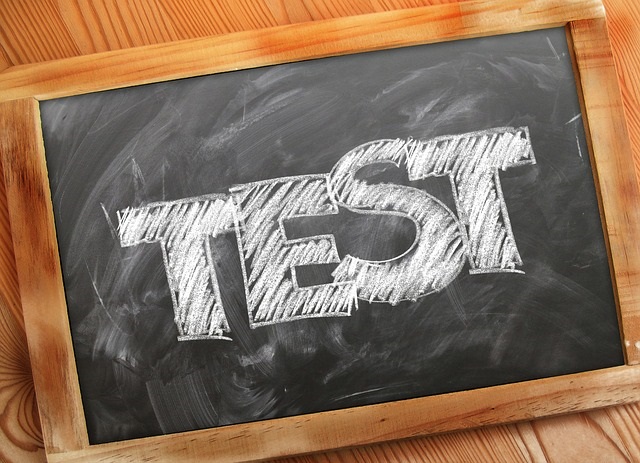 Tests are an understood part of our children's lives.  Whether it is a spelling test in the 1st Grade, the ACT/SAT in high school, or the GRE to get into graduate school, our children are frequently taking exams to test their understanding and knowledge.
Because of the very nature of the event, tests create varying levels of anxiety in our children.  And for good reason as some tests hold high stakes that may alter future plans and dreams.
Testing time is a wonderful opportunity to encourage, assure, and remind our children that God is near, sovereign, and the source of wisdom.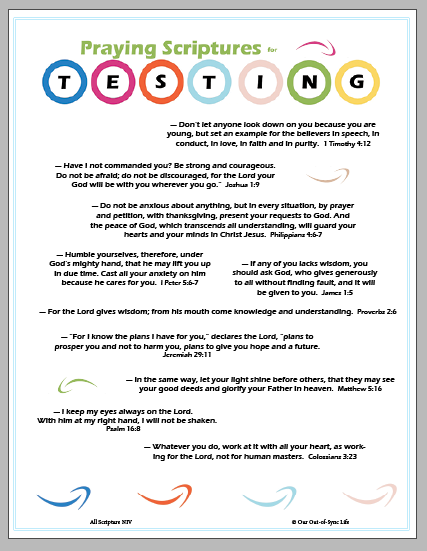 With the help of my Facebook friends, I have compiled a list of verses reminding us of these truths.
Praying Scripture
One of my favorite activities to do is pray Bible verses over my children and their circumstances.
Here is an example combining several verses.
Dear Lord, I pray for Bubs this week as he tests at school.  I pray that he would work at every question because he is working for You.  Lord, I ask that when Bubs gets discouraged that he will remember that You only require his best work.  And when he struggles, I pray that Bubs would look to You for wisdom for You give generously to all who ask.  Lord, I praise and thank You that this test doesn't define Bubs for You have a plan to prosper him.  You have a hope and future for Bubs.  May he never forget this.  Thank you Lord that You are with him always.  In Jesus' name…
Encouraging Notes
Another idea it to write encouraging verses on cards to place in our children's lunches, on their desks, or tape to their mirrors to remind them of the truth.  If your child has a phone, text them Scriptures and encouraging notes prior to the test.
Focus on Effort
As a teacher, test scores are one method that I use to check progress and comprehension.  But because each of our children have varying strengthens and weaknesses, I don't expect the same score from each child.  Instead, our children know that I expect their best work.  And each child's "best" is different.  When discussing testing scores, our conversation centers around effort (Colossians 3:23).
---

Whether the stakes are low or high, download the free Praying Scripture for Testing printable to encourage your child for their next test.  Use in your Quiet Time, post on the refrigerator, or share with your child.
---