Each morning this month my family is choosing a verse of thanksgiving to read in multiple translations. Such a wonderful reminder of God's blessings and His wonderful deeds. And I love how the different translations bring attention to various points of the Scripture.
Below is a list of verses to use in your personal quiet time or to memorize with your family.
Be sure to click over to the ABCJesusLovesMe website to print your FREE Thanksgiving printables associated with these verses!
Thanksgiving Bible Verses
Psalm 107:1 (NIV)
Give thanks to the Lord for He is good, His love endures forever.

Psalm 107:8 (NIV)
Let them give thanks to the LORD for his unfailing love and his wonderful deeds for mankind.

Psalm 107:22 (NIV)
Let them sacrifice thank offerings and tell of His works with songs of joy.
Psalm 28:7 (NIV)
The Lord is my strength and my shield; my heart trusts in him, and he helps me. My heart leaps for joy, and with my song I praise him.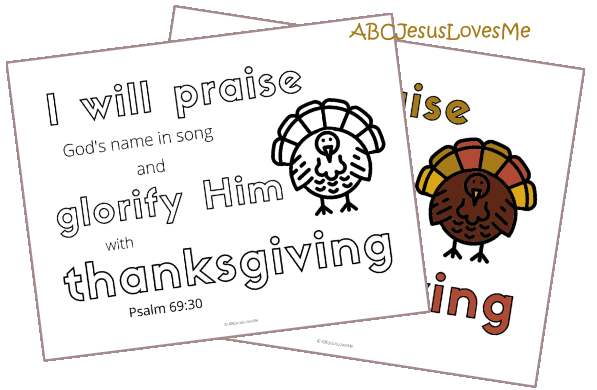 Psalm 69:30 (NIV)
I will praise God's name in song and glorify Him with thanksgiving.
Psalm 100 (NIV) – click for actions to Psalm 100
1 Shout for joy to the Lord, all the earth.
2 Worship the Lord with gladness;
come before him with joyful songs.
3 Know that the Lord is God.
It is he who made us, and we are his;
we are his people, the sheep of his pasture.
4 Enter his gates with thanksgiving
and his courts with praise;
give thanks to him and praise his name.
5 For the Lord is good and his love endures forever;
his faithfulness continues through all generations.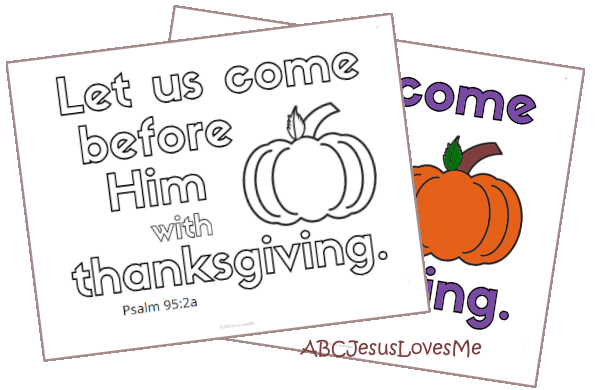 Psalm 95:1-3 (NIV)
1 Come, let us sing for joy to the Lord;
let us shout aloud to the Rock of our salvation.
2 Let us come before him with thanksgiving
and extol him with music and song.
3 For the Lord is the great God,
the great King above all gods.
Psalm 106:1 (NIV)
Praise the Lord. Give thanks to the Lord, for he is good; his love endures forever.
1 Chronicles 16:34 (NIV)
Give thanks to the Lord, for he is good; his love endures forever.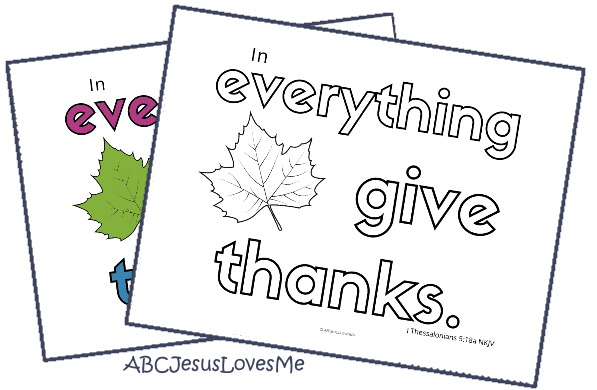 1 Thessalonians 5:18 (NKJV)
In everything give thanks; for this is God's will for you in Christ Jesus.
Psalm 118:28 (NASB) You are my God, and I give thanks to You; You are my God, I extol You.
1 Chronicles 16:8 (ESV)
Oh give thanks to the LORD, call upon His name; make known His deeds among the peoples.
Click to see more Thanksgiving Traditions on the ABCJLM Preschool Curriculum website.
---

Order your Be Intentional Planner now and begin using it December 1st!
You will love the updated practical layout, weekly life-giving Bible verses, and daily reminder from the coloring-page cover – He remains faithful. For a limited supply, the large and small sizes include December 2020. Don't wait to grab your copy and several more for friends!