A couple of years ago Amy shared an idea with me for a Valentine's Day Treasure Hunt. My kids loved it. Imagine my excitement when Kursta shared an Easter Treasure Hunt! An idea that she created for children in a Guatemalan church. I tweaked the idea, added a FREE printable to the ABCJesusLovesMe Resource Library, and am now sharing it with you!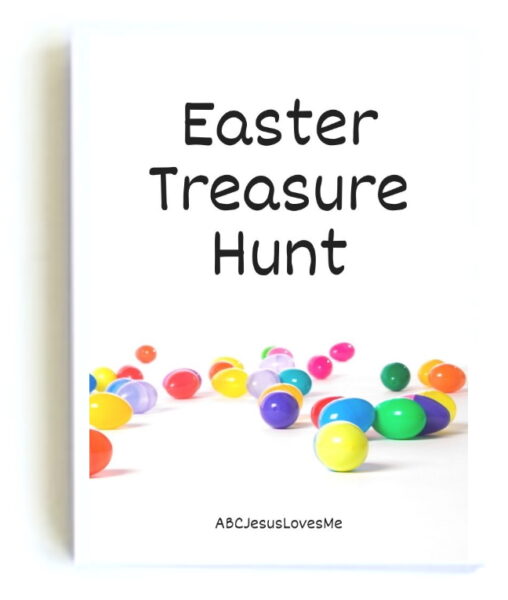 Easter Treasure Hunt
If you are unfamiliar with a scavenger hunt, a player follows a set of clues to find a "treasure." Then, each hidden clue leads the player to the next clue which eventually leads the person to a prize. In the Easter Treasure Hunt the child follows a series of Easter eggs which lead to a stone. This find reminds us that Jesus is no longer in the tomb – which is the greatest treasure of all.
Here are some tips. First, the hunt can be done alone, by taking turns, or as a group activity. Second, prior to starting the game, hide the clues and optional prize. Third, the difficulty of the clues may vary to suit young children up to adults.
To begin, travel to ABCJesusLovesMe to purchase the Easter Treasure Hunt on the ABCJesusLovesMe website. You will find two versions for preschool and elementary-aged children.
Cut apart the clues and choose the cards that are best for the child's age and understanding of the Easter story. All clue or cards are not required.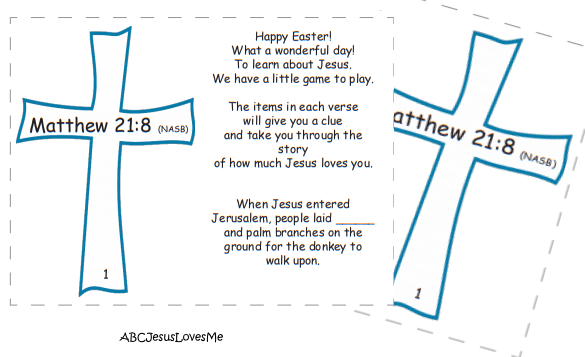 Hide the Clues
Begin by placing the 1st card (Matthew 21:8) in an Easter egg. Keep this Easter egg to give to the child to begin the hunt. Place the second clue in an Easter egg and set it in the coat closet or by the coat rack for the child to find. Continue until the last card and egg are laid by a stone. You may add a treat or gift at the final place.
Here are some gift ideas: For younger children, include the ingredients to make Resurrection Rolls, Bird Nest Cookies, or Jelly Bean Easter Bags. For older children, the Buck Denver Asks: What's in the Bible? Volume Ten – Jesus is the Good News DVD or The Tale of Three Trees book make great treasures. Or simply place an empty box at the final destination to create dialogue about the empty tomb.
On a Treasure Hunt
After all of the Easter eggs containing cards are placed, give the child the first Easter egg containing the poem and Matthew 21:8 sentence. Assist more or less depending on the child's ability.
Super fun! I am excited to share this with our kids on Easter Day. Be sure to take pictures of your family doing this activity and post to Facebook or Instagram for all to see. Use #ABCJesusLovesMe or tag me (@HeidiFranz) in the post.
---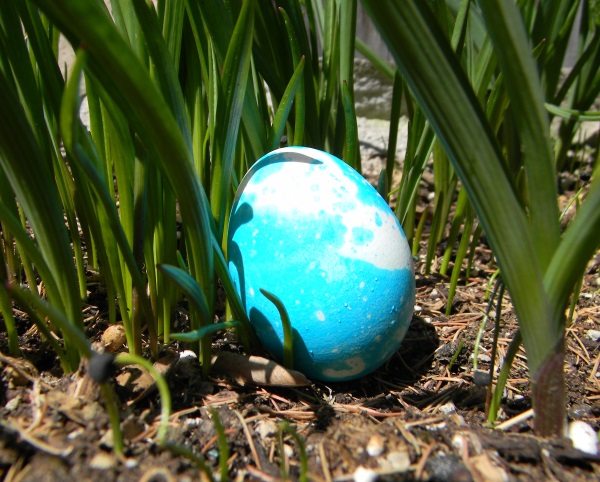 Discover more ideas on the ABCJesusLovesMe Easter Ideas Page and the ABCJLM Pinterest Easter Board.