I do not typically share blog posts on Thursdays, but I feel compelled to share this movie review now due to the importance of the information. Please share with others.
This week I had the opportunity to prescreen the much-anticipated Redeeming Love movie. In theaters on Friday, January 21st, this movie is based on the bestselling novel by Francine Rivers.
Before I share my review on the movie, let me share the storyline of the book.
Redeeming Love the Book
Based on the main characters of the Old Testament book of Hosea, Redeeming Love (#affiliate) is the story of a farmer, Michael Hosea, who is told by God to marry a prostitute named Angel. Sold into prostitution as a child, it is her hatred of self and the men that use her that spurs Angel's survival. Dire circumstances force Angel to accept Michael's proposal to marriage. And as Michael defies her bitter expectations, Angel's wounded heart begins to mend ever so slowly.
While controversial, I have read the book. God used it to draw me toward His relentless love, faithfulness, and patience. It is a beautiful reminder that there is nothing or no one who is unredeemable. And while God will never force me to come to Him, He welcomes me with open arms. This book also prompts me again and again of how I need to be patient with people. There is a reason why people do what they do and hurt bubbles up and spills out in a multitude of ways.
I do not suggest this book to all to readers. Because the book deals with sex and sexual sin, among other difficult issues, I will not let my daughter read it as a teenager and I suggest she waits until after she's married. If you have a very vivid imagination, it may not be a good choice for you. This book is as graphic as your imagination lets it be. If you have experienced sexual abuse in the past, this may or may not be a good choice…I don't know. Though, I could also see where a great deal of healing could come from working through the book with a counselor.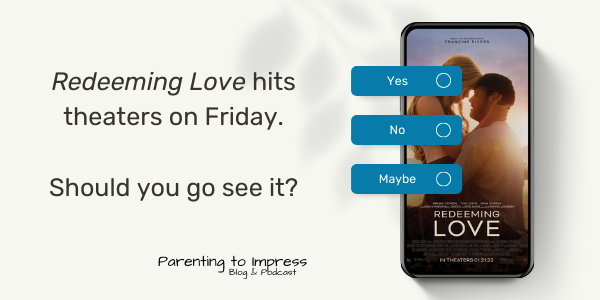 Redeeming Love the Movie
Because of how this book has changed my life, I was excited about the movie release. But because Hollywood was involved, I was apprehensive.
Sadly, my fears were valid. But, let me share what they got right.
(Spoiler Alert) The movie follows the book's storyline, showing God's love, mercy, forgiveness, and patience. Even though Angel tries, she discovers nothing can separate her from God's love (Romans 8:38). The viewer experiences Angel's hope being restored because of God's great mercy (I Peter 1:3). Angel truly grasps that if we confess our sins, God is faithful and just to forgive our sins and cleanse us from all unrighteousness (I John 1:9). Using the story of Hosea (Michael Hosea) and his wife Gomer (Angel), God is demonstrating how He longs – with patience – to forgive us when we turn to Him.
This is powerful and beautifully played out.
Now for my concerns and warnings.
The movie is rated PG-13. Just by nature of the storyline, one expects sexual content, violence, and alcohol. But the creators of the movie chose to make explicit what could have been left implicit. As I go back to the Scriptures to write this review, ever verse I've pondered confirms my belief that it went too far. It crossed a very dangerous line and is not a Christ-honoring movie.
Because of this, I cannot and will not suggest this movie. If you choose not to heed warning, I encourage great discernment and prayer before viewing.
Feel like you need more information? Read a more detailed review by PluggedIn.
Be listening for further conversations on this book and topic in upcoming Parenting to Impress Podcast episodes.

Thank you to Universal for providing the movie for review purposes. Opinions are 100% my own and not influenced by monetary compensation.