Are you familiar with the phrase, "God won't give me more than I can handle"?
Do you believe it? It is biblical?
I think most of us would like to think this is true! Wouldn't it be great to know that God will reach down and fix any troubling circumstances, heal our diseases, or even repair broken relationships before we reach our breaking point?
I confess that I believed this popular thought because it made me feel in control. I even went so far as to pull some Bible verses to support my need for it to be true. But in actuality, belief of this statement minimizes God into almost a "Geanie in a bottle" and places the focus on me.
▼ Jump to Listen to Podcast Episode #17: True or False: God Won't Give Me More than I Can Handle ▼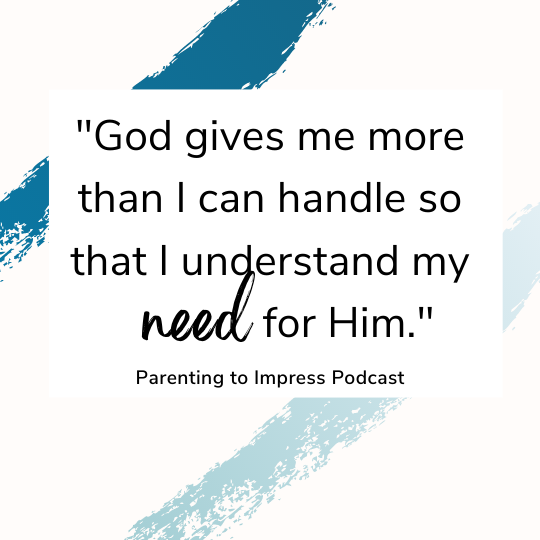 Reject the Lie
In the first episode of the Parenting to Impress Podcast, "Lies We Believe," we worked through some of the most common lies we are tempted to believe – about God, ourselves, and the world. I feel this thought is one of the lies that we believe.
I personally used Romans 8:28 (NIV) to support this self-focused thought. "And we know that in all things God works for the good of those who love him, who have been called according to his purpose." God is working everything for my good! But in looking at the whole verse – and the theme of the Bible, God is working things according to His purpose, not mine.
Nowhere in Scripture is it promised that God will stop circumstances that bring believers to their knees. In fact, it's actually biblical that He will allow suffering to come into the lives of His children. I believe that God gives me more than I can handle so that I can understand my need for Him.
The first step to understanding this truth is to acknowledge that while God Himself is not the cause of our pain, He will wisely allow us to experience more that we can handle on our own in order to turn our focus to Him.
Suffering vs Temptation
Here's another verse pulled out of context to support this thought.
1 Corinthians 10:13 (NIV) tells us, "No temptation has overtaken you that is not common to man. God is faithful, and he will not let you be tempted beyond your ability, but with the temptation he will also provide the way of escape, that you may be able to endure it."
It's important to note that this verse is concerned with temptation and sin, not painful circumstances and suffering.
When it comes to sin, God always makes a way for believers to turn away from it. But when it comes to difficulties and suffering, God often uses it to draw us closer to Him, to reject self-idolatry (believing that we are strong enough to handle anything) as well as the illusion of control that plagues humankind.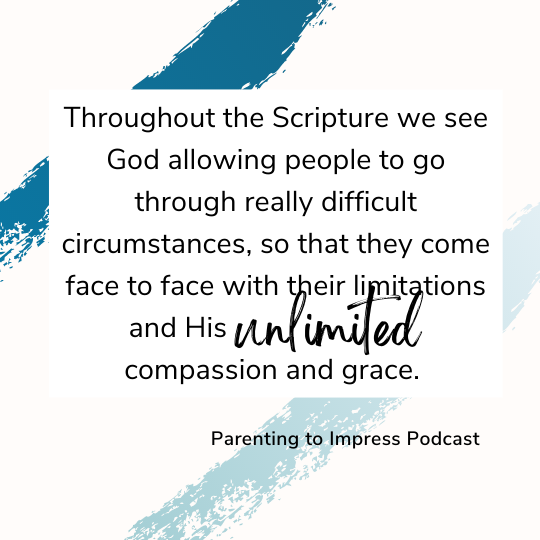 Decide Who God Is
But how are we to reconcile a good and loving God who actively allows His children to walk through so many terrible trials?
It begins by having a clear understanding of who God is. He is Holy and Wise, Perfect and Just. As such, He can do nothing that is sinful. He only causes believers to become more and more like Jesus, His perfect, sinless Son. This side of heaven we will never achieve a sinless state, but we experience His loving kindness as He transforms us. And as a reminder, God uses all things to achieve His good purposes for us – not our good purposes for ourselves.
And that can be a hard pill to swallow! We are selfish and self-indulgent and want what we want, when we want it! Including rescue from hard things. But time and again in Scripture we see God allowing people to go through really difficult circumstances, so that they come face to face with their limitations and His unlimited compassion and grace.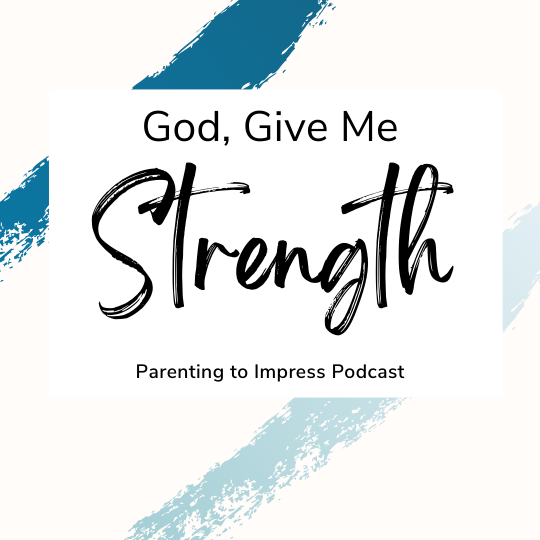 Call on His Strength
In the podcast below we share some of the painful events that the Lord has allowed to come into our lives. We both agree that in the midst of those hardships, the facts of those events did not budge. But God was always there. He never left our side, even when we wailed and railed and questioned. Our Heavenly Father extended His grace so that we could have our eyes opened to the truth that in this broken world, only He is perfectly good, only He can use a fractured world to refine us and cause us to love and trust Him more.
So that's our prayer for you, and for ourselves! A prayer that we will reject the lie that God won't give us more than we can handle.. Instead let's pray to experience an increased trust in God so that when challenges and sorrow arise we remember His unending love and grace, and that His strength makes it possible to have hope amid the darkness.
#17 True or False: God Won't Give Me More than I Can Handle