As parents and teachers of little kids, the Christmas season can feel particularly overwhelming. We want to foster a holiday season that keeps Jesus the focus, but we also want to have fun and create lasting traditions. Can we find a balance somewhere in there?
Heidi and I recorded a Parenting to Impress Podcast episode dedicated to helping you think through how this Christmas can be both holy and happy. Along with the podcast episode, we wanted to provide you with more practical tips and ideas for how to have a joyful, Christ-centered Christmas.
▼ Jump to Listen to How to Stay Happy and Holy in the Christmas Crazy ▼
Build Anticipation for Jesus' Birth
Regardless of how your family chooses to celebrate Christmas, believers around the world take part in anticipating the celebration of Christ's birth. In the Church this is called Advent and it's a great model for how to establish a similar rhythm at home. You can do this simply by reading through Advent readings (many churched provide these, but you can also find resources online or in a book).
On the podcast Heidi mentioned Hay for Jesus (Hay for Jesus Cookies) and building a Christmas tree out of Legos with a characteristic of Jesus written on each block. Don't have Legos? Use strips of paper, write on a window or mirror with a dry erase marker, or make a paper chain. The paper chain can then be placed on the Christmas tree as a decoration.
There are loads of Christmas countdown activities to choose from, so we caution you to not get overwhelmed! Just pick one idea and try it this year. If it's a bust, try something different next year.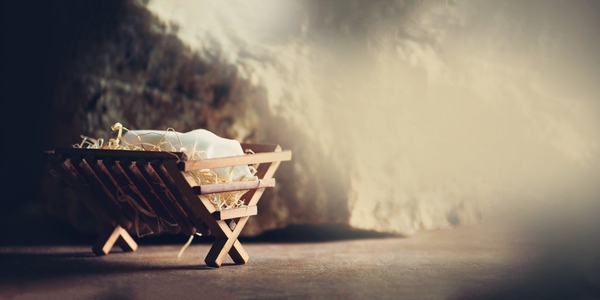 Laying a Foundation
Gospel parenting happens year-round. If this December doesn't go as planned, but you parent intentionally the rest of the year, it's going to be ok. But the opposite is true too. You can't squeeze 11 months-worth of Christ-centered parenting into 1 month.
So take a deep breath and prayerfully ask the Lord how He wants you to shepherd your kids this Christmas. How can you best use these 25 days leading up to Christmas day to turn your children's hearts towards Christ? Maybe you take time each day to remind them that Jesus is the best Christmas gift we can ever receive! Since young children learn best through repetition, reading through the Christmas story in Scripture is an easy way to keep Jesus at the forefront all month.
The ABCJesusLovesMe Christmas Workbook and the brand-new Happy Birthday Jesus Workbook are a fantastic resource to help you direct your kids time and attention on Jesus. Both of our families have enjoyed baking a Happy Birthday Jesus cake each year. Our teens still ask for it!
Create Christmas Traditions
The birthday cake, Christmas countdown, and other ideas have become traditions in our homes. Take some time before December to start thinking about the traditions you'd like to have in your home. Is there something you'd like to try this year? Whether it's singing Christmas Hymns, baking cookies, buying or making gifts to give, or decorating the tree, be sure to take note of what makes your kids happy. When we try to force traditions on our families the outcome isn't usually great. Instead, consider what makes your family tick and then choose accordingly.
Christmas Expectations
Usually during this time of year, we know when certain events are going to take place. Therefore, we can plan ahead! Problem solve before you get to the Christmas party, your in-laws, or the Christmas Eve service at church. Will you need pajamas and a pack-n-play to put a little one to bed at the grandparent's house? Should you pack a few quiet toys to keep tiny hands busy during church?
Now is also the time to role play and train your children for situations that they don't typically encounter. Do you expect your child to say thank you when they receive a gift? Make sure you're spending time now practicing that. You don't want to wait until the car ride over to tell your 2-year-old to be polite if they get a gift they don't like.
Remember to be flexible though too. You know your kids best and if you think they can hang out for an hour longer at the neighborhood Christmas party, then go for it. On the other hand, if they didn't get a good nap that day, you may also need to be their best advocate and get them home early even if it means you have to miss out on something. Read more… 17 Tips to Prepare a Child for Holiday Gatherings
Could vs. Should
This may be the biggest area where you see holy and happy colliding. In the Bible, God calls us to be joyful and loving. This isn't a fake happiness, but a genuine state of joy because of our relationship with God. Mommas, as you meditate on God's word, spending time daily with Him, and pray continually, the Spirit will help you plan your days, weeks and the Christmas season. God is faithful and He cares about the details of your life.
This includes helping you determine the "coulds" from the "shoulds." There are lots of things you could do this Christmas season. Pinterest provides enough crafts and activities to keep you hopping all year round. But when you think about Jesus' life, you'll notice His days were filled with intentional time with people. As our perfect model, we can look to Him to see how best to order our days.
This Christmas, invite God into your holiday planning. Ask Him how you can be a good steward of this season so that your family can look back and know that regardless of how the craft turned out, or how many cookies were baked, your family intentionally kept Christ the center of Christmas.
How to Stay Happy and Holy in the Christmas Crazy
---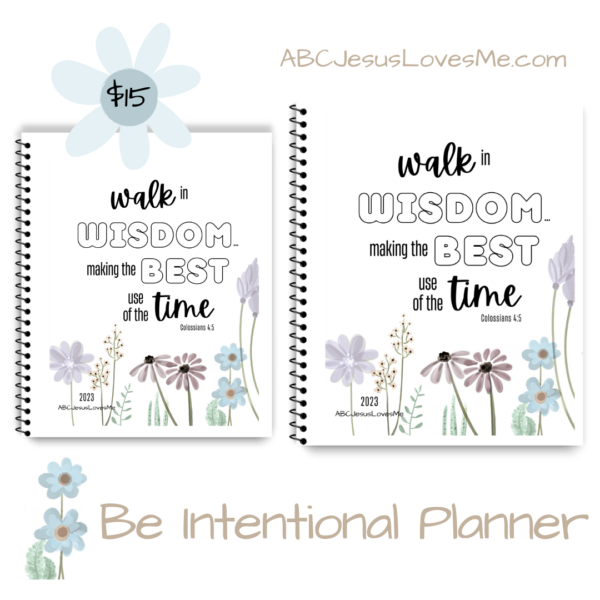 Now is the time to order your Be Intentional Planner! Available in the small and large sizes, use this spiral-bound book to intentionally guide you from January – December 2023. Only $15 to help you "walk in wisdom…making the best use of the time" (Colossians 4:5). Order now!