I love asking parents, "What do you desire for your child?" I frequently hear words like happiness, generosity, and courage. Thinking about these responses, I find this quote from my pastor so interesting.
"One of the things that hinders us from living courageously is a lack of purpose and calling."
I would wager that happiness and generosity would fit into this sentence as well. Could it be that we are focused on character when we really should be focused on purpose? I think so.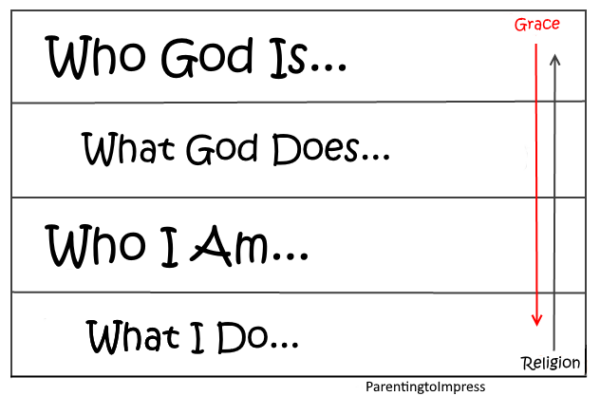 Children understand their purpose when they understand four things in a specific order.
Who God Is
What God Does
Who I Am
What I Do
This Gospel Framework* diagram helps us understand that our identity and purpose are based upon who God is and what God thinks, not what we think about ourselves.
Using this as a guide, how do we help our children understand their purpose? I think you will love these simple ideas.
▼ Jump to Listen to Episode #41: Redefining Parenthood: Focusing on Purpose, Not Just Character▼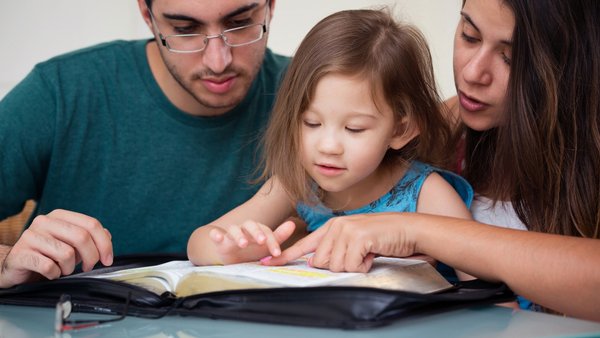 #1 We Find Our Purpose When We Know Who God Is
Preschoolers: Using a curriculum like ABCJesusLovesMe or reading through a children's Bible, young children quickly begin to know God as Creator and Provider. Through the story of Noah, they see God as Protector. Through Jonah's story, they see God as Ruler and Wise Counselor. The preschool years are a perfect time to instill God's truth found in Bible stories.
Elementary: The Elementary years provide a wonderful opportunity to teach God's character compared to the child's. God is King of Kings, we are not. God is perfect, we are not. God is always good, we are not.
Teens: During the teenage years, children begin to evaluate God on a personal level. I want my children rely on God as they are developing independence. I want them to trust that God never works Himself out of a job and He is always faithful. Amid a changing world, God is constant. My children don't have to go looking for peace because God is peace. Teens knowing their purpose puts everything else in perspective.
#2 We Find Our Purpose When We Know What God Does
Considering our culture, it's no surprise that our kids don't know their purpose. Everywhere they turn, there is little to no understanding of sin. The line between truth and lies is nonexistent. They hear a lot about God's love and how we are to love others. But when we only focus on God's love, we simplify Him to nothing more than a genie in a bottle. God is holy and our children need to understand that sin separates us from Him.
Preschool: Biblical terms such as sin, forgiveness, and love can be introduced during the preschool years as they are learning about who God is. Bible stories offer beautiful opportunities to share these terms which in turn allow the child a chance to see what God does.
Elementary: Don't be afraid of more challenging Bible stories during these years. These are opportunities to learn about different aspects of God's character. God hates sin but loves the sinner. We are sinners in need of forgiveness only offered by Jesus. God requires repentance and turning from sin.
Teens: As our children hear "you do you," it is important to point our teens to scripture to learn what God does. What does God think about media use, our gender, and lying? God provides boundaries for our protection. There is joy to be found within those God-given boundaries. God provides rules not to stifle us, but for our good and for His glory.
#3 We Find Our Purpose When We Know Who We Are
Our world is filled with character mottos on posters, social media, and screen savers. Even so, I wonder if the emphasis on self instead of God is one of the reasons that anxiety and depression are so high in adolescents. The world is inundating our children with the idea that a person gets to choose who they are. But at our core, God has chosen who we are. It's time to focus our children's eyes on who God created them to be.
As in the past two points, we take our children to the truths of the Scriptures. Because our God is constant, we can understand that who He says we are never changes. Here are some verses to get you started:
Important note: Our children oftentimes will throw out ideas to see if they stick. Just because they say something doesn't mean that they believe it. It is far more likely that they are desperately wanting someone in their life to say, "No, that's not who you are." For someone to say, "Let's go back to see what God says about your identity."
When your child says something contrary to the Bible, first, don't overreact. Second, do not let the child think that maybe their fears are legit. Instead, without emotion, speak God's truth over the child.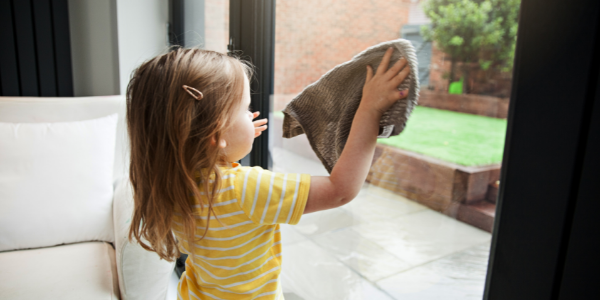 #4 We Find Our Purpose When We Know What We are to Do
According to Matthew 28:18-20, each person's purpose in life is to tell people the good news of the Gospel. But in order to fulfill our mission, we have to know what the Gospel is and develop the skills to share it. Also, our children must see this purpose in everything they do – even chores.
Preschool: After telling a Bible story, encourage the child to share what they learn with a parent, grandparent, sibling, or friend. We also want to model talking about God in our daily lives. As you do the dishes, outwardly praise God that you have food to eat. As you go to work, explain to your child that the people you work with are your mission field. Share times when you have had the joy of sharing the Gospel.
Elementary/Teen: Teaching our kiddos to recognize where God is working so that they can join that work is so important. Under the umbrella of our God-given purpose, this training helps them develop a desire to be in alignment with God's will for their lives instead of following the ever-changing tide of their fickle heart. This attitude and work ethic begins with chores around the house. As our children grow we want them to pivot from simply doing what is on their chore chart to jumping in unprompted to help with whatever the needs are. This practice develops an awareness of where God is working and grows their capacity to see how they can join in that work all for His glory. And because virtues are more easily caught then taught, we need to be modeling this as well.
I think we would agree that we all want our children to have joy-filled lives. But biblical joy comes from knowing who God is and seeing what He does. That is the joy that we find even as we are being molded and formed into His image through living out our God-given purpose. It is not burdensome or confusing. It is wonderfully fulfilling.
#41 Redefining Parenthood: Focusing on Purpose, Not Just Character

*The Gospel Framework is not my creation. I do not know the original source.