Each year I have grand plans to create and grow holiday traditions. But the older the kids get, the more the holidays seem to sneak up on me. And with October just around the corner, this year is no different. To help all of us initiate Christ-centered holidays, and take advantage of the beautiful opportunities that the holidays provide to intertwine the gospel story into each, this post is going to merge all things holiday into a one-stop shop! Below are links to a plethora of ideas and I've included my favorite for each.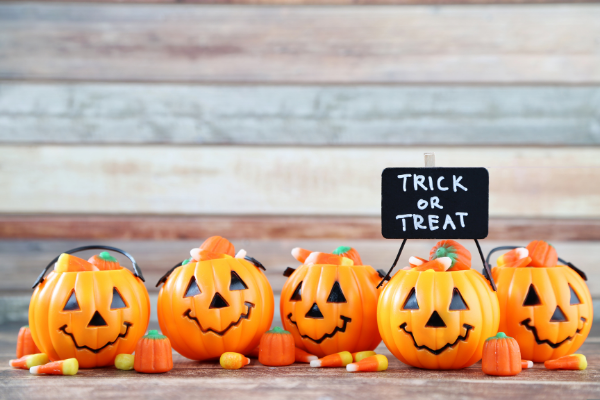 Halloween
What's a Christian Family to Do with Halloween?
Few topics cause as much division among Christians as the topic of Halloween. For or against, both sides are passionate about their views. What is a Christian family to do with Halloween? I believe there are three options.
9 Ideas to Turn Halloween Candy into Teachable Moments
Opening the pantry I was welcomed by the delicious aroma of candy my kiddos collected at our church's Fall Festival. Through the years I've discovered ideas that can turn Halloween candy into memorable teachable moments. My favorite is the Kindness Jar.
Telling the Gospel Story through Halloween
I love redeeming what the enemy means for evil and turning it into a way to share the truth of God's good news. These ideas are perfect for your family, church, or preschool. My favorite is the Pumpkin Gospel.
God-Centered Fall and Halloween Activities
Discover a plethora of books, activities, songs, poems, and ideas perfect for your family. I love fall books!
What's a Family to Do with Pagan Holidays?
I know that many of you are seeing an anti-holiday trend. Some of you have chosen a side. Others have chosen to ignore it and have continued to celebrate according to their family's preferences. But for many, this debate has caused confusion and concern, and left you wondering if how you engage with these holidays is dishonoring God. Read and listen as Melanie and I take these concerns back to the scriptures.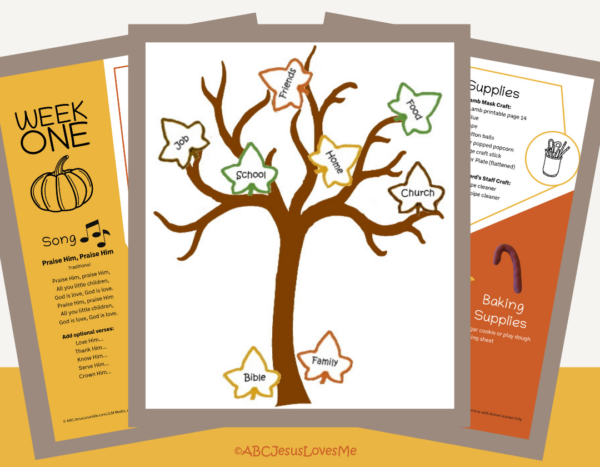 Thanksgiving
Thanksgiving Activity Workbook
This interactive workbook continues to be a favorite of families around the world. Based on Psalm 100, teach your preschool to elementary-aged child or students the importance of praise through a storyboard, crafts, songs, and activities. Beginning in Week 3, create a Thanksgiving Tree to develop an ongoing list of praises. Our family Thanksgiving Tree is posted year round on the pantry door as a gratitude reminder.
A Basket Full of Thanksgiving Ideas
Discover a plethora of books, activities, recipes, crafts, songs, poems, and ideas perfect for your family. Each will help you focus on gratitude and the blessings from God. Be sure to add Gratitude Rolls to your dinner table.
How to Build a Heart of Thanksgiving in Your Child
As Christians, we know being grateful means more than setting a certain month aside to be thankful. But how do we truly live this way? Discover what it means to live gratefully and pick up some tips to build a heart of thankfulness in our children.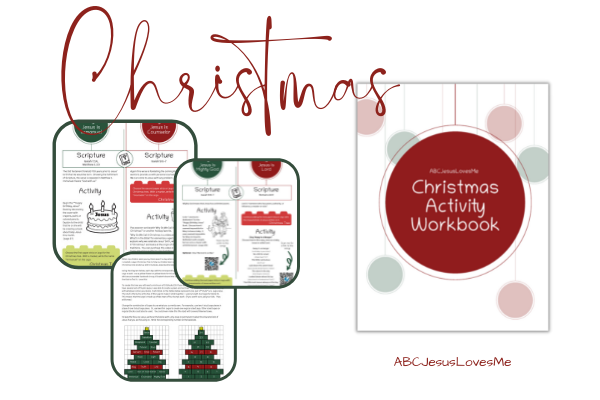 Christmas
Celebrate Jesus' Birthday with a Party!
Wondering how to help your children understand the significance of Christmas? The Happy Birthday Jesus Workbook is exactly what you are looking for. Create a new tradition to celebrate Jesus' birthday. With ideas for preschool and elementary-aged children in a home, church, or preschool, this workbook promises to build understanding of Jesus' birth while making memories for a lifetime. The Happy Birthday Jesus cake is the best!
Christmas Advent Workbook
An ABCJesusLovesMe favorite, the Christmas Advent Workbook provides a countdown to Christmas. Simple, yet fun activities help your child or students understand the truth of Christmas. Beginning with December 1st (or whenever feasible for you), the printable explains exactly what to do each day along with activities that include: creating crafts, singing a Christmas song, baking goodies, or playing a game. Discover more advent ideas here. My kiddos loved making a Lego Christmas tree.
Loads of Christmas Ideas
The ABCJesusLovesMe website provides plenty of ideas just for your family. Books, songs, coloring pages, videos, crafts, recipes…and so much more! I love the Hay for Jesus activity for toddlers.
How to Stay Happy and Holy During the Christmas Crazy
The Christmas season can feel particularly overwhelming. We want to foster a holiday season that keeps Jesus the focus, but we also want to have fun and create lasting traditions. Can we find a balance somewhere in there? Enjoy a Podcast episode dedicated to helping you create a holiday that is both holy and happy.
Overwhelmed?
Gospel parenting happens year-round. If these next 3 holidays don't go as planned, but you parent intentionally the rest of the 362 days, it's going to be ok. But the opposite is true too. You can't squeeze 362 days-worth of Christ-centered parenting into 3 holidays.
So, take a deep breath and prayerfully ask the Lord how He wants you to shepherd your kids through these holidays. Simply take the first step by choosing one idea and then begin. When finished, choose a second idea and begin. He will do the rest!