If you grew up in a church that discussed the Catechism, you probably have heard this question and answer stated several times.

Q. What is the chief end of man?
A. Man's chief end is to glorify God, and to enjoy him forever.
While I didn't grow up under this practice of teaching, I wonder how my life would be different if this would have been my motivation as a child.
I want our children to understand why God created them. I also want them to understand that they were created for a specific purpose (see the post Why Was I Created?). I deeply desire them to step out of their little box of selfishness and realize that God loves them deeply and wants a personal relationship with them.
With Thanksgiving coming up the Holy Spirit lead me to the idea of a "Bringing God Glory" tree. Similar to a Thanksgiving chain or tree, the kids write down a way that they bring God glory each day.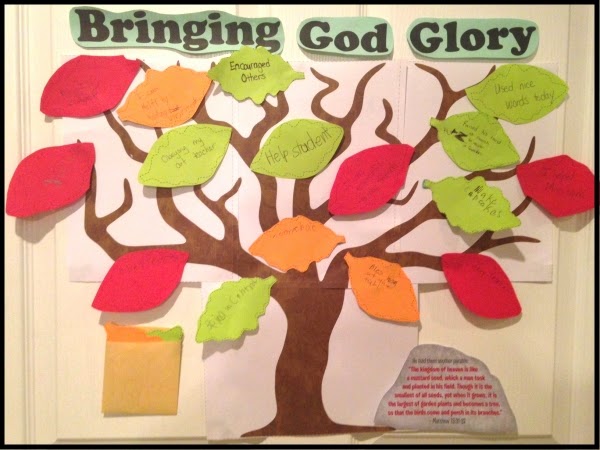 To begin I created a tree and hung it on the door of our playroom. (If you have the What's in the Bible? My Jesus Journal you can use the tree in the workbook – pictured above.) I added the title "Bringing God Glory." Then I cut out various colored fall leaves to place in a pocket at the bottom of the tree. (Print the leaf printable.) When they came home that day they were overflowing with questions. Why is there a tree on the door? What are we going to do with that tree?
To introduce the concept, I explained why we were created and what God expects of us. I used the same verses used in the last post. Then we discussed how we can bring God glory. They came up with many of the same ideas I had, but in simple child-like terms.
As I drop the kiddos off at school each morning, I remind them "Bring God glory." And, "I can't wait to hear how you did it."
Then in the evening, they each write on a leaf. I love hearing what they come up with. I require that it be something not written yet and the idea may not be generic. This forces them to think outside the box.
Here are some examples of items they have written:
I helped mommy without being asked.
I made cupcakes for a friend.
I used nice words.
I set the table.
I came when mommy told me to (obey).
"Man's chief end is to glorify God, and to enjoy him forever." And parents' chief responsibility is to teach this to our children.