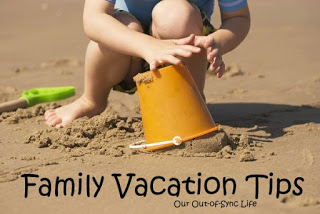 Well, we did it.  We actually survived a real family vacation.  Not only did we survive, we actually had a good time!
Those who have followed our blog for a while know that as a family with special needs kiddos, doing even the smallest things can be challenging.  So, traveling 11 ½ hours to the beach, staying in a hotel and condo, and playing in different surroundings was a big risk.  But, with careful planning and prep work, and a boat load of prayer, our first vacation will go into the "success" column.
In the next few blog posts I am going to share some of the tips that we learned along the way.  Things I am glad we did.  Others that I wish we would have done differently.  I will include printables and checklists.  And I hope that you will comment and share your wisdom.
Before I begin, I am very hopefully that you can gain tips not just for beach vacations but for all trips – big and small – that you take as a family.   (I will also be sharing a Kids Travel Activity Notebook.)  So, be sure to pin this series and come back to it while making all your traveling plans.
Where to Stay and How Long
Choosing the place to stay may have been the most important decision we made.
1. Seek Wisdom from Friends
For starters we sought wisdom from friends who had experience with beach vacation.  Their wisdom was invaluable.  We learned where to stay, what amenities would be helpful, and the best traveling route.  This is where Facebook can be a very valuable tool.
2. Distance
Especially if this is your first vacation, I encourage you to start small.  We started our vacation journey as a "Staycation" with a hotel voucher we received.  Then we advanced to camping in a trailer and then traveling six hours away to St. Louis.  Still taking small steps, we chose the closest beach option instead of going to more popular places.  For us that was the Gulf Shores, Alabama area vs traveling further into Florida.  Keeping the stakes low will decrease the anxiety.
3. Lodging
Typically, there are three basic places to stay while on vacation:  house, condo, or hotel.  We stayed in a motel the first night.  To find a room I visited TripAdvisor.com to read recent reviews.  To get a good price, I check Kayak.com and then called the hotel to see if they would match the best deal.
For our beach stay, many suggested using VRBO (Vacation Rental By Owner) to choose a beach house.  One friend suggested Phoenix Condo units.  Because of some great deals and booking early, we chose this option.  A few amenities that were key for us:
– Full Kitchen (eating in saved us a lot of money)
– Washer/Dryer in the unit (less packing)
– Beach View Balcony (who doesn't want to eat while watching the waves flow in and out)
– Walk-out to Beach (simplicity and being able to return to the room easily for supplies or discipline)

4. Space
This was key.  Bubs and Little Man need space to call their own.  It doesn't have to be large; just theirs.  Also, mornings and evenings are very hard on them.  We knew quality sleep would be vital.  While it cost a little more, we chose a condo that would help make everyone successful.  Then we cut back on specifics that didn't matter to us.  I am very thankful that we did this.  Cramming everyone into a small space after a long day playing at the beach would have caused many meltdowns.
5.  Length of Stay
For whatever reason, I had it in my head that when you take a beach vacation you stay for seven days.  Probably got this from the numerous friends who have taken similar vacations and stayed for the magic six nights/seven days.  But as I did research, talked to my husband, and as we prayed about what would be best for our family I realized seven days was not best for our family.  While most families can do that length and longer, I concluded that it would be too long for the boys to be out of routine.  We chose four nights/five days.  It was the perfect amount of time for this first trip.  Long enough for us to enjoy the beach and make the 11 1/2 hour drive worth it.  Short enough that the newness didn't wear off and we weren't gone too long.
Tip:  Even though our condo wasn't ready until 4:00, the company allows families to use the amenities while you wait.  In essence, we received an extra day of beach play because of this.  Be sure to ask your rental to see if this is an option for you too!
6.  Do What is Best for Your Family
Obviously I just shared this point in #5 but it is worth reiterating.  Just because "everyone" is doing "it" doesn't make it right for your family.  Here is a great example – Disney.  For many of the families we know, Disney is the family vacation to take.  While it might be a magical place to visit, it would put Bubs in sensory overload and Little Man would be unable to handle all the activities.  At this time, Disney would not be a successful vacation for our family.  Do what is best for your family and don't think that you have to do a certain vacation just because all your friends are.  
There you have it.  The first six of many tips that I will be sharing in this blog series.
Also read:  
Hotel Rooms, Vacation, and Kids:  16 Tips to Success
Tips for Visiting the Smoky Mountains 
Tips to Taking a Rocky Mountains Family Vacation
Car and Travel Activities for Kids
Visiting Zion, Bryce, and Grand Canyon National Parks with Kids
Create a Travel Journal with your Family
This post contains affiliate links. When you click on these links, I may receive an itty-bitty commission at no additional cost to you.
Our next blog post will tackle the subject of packing. 
What is needed?  What is excess?  I'll share what we learned!