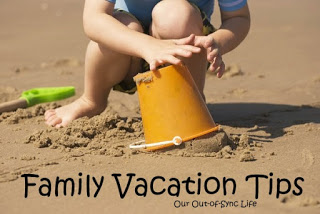 Thus far I have shared tips and tools to help you decide where to visit on your family vacation, how long to stay, and I've provided a packing list.  And our favorite Road Trip Snack Mix.  (Click to read the first post in our Family Vacation series.)
Today's blog will focus on food.  While we ate at fast-food restaurants during travels, we saved a lot of money by eating in our condo while at the beach.
But, there may be some questions on your mind:
Is it possible for momma to make three meals a day and still enjoy the vacation?  
Is it possible to use a minimum amount of ingredients and yet provide several different meals?
The answer to these questions is a strong Yes!  It can be done and I am going to help you see how you can be successful.
Food While Traveling
As stated, while traveling we stopped at fast-food restaurants to purchase take-out.  I divided the food and passed it to each kiddo in a food tray.  Our friends introduced us to these sanity-saving devices.  Won-der-ful!  Yes, I hate waste but these babies are worth their weight in gold.  We ate for approximately $3 a person, per meal because we never bought drinks.  As shared in an earlier post, we refill water bottles along the way.
For snack food along the way, we ate fruit snacks, Homemade Granola Bars, and Yummy Snack Mix. The goal of each snack was little mess – no crumbs or sticky fingers.
Food at the Condo
For cost reasons and to enjoy the beach as much as we could, once we arrived we ate all our meals at the condo.  Since I wanted to enjoy the vacation too, I chose meals that would be easy and quick.  (Many meals were the same that we use for camping.)  All non-refrigerated and prepared food traveled with us.  Everything else was purchased at a nearby grocery store upon arrival.
In my mind, we would eat lunch on the beach so I planned sandwiches each noon meal.  Instead, we returned to the condo for lunch and rest time.  Sometimes we exchanged the lunch and supper meals.
1.  Meal Calendar

Day 1:
Supper – Spaghetti, Sauce, Parmesan Bites, Ramen Noodle Salad
Day 2:
Breakfast – Pancakes, Bacon (Homemade Granola), Juice
Lunch – Sandwiches, Chips, Carrots
Supper – Frozen Skillet Meal, Parmesan Bites, Leftover Salad

Day 3:
Breakfast – Cheese, Sausage, Egg Biscuits, Juice
Lunch – Sandwiches, Chips, Fruit
Supper – Frozen Pizzas
Day 4:
Breakfast – Pancakes, Bacon (Homemade Granola), Juice
Lunch – Sandwiches, Chips, Carrots
Supper – Left overs, Macaroni and Cheese
Day 5:
Breakfast – Pop Tarts, Yogurt, Juice
Tip:  I used all perishable food first.  The last two meals were a hodge-podge of items.  By the end of the time we wasted almost no food.  That was a win in my book.  I wish I would have had salt, butter, and hot pads (the condo kitchen didn't have any).

2.  Prepare @ Home
Parmesan Bites – These are super easy to make in the bread machine. And sooooo yummy!   Baked at home, I packaged them in disposable containers which the kids could play with at the beach.
Pancakes – Again packaged in disposable containers, I mixed together the dry ingredients.  Only eggs and buttermilk was needed to finish the batter.  (recipe to come soon)
Ramen Noodle Salad Dressing – I mixed together the dressing to add to the noodles and salad.  (recipe to come soon)
Homemade Granola – Daddy sometimes had Granola for breakfast because he really likes it and prefers that over pancakes.
3.  Ingredients Brought from Home 
These items could have all been purchased once we arrived but we wanted to spend as little time as possible in the grocery store once there.  Also i didn't know for sure what the grocery store would have to offer.
spaghetti noodles
jar of spaghetti sauce
ramen noodles
box of macaroni and cheese
peanut butter
jelly
salt, pepper, and other spices
fruit snacks
pop tarts
syrup
4.  Ingredients Purchased
shredded cheese
broccoli slaw or cole slaw
bacon
eggs
buttermilk (could substitute milk)
milk
sandwich bread
lunch meat
mayo
American cheese
chips
fruit
carrots (or other fresh vegetables)
sausage
frozen or refrigerator biscuits
frozen or fresh pizzas
margarine
yogurt
juice
This food list may be perfect for your family.  Or, it may not be the type of food you eat.  You may be adding up the calories and getting qweezy.  Understand.  
Instead of 100% healthy and nutritional, the goal of this meal list was simplicity.  Remember the goals shared at the beginning of the post?
Easy for Momma
Few ingredients
With the plan above, we ate 11 varieties of meals with less than 30 ingredients plus the items prepared from home.  To me, that is a win-win!
Of course there are a plethora of options to switch out.
Chicken nuggets
Fish
Any frozen oven meals – burritos, lasagna
Stir Fry
And there you have it.  Our meal calendar and food packing list.  To make it even easier, I have created a printable with the information above and a blank one to make your own!  Click here to print.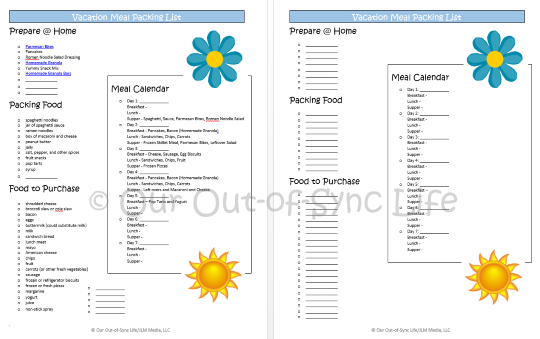 This post contains affiliate links. When you click on these links, I may receive an itty-bitty commission at no additional cost to you.
Also read:
Hotel Rooms, Vacation, and Kids:  16 Tips to Success
Visiting the Smoky Mountains
Tips to Taking a Rocky Mountains Family Vacation
Car and Travel Activities for Kids
Visiting Zion, Bryce, and Grand Canyon National Parks with Kids
Create a Travel Journal with your Family